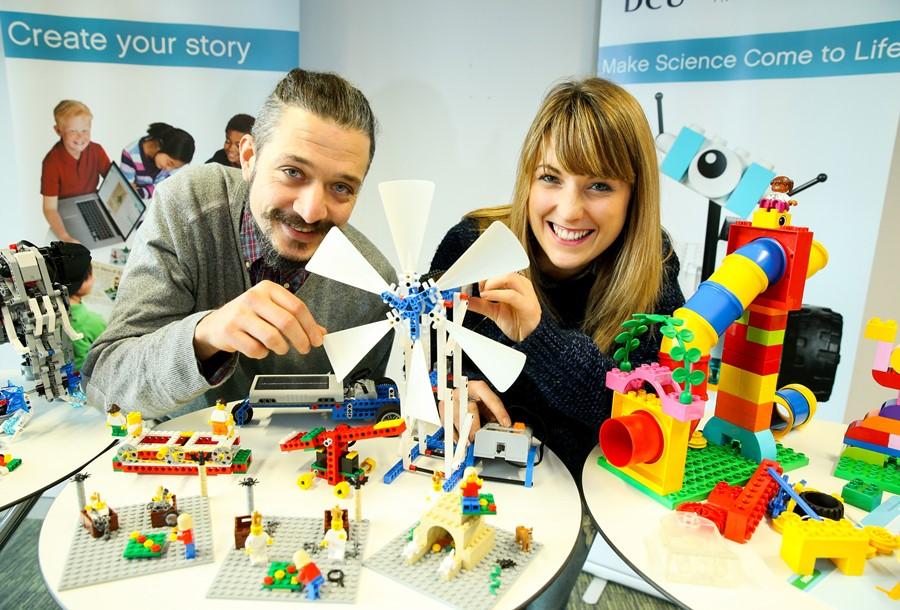 DCU announces flagship Lego® Education Centre
Dublin City University is partnering with Lego® Education to create an interactive learning hub that will help DCU student teachers and Irish schools develop innovative and creative approaches to teaching STEM (Science, Technology, Engineering & Maths) subjects in the classroom.
The creation of the flagship Lego® Education Innovation Studio (LEIS), will see the new Institute of Education (IoE) at DCU's St Patrick's Campus, Drumcondra become the first centre of teacher education in Ireland to mainstream these innovative approaches across all its programmes. The Institute's students will develop new approaches to teaching that can be replicated in schools throughout the country, igniting a passion for STEM subjects from early childhood education right through to third level. By adopting Lego®'s playful learning tools, teachers graduating from DCU Institute of Education will be fully skilled in helping schoolchildren develop 'Hands-on Minds-on' 21st Century skills such as creative thinking, problem-solving, team-working and communication.
Professor Brian MacCraith, President of DCU and Chair of the STEM Education Working Group said,
"High quality STEM education is of pivotal importance to a knowledge-based society and economy such as Ireland. Our ultimate purpose at DCU Institute of Education is to inspire and develop students to think creatively, reason systematically and release the potential to shape their own future and the future of their students in turn. This unique collaboration with Lego® Education can play a key role in transforming the future of STEM learning in Ireland, helping future generations to develop a sense of wonder about the subjects that allow us to understand, measure, design and advance our physical world."
The new Studio will have the capacity to develop research projects through linkages with existing DCU research centres such as the Centre for the Advancement of Science and Mathematics Teaching and Learning (CASTEL), and to explore cross-faculty research possibilities with the Faculty of Engineering & Computing. Internationally the Lego Education Innovation Studio at DCU will lead a European teacher education network to develop new teaching methods across Europe and exchange ideas and best practice. The network will include existing partners from Ireland, the Netherlands, Belgium and Switzerland.
St Patrick's College, Drumcondra has a long history of using Lego® materials for teaching and learning, particularly through its Empowering Minds community. Developed by Dr Deirdre Butler, this programme has helped teachers and children from over 60 schools explore concepts of design, sensing and control by building their own Lego® models.
Speaking at the announcement of the new initiative today at DCU St Patrick's Campus, Dr Deirdre Butler said,
"This flagship innovation space is a wonderful example of a smart partnership enabling the Institute of Education to be the first to mainstream the Lego® Education principles across the full spectrum of teacher education. It brings together Lego® Education's range of expressive learning materials with the Institute's creative, innovative leaders in teaching and learning to design exciting learning environments in which our children can develop the range of skills necessary to thrive in this globally connected digital world."
This new initiative will commence with a three-day workshop (Monday 11th to Wednesday 13th) led by Global Master Trainer, Rob Widger, from Lego®'s Education Academy to upskill key Institute of Education staff in the areas of Digital Learning, Maths, Science, Literacy and Early Childhood as well as IT services. Ongoing support will be provided by Ross Maguire of IT & Stem Solutions, an official partner of Lego® Education.
Speaking at the launch event, Gary Jones, Area Manager Central Europe/Benelux/IRL, Lego® Education Europe said,
"European education is in a state of flux with STEM being the catalyst for change. It has been very refreshing working with St. Patrick's and our partner for Ireland "STEM Solutions" who want change, seeing how quickly they have put things in place, especially getting full cross-faculty buy-in to make these changes right across the educational landscape. Lego® Education has worked hard to develop a range of teaching tools that offer solutions that meet 21st Century classroom needs. This "smart partnership" will offer a range of opportunities to teachers and therefore children not only in Ireland, but as the new Institute of Education has decided to drive the European LEIS network, throughout Europe too. To use a cliché 'watch this place'."
Outreach activities of the Lego® Education Innovation Studio will include a range of continuing professional development for teachers; opportunities for teachers to bring their classes to use the resources in-studio; open days and evenings for schools and local community groups and hosting the first Lego and Junior Lego Leagues.