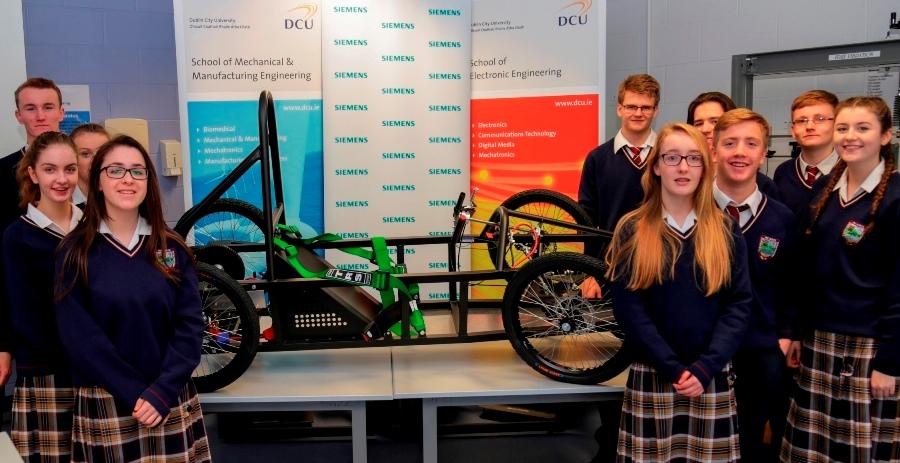 Below Image
DCU Inspires Future Engineers with Greenpower Car Challenge
The Faculty of Engineering and Computing at Dublin City University, with the support of Siemens, will work closely with transition year students at Donabate Community School over the next few months to design, build and race two electric cars.
The project forms part of the Greenpower Car Challenge organised by the Greenpower Education Trust, which aims to promote sustainable engineering and technology to second-level students and ultimately inspire them to consider a career in engineering.
Academics and members of the DCU Engineering Society will mentor the student group on a weekly basis to help them build the cars from scratch in DCU's engineering laboratories – a build phase which will culminate in with the Greenpower competition in Belfast in June 2016.
Speaking at the launch, Dr Brian Corcoran, senior lecturer, mechanical & manufacturing engineering at DCU, commented,
"We look forward to working with such an enthusiastic bunch of transition year students on this challenge and would encourage them to be as original and creative as possible throughout the process.
In sharing their experience, we hope that it will spark an interest for some to consider engineering at third-level and ultimately pursue a career in this area. We are grateful to Siemens Ireland for supporting us in this regard."
Team sponsor, Siemens, is sponsoring the project by providing Solid Edge, its Project Lifecycle Management Software to the University, allowing staff and engineers to provide assistance to the students to the best of their ability. Majenta PLM, which is the UK's leading Siemens PLM software solution provider, will be on hand to provide expert support in Solid Edge implementation. As a result of working with Majenta and Solid Edge on this project the University hopes to enter the Greenpower Car Challenge at a senior level.
"Siemens in Ireland is delighted to support the Greenpower Challenge. Projects like this are invaluable to companies such as Siemens, helping us to reach tomorrow's talent by engaging young people in engineering and science from an early age", said Gary O'Callaghan CEO at Siemens Limited, Ireland.
"By using real life applications such as the building of electric cars we hope to get young people enthused about science and technology. In particular the Greenpower Challenge to design and build an electric racing car spans the Siemens focus areas of Automation, Electrification and Digitalization. It complements our extensive global programme of engagement with young people around the STEM (Science Technology Engineering and Maths) Agenda."
The Greenpower Challenge is also aligned to sustainability research being carried out at DCU and Dr Stephen Daniels, Director of DCU's Sustainable Economies & Societies Hub who also attended said "this project is an excellent demonstration of how companies such as Siemens and academics can work together on new ideas, technologies and processes that will improve resource productivity, the environment and sustainability."