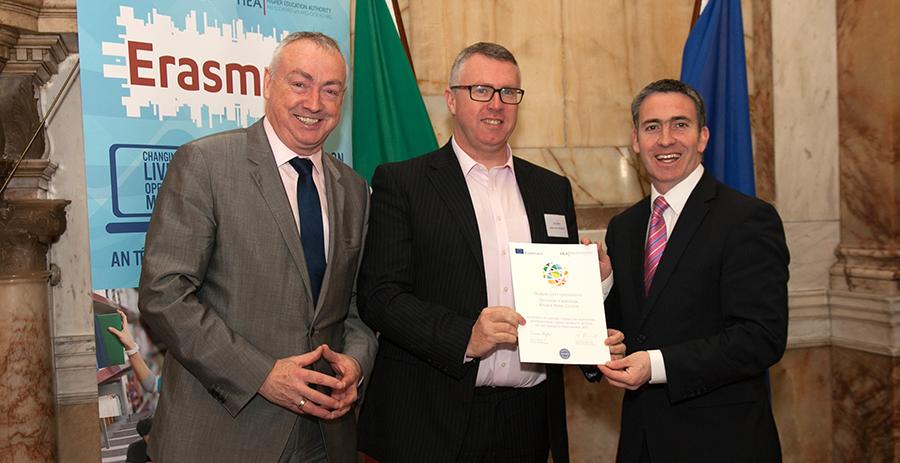 Below Image
DCU presented with Erasmus+ programme award
Dubln City University was awarded for being leaders in the Erasmus+ International Credit Mobility Programme. Paul Smith, Head of the DCU International Office, was presented with the award by Damien English TD, Minister for Skills, Research and Innovation and Tom Boland, HEA Chief Executive.
The award marks the first time that the selected twelve Irish higher education institutions are able to send and receive students and staff from regions outside the EU/EEA. €1million from the Erasmus National Agency will be split between the institutions to facilitate this development.
The selected Irish institutions will be linked with over 70 universities around the world. Dublin City University will be linked with six universities across Egypt, Georgia and Ukraine and have been awarded €21,068 to implement this.
HEA Chief Executive Tom Boland said "I congratulate the institutions which have been successful and have demonstrated their intention to spread Ireland's global educational reach. Education at all levels has been at the heart of the development of Ireland and there is much we can contribute from that experience. But equally in a world where interdependence is a growing necessity – there is much we can learn from partners in all parts of the globe. This initiative supported by the Erasmus+ programme is a most positive step in that direction."
Over 270 students and almost 120 staff from Irish higher education institutions will benefit from this programme. The other selected institutions are University College Dublin, University of Limerick, Royal College of Surgeons, Limerick Institute of Technology, Trinity College Dublin, Mary Immaculate College, St. Nicholas Montessori College of Ireland, Cork Institute of Technology, Dún Laoghaire Institute of Art, Design and Technology, Dublin Institute of Technology and Institute of Technology Tallaght Dublin.