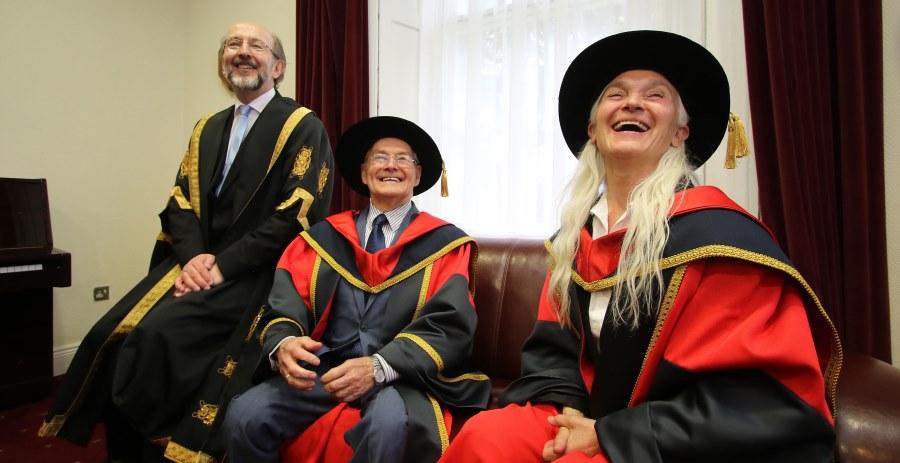 DCU honours acclaimed actor, Olwen Fouéré and Holocaust survivor, Tomi Reichental
Dublin City University yesterday paid tribute to award-winning actress, Olwen Fouéré and Holocaust survivor, Tomi Reichental by conferring them with honorary doctorates at the university's March graduation ceremony.
Olwen Fouéré, a multi-award winning actor, writer, director and creative artist, was recognised for her outstanding outstanding services to her profession. Delivering her citation, Marina Carr, playwright and DCU's Writer-in-Residence highlighted Olwen's significant contribution to theatre, the arts and culture in Ireland,
"In a long and distinguished career, spanning four decades, her incredible gifts and power and chameleon-like qualities have allowed her to navigate not only theatre, both mainstream and experimental, but also the visual arts, music, dance, opera, film and literature. Olwen's focus is on making Art and in this she is truly a pioneer, a questing spirit, much revered by her contemporaries. She is an aesthetic phenomenon, a national treasure and an inspiration to us all. Olwen Fouéré, we are delighted to have you here in DCU to celebrate your bravery, your artistic generosity and your astonishing gifts.
Olwen was joined at the ceremony by Tomi Reichental, a survivor of the Holocaust, who was imprisoned in Bergen Belsen in 1944, at the age of 9 years. He has received many awards for his work and tireless efforts to promote tolerance and to educate young people about the importance of remembrance and reconciliation has made him one of the most inspirational figures in modern Ireland.
Professor Gary Murphy, Head of DCU's School of Law & Government said,
"In the past number of years Tomi Reichental has proven to be one of the most inspirational figures in modern Ireland. His effort to ensure that the important themes of remembrance, forgiveness, conflict resolution and reconciliation remain to the forefront of modern Irish thought is truly important. In an age where we see horrific pictures of refugees attempting to flee appalling regimes to find sanctuary in the West, Tomi Reichental is a vivid example of the positive impact refugees make to modern Irish society. Honouring Tomi Reichental with the highest honour that Dublin City University can bestow is a fitting tribute to Tomi and his work. It also expresses this University's commitment to multiculturalism and inclusion and showcases our solidarity with the plight of refugees today, who seek a better life, as Tomi and his family did over fifty years ago."