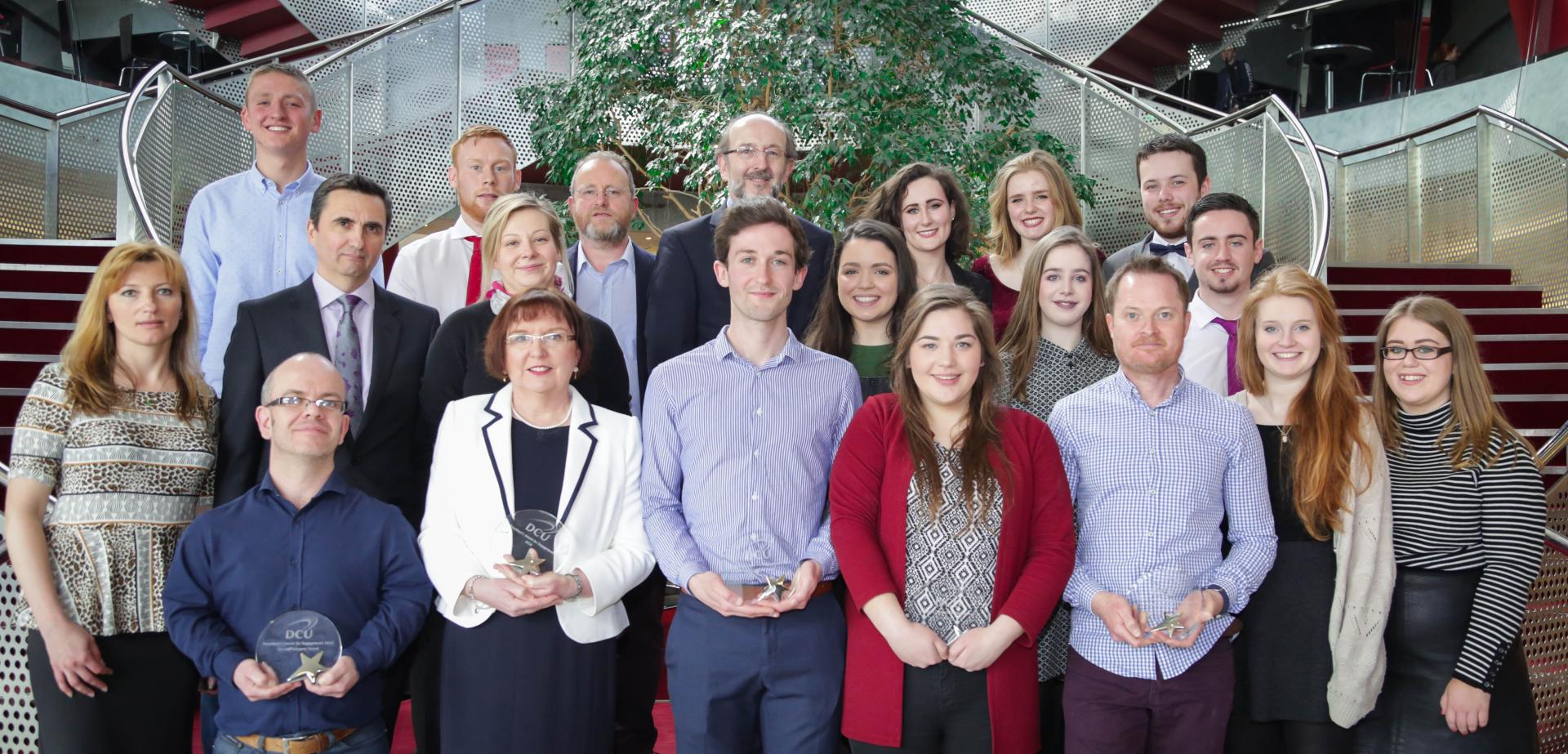 Projects to address global literacy, community initiatives and teaching science in a fun way honoured at Engagement Awards
The 2016 President's Awards for Engagement were celebrated at a ceremony in the Helix on Monday, April 25th. The awards recognise the outstanding contributions by staff and students in the wider community across a range of activities.
The recipients of the 2016 awards are as follows:
Bernadette Dwyer, Institute of Education, St. Patrick's College – Chekhov E-book Lit4Life Project
The Chekhov E-book Lit4life is a partnership project between Microsoft, UNESCO, Mediacraft and St. Patrick's Campus, Dublin City University that harnesses the power of technology to address the problems of literacy in the world. Fourth year B.Ed. literacy specialism students and graduates of the college and university developed 50 levelled e-books for beginner readers including some titles related to Irish legends and myths. The e-books are available to download using a free app that operates on low cost mobile devices. The apps provide a scaffolded digital learning environment, with inbuilt illustrations and narration support, for emerging readers as they build literacy skills. The e-books will be piloted by UNESCO as part of a range of literacy services to underserved communities in Bangladesh, Egypt, Ethiopia and Mexico in the coming year.
Special Mention Staff Category: Vincent Hooper and Brian Kelleher, School of Chemical Science, DCU – Teach to Learn and Science Promotion Collaboration with Trinity Comprehensive School, Ballymun
This annual project aims to promote science to second year students from a local DEIS school through a series of workshops delivered by DCU Environmental Science and Technology students and through field study conducted yearly in a seashore location. The project introduces secondary school students to scientific concepts and field work thus promoting environmental science and inspiring younger students to pursue the subject at second and third level. DCU students have an opportunity to act as teachers, hence providing them with a new outlook on the teaching and learning of science. Participating DCU students also serve as role models to inspire local students not only to pursue the study of science, but also to see DCU as an open and accessible space. The judging panel also commented on the significant, non-timetabled voluntary involvement from the nominated lecturers, as well as participating DCU students.
Winner Student Category: DCU Raising and Giving Society – Local Community Projects
Since its establishment in 2011 the DCU Raising and Giving Society has been known for its innovative, creative and enterprising student-led projects that have addressed a number of local community needs. In the academic year 2015/2016, DCU RAG Society has led five weekly social projects in the DCU neighbourhood, including programmes with St. Joseph's NS, Trinity Comprehensive, Aisling afterschool Project, Operation Paint Ballymun, Go GAGA for GAA, RAG Rhythms and Ballymunch. All these projects have been fully student-led and voluntary. DCU RAG Society members constantly look out for new opportunities for involvement and two new projects are already lined up for the next academic year. Over the years, DCU RAG Society has been one of the drivers of student volunteering at DCU, demonstrating to third level students that engagement with local community through voluntary activities not only contributes to the betterment of the lives of others, but is also an enjoyable and fun experience through which students can develop transferrable skills and graduate attributes.
Special Mention Student Category Cody Byrne – Outstanding Individual Contribution: Global Brigades
Cody Byrne has been involved in the work of Global Brigades throughout his time at DCU and since 2013 he has been the Manager for Global Brigades Ireland. His second- to- none dedication to Global Brigades has had immense rippling effect on the DCU student body, but also at a higher level, on the lives of hundreds, if not more, people across the world. Cody has led the most Brigades and the largest ever Irish Brigade, in Ghana and Honduras: the projects led individually by Cody engaged not only over 120 DCU students but also students from other Irish universities and IoTs. In the course of his voluntary work, Cody has also engaged with organisations including Concern Ireland, Irish Red Cross, and the Laura Lynn Foundation, to name but a few, as well as contributed to a number of events held by societies on campus (Cancer Soc, RAG, FotoSoc, Africa Soc). His Intra placement with DCU Sustainability Office is an example of Cody's commitment to our own university community.
Special Award in Enterprise Engagement Michael Henry – Special Recognition for Enterprise Engagement – Novel LC-MS-MS-Workflow for Proteomic Profiling of Biological Samples
The purpose of Michael Henry's project was to set up a practical workflow enabling researchers at DCU and their partners in academia, clinical settings and industry to apply a new set of technologies to biological samples and to assist in the interpretation of the data generated by these technologies. This facility has been built ab initio by Michael Henry to be leading nationally and internationally competitive. During the project Michael Henry has engaged with an extensive range of stakeholders internally at DCU and externally - in industry, enterprise and academia. His work forged research collaborations with industries, including Pfizer, Eli Lilly and All Tech, as well as with colleagues at 3U partner institutions – RCSI and NUIM. Michael's project secured international partnerships with Harvard Medical School and the University of Buffalo. His work has contributed to the success of numerous grant applications, SFI, Horizon 2020, FP7 and HRB, from DCU colleagues. The diverse collaborations led to the licencing of the technology Michael built from the start up from DCU to All Tech. Michael's work is held in high esteem by experts in the field, and has greatly contributed to the image of DCU as an engaged university nationally and internationally, crossing the boundaries between academia, industry and enterprise.
Speaking at the 2016 President's Awards for Engagement, Professor Brian MacCraith, President of DCU said: "The projects that have been honoured here today demonstrate the culture of engagement amongst the staff and students in Dublin City University. The desire to make a positive contribution to the lives of people within the environs of DCU; the wider community and so too nationally and globally is evident in the initiatives that have been honoured. I am delighted to publicly acknowledge the value of these initiatives and I commend each of this year's recipients for their unwavering commitment to finding solutions to issues which impact on the quality of people's lives and communities."
Head of Civic Engagement Professor Ronnie Munck commented that: "The President's Award for Engagement continues to grow year by year. It signals a huge commitment by DCU staff and students to 'making a difference' in society, in their communities and within the university itself. It is a sign of a healthy and engaged civil society which augurs well for the university and its role in society."