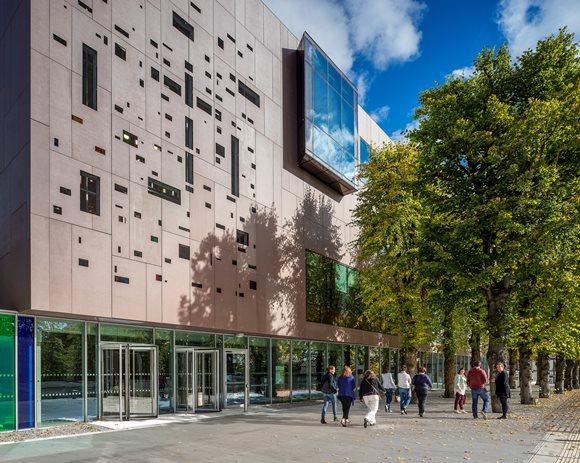 New bus routes announced for the academic year at DCU
A series of new bus routes to and from Dublin City University have been confirmed for the new academic year, providing an increased level of transport options for staff, students and visitors to Dublin City University.
People from north east and east Leinster commuting to DCU will benefit from a series of privately and publicly operated bus routes serving the following areas; Dundalk, Drogheda, Skerries, Rush, Lusk, Swords, Newbridge, Naas, Lucan, Trim, Navan, Dunshaughlin, Ratoath and Ashbourne.
The new routes will serve 14 major towns in the commuter belt region. They will enhance the public transport options for the 16,000 student body currently at DCU. They will also be of interest to prospective DCU students and existing staff.
Bus Éireann have confirmed the commencement of two new direct routes. The first departs Trim and stops in Dunshaughlin, Ratoath, Ashbourne and DCU, Glasnevin Campus.
A second express service operates direct from Navan to DCU. These routes commenced service on September 12th and can be viewed on the 109A timetable on the Bus Éireann website.
Matthews Coaches, who operate routes from Dundalk, Drogheda, Bettystown and Laytown to Dublin, will commence a dedicated direct service from Dundalk/ Drogheda to DCU. Departing at 7.15am it will arrive at 8.30am at DCU Glasnevin Campus, with an evening departure at 5.15pm. The service starts on September 19th.
JJ Kavanaghs will also operate two specific routes for DCU bound students and staff. The Newbridge/Naas/Lucan JJ Kavanagh service will stop at both the St. Patrick's and Glasnevin Campuses and commences on September 19th.
The new JJ Kavanagh Skerries/Rush/ Lusk/ Swords DCU route services the Glasnevin Campus. It commences at 7.30am and 9.30am. There is an afternoon and evening departure leaving at 2.10pm and 5.00pm respectively. It commenced service on September 5th.
For full details on all transport options click here