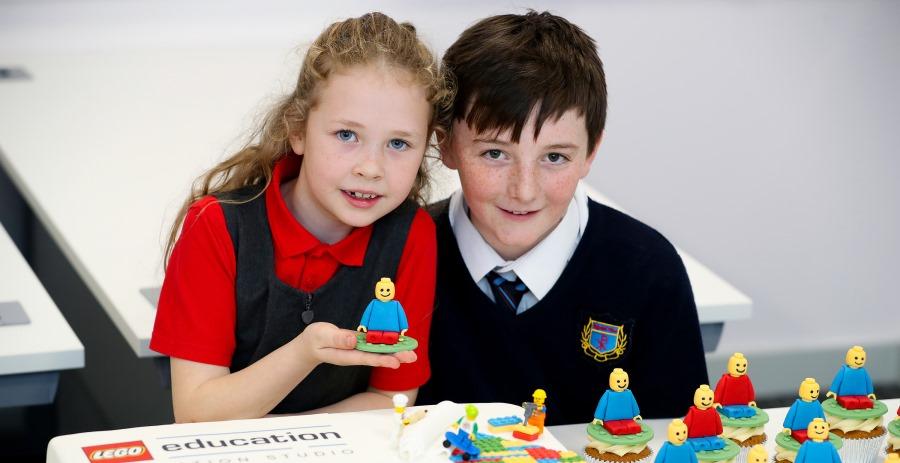 DCU unveils new LEGO Education Innovation Studio
FIRST® LEGO® League Jr Challenge announced for Leinster and Munster
The newly completed LEGO Education Innovation Studio (LEIS) has been officially opened today on DCU's St Patrick's Campus. Opened by Jesper Just Jensen, LEGO Education's lead on innovation and Professor Brian MacCraith, President of DCU, the Studio will act as a dedicated interactive learning hub to help DCU student teachers and Irish schools develop innovative and creative approaches to teaching STEM (Science, Technology, Engineering & maths) subjects in the classroom.
A programme of annual events for learners across the education continuum (primary, post Primary, third level and adults) was announced, beginning with the FIRST LEGO League Jr Leinster and Munster competitions. The League is designed to introduce STEM concepts to kids aged 6 to 10 while exciting them through a brand they know and love - LEGO.
Guided by adult coaches, teams explore a real-world scientific problem such as food safety, recycling, energy, etc. They create a Show Me poster that illustrates their journey of discovery, the research they engaged in and introduces their team. They also construct a motorised model using LEGO elements including sensors (e.g. touch, tilt) to capture what they learned. They learn about teamwork, engage in critical thinking, problem-solving, skilled communication and self-regulation, which are the skills needed for our complex, connected world.
Jesper Just Jensen, Head of Front End Innovation & Member of the global LEGO Education leadership team for LEGO Education said,
"DCU's LEGO Education Innovation Studio will give visible evidence to teachers that STEM in a "Hands-on Playful Learning" environment works and will provide them with the tools and support they need to teach 21st Century Learning Skills to their pupils. We are all looking forward to some very interesting research results that show how this type of education helps pupils of all ages succeed."
Students from four Dublin schools who took part in a pilot version of the FIRST® LEGO® League Jr Challenge displayed their work today at the Innovation Studio, unveiling projects which explore the habitat of the honey bee and highlight its importance to the planet's sustainability.
Professor Brian MacCraith, President of DCU and Chair of the STEM Education Working Group said,
"DCU's Institute of Education strives constantly to be at the vanguard of innovations in learning and today's LEIS launch highlights another example of this. We are very excited about the Studio's ambitious ideas for teaching practices, research and outreach that will stimulate strong engagement with STEM subjects. Initiatives such as the LEGO League Jr Challenge ignite a lifelong passion for STEM subjects within our children at a very formative age."
DCU Institute of Education will now work closely with Learnit, LEGO Education and Ross Maguire of STEM Solutions, their Ireland partner, to roll out this initiative across Leinster, Munster and finally, nationwide. With the additional support of Science Foundation Ireland, post-primary schools will be invited and supported to participate in the FIRST LEGO Challenge. Teachers will take part in professional learning workshops focusing on the use of LEGO Education to bring STEM subjects to life, ultimately applying these learning practices within schools throughout the country. Outreach activities of the new Studio will include Continuing Professional Development workshops for teachers and summer camps for children.
Professor Deirdre Butler, head of Digital Learning at DCU's Institute of Education and advisor to the Implementation Group for the Digital Strategy for Schools highlighted the Studio as a concrete example of how the recommendations of the Digital Strategy for Schools and the STEM Education Report can be implemented in practice,
"Following the hugely successful pilot programme, we are very excited to announce both FIRST LEGO League Jr challenges which have the potential to transform how our children learn and engage with the science and technology that surrounds them every day. These innovative learning techniques have been embedded in all our Digital Learning and Science Education programmes, creating a team of LEGO Education champions in DCU's student teachers. Our added focus now on practising teachers' professional learning programmes will allow us to significantly build the scale and impact of these learning tools."
Through its leadership of a European-wide teacher education network of similar universities, the brainchild of LEGO Education's Gary Jones, the DCU Studio will develop a strong research component to document the learning which develops as a result of this digital engagement. Gary said,
"We are all very proud and honoured that Dublin City University has chosen LEGO Education as its partner in this very innovative project. I would personally like to thank Deirdre Butler for her far-sightedness, being able to see the potential even at our very first meeting just over a year ago and then to drive the project through. No mean feat."
About FIRST® LEGO® League Jr.
FIRST® LEGO® League is a global science and technology challenge for teams of students, to encourage an interest in real world issues and develop key skills that are crucial for their future careers. The students work together to explore a given topic and to design, build and program an autonomous LEGO robot to solve a series of missions. After a sustained period of time working on the project over a number of weeks the teams come together at Expos to share ideas, celebrate their learning, and have fun!