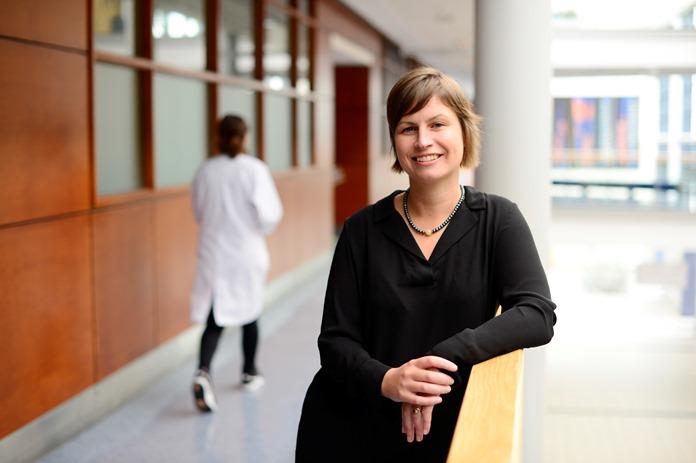 Spotlight on research: A tattoo to monitor health
This week's Spotlight on Research is with Dr Aoife Morrin, Senior Lecturer, DCU School of Chemistry and Funded Investigator with the Insight Centre for Data Analytics who works on clever skin patches or 'tattoos' that can pick up signals from the body.
"My group is developing easy-to-wear 'tattoos' that you can leave on the skin. We are developing this tattoo platform as a wearable medical device, so the tattoo material sits on the skin and can measure specific information from the body, with the aim of monitoring the person's health or performance."
How do they work?
"They are like temporary tattoo transfers: we screen print the tattoo material onto a transfer sheet as whatever pattern we want, then you press the sheet against the skin so the material contacts the skin, and you release the tattoo by dabbing the backing paper with water. The scientific advance here is that the materials that get transferred are tightly integrated with the skin so they can pick up high quality signals, but they are also able to flex and stretch and move with the skin so you can wear them for a long time. In practice it should be even easier than wearing a sticking plaster."
What kinds of signals would you design these tattoos pick up?
"Different materials will respond to different signals coming from the skin. Measuring the electrical properties of the skin can give us information on things like wound healing progress. We are increasingly looking at ways to measure biochemical signals too. Specifically, we are looking at ways to collect and detect the gases, or volatiles, that our skin emits, to see if we can interpret these signals in the context of our health."
How do you measure the signals that the materials on the skin detect?
"At the moment we need to physically contact with the tattoo to measure the signals, but we would anticipate that in the future it could be a wireless signal, where you could perhaps measure it with a smartphone app."
And what kinds of medical conditions might you monitor with these wearable devices?
"One of the big things we are looking at is the integrity of the skin barrier, which changes in skin conditions such as eczema and to a certain extent in psoriasis. Ideally we would like to be able to pick up signs that the skin barrier is becoming compromised, which could warn of an impending flare-up. That would mean steps could be taken to protect the skin. Being able to measure gases in the skin might also be of use for a range of other conditions, such as diabetes and even cancer too. I am confident we will see a range of wearables such as these that are capable of monitoring our health status on the shelves of pharmacies in as little as five years."
How did you become interested in this area?
"As a chemist I have always been interested in materials and sensors. The idea of using simple printing methods for building chemical and biochemical sensors, and even whole devices has always been of interest. So I came up with this project to develop printed sensors into wearable platforms for the skin, and Science Foundation Ireland granted me a Career Development Award, which funds the research."
What is your typical day in research?
"I run a research group of four post-graduates and a post-doctoral researcher, so I spend a lot of time with the group discussing ideas and findings. We also work with lots of other people in DCU and in Insight - we are always learning from our colleagues in biochemistry and data science. As well as running the research group, I lecture to our chemistry students. I am also the Research Convenor in the School of Chemistry, so I am there to help if anyone in the School has issues around research."
What drives you to keep going in research?
"I think it's seeing the people in the research group develop themselves as we move ideas through into development, that is really rewarding. We have a great bunch here and we work well together – we all learn from each other."