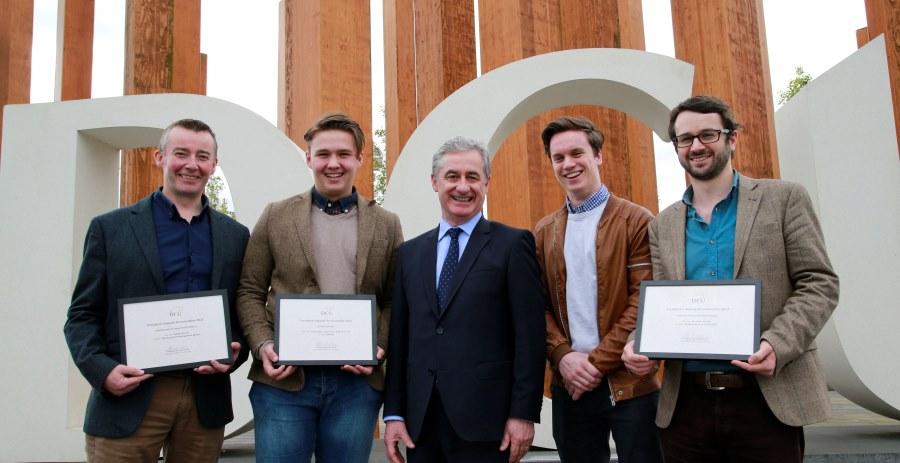 DCU Innovation Award winners announced
A gel for treating cerebral aneurysms, a DIY robotics kit that teaches children the basics of coding in a fun and intuitive way, and a research infrastructure database that enables wide access to DCU's state-of-the-art research equipment and facilities are this year's winners of the DCU President's Awards for Innovation.
Presented by Professor Brian MacCraith, President of DCU, this afternoon (26th April), the awards encourage and recognise innovative achievements by DCU students, researchers and staff. Speaking at the awards ceremony, Professor MacCraith, praised the creative thinking behind the successful projects,
"The wide range of innovations showcased here today highlight how enterprise and creativity are fostered into the everyday activities of DCU students and staff, reaching every part of our three campuses. The winners bring to life the university's mission of transforming lives and societies."
The three winners are:
1 Academic & Research Category
Dr Owen Clarkin of DCU's School of Mechanical & Manufacturing Engineering has developed a minimally invasive solution for the treatment of brain aneurysms, a bulging blood vessel surrounding the brain. EnduraGel is a hydrogel which can be injected through small tubes from the groin into the brain. Once injected into the affected area, the gel hardens, closing the aneurysm and preventing blood ingress and continued expansion. It is estimated that 1 in 50 people have a brain aneurysm which, if untreated, can rupture, causing bleeding into the brain, often resulting in severe disability or death. Owen and his team hope that this new technology will improve the clinical outcomes of patients with cerebral aneurysms and allows doctors to treat aneurysms currently thought to be untreatable.
Watch Owen describe his research here.
2 Student Category
Founded by first-year DCU students, Adam Dalton (Bachelor Business Studies) and Evan Darcy (Bachelor of Engineering), along with BT Young Scientist winner, Shane Curran, Robotify produces a DIY robotics kit. Aimed at parents who want to introduce their children to the world of coding, and at teachers who are interested in running their coding course, Robotify also runs a number of courses and summer camps throughout the year to encourage young people to get interested in STEM subjects.
Watch Adam and Evan describe their product here.
3 Administration & Support Staff Category
Robbie Sinnott of DCU Research & Innovation Support has developed the Research Infrastructure Network which provides an online booking system and access to DCU infrastructure for researchers, both within and outside the university, and for industry collaborators.
Watch Robbie explain the service here.
Other shortlisted innovations included:
Lego Education Innovation Studio - an initiative that is preparing the next generation of teachers and learners to confidently engage with the technologies which surround them every day;

A novel anti-inflammatory drug that could have significant health impacts for patients with chronic conditions such as atopic dermatitis in children;

HealthPath - a digital health platform that gives migrants and refugees access to medical professionals who literally 'speak their language';

Lifestyle Insurance for Millennials – an app to make life insurance relevant to millennials;

safer.place - a website which allows students to safety-check the area they would like to live in;

A Customer Relationship Management system to build and capture relationships with prospective DCU students;

A process to facilitate a new BA Joint Honours curriculum redesign, timetabling and academic structure as a result of the DCU Incorporation.
The keynote speaker at the event was Kieran Curran, founder of GenCell Biosystems, who shared his experience of designing, developing and commercialising a new approach to genetic testing.