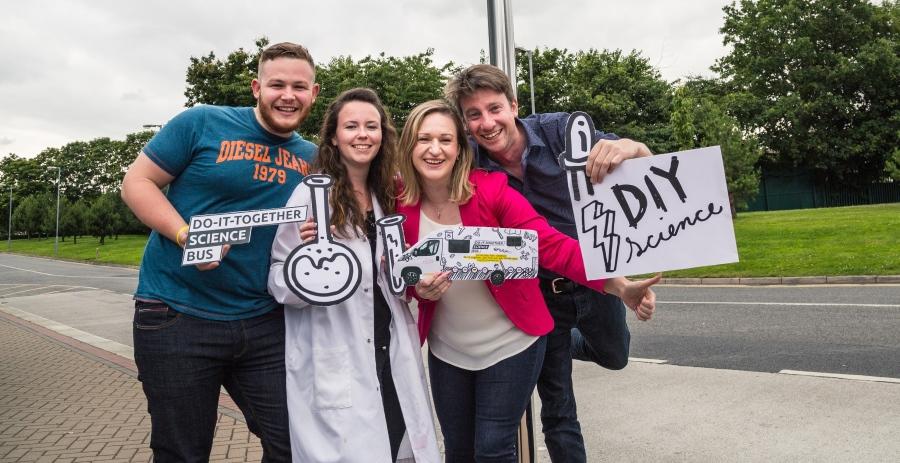 DCU physicists get the Science Bus rolling
Five Irish physicists have been selected to lead a European initiative which will see a Science Bus tour around Europe to demonstrate that citizen science is an accessible and fun way to explore the world around us.
The Science Bus forms part of a European project 'Doing It Together Science' in which 11 research institutions will collaborate with science galleries, museums and art institutions to host innovative workshops, exhibitions and activities to engage as many people as possible with citizen science.
Following an international call and selection process, five Irish physicists (four from Dublin City University and one from University College Dublin) were selected as captains of the bus as it makes its way across Europe. PhD researchers Claire O'Connell and Stephen Davitt will lead team one, DCU graduates Philip Smyth and Aoibheann Bird team two and Mark Langtry (graduate of UCD Physics is one of the leads in team three). Each team will present workshops in multiple locations over a three week period following its official launch in Amsterdam on July 12th.
These five dynamic physicists are excellent science ambassadors and already have achieved a suite of accomplishments. Claire is final year PhD student at DCU studying nanoparticles as new tools for cancer detection. She completed her bachelors in Physics with Biomedical Sciences from DCU in 2013. Stephen is a final year PhD student from North County Dublin and is studying laser plasmas at DCU. He graduated with bachelors in Applied Physics from DCU in 2013. Claire and Stephen have participated and won several national awards for STEM communication, e.g. "I'm a Scientist – Get me out of here", Famelab, Inspierfest, Tell it Straight.
Phil is an award winning science communicator, broadcaster with RTÉ, and is currently the Head of Public Engagement with Cool Planet Experience. Aoibhéann is the Education and Public Engagement Manager for Insight Centre for Data Analytics at University College Dublin and Dublin City University and leads initiatives such as Thesis in Three, Diving into Space and Girls Hack Ireland. Mark is a scientist and professional footballer and actor from Ireland. Working in the Science Gallery Dublin, Mark combines his passion for Science with his love for football and filmmaking. Performing science shows in schools and events around the country, Mark has appeared on science TV, international adverts, captained his country, played in the Europa League and has a degree in Theoretical Physics UCD.
"It is a fantastic achievement that these five Irish physicists have been selected to captain the Science Bus for this tour of Europe", commented Eilish McLoughlin, Associate Professor in Physics and Director CASTeL at Dublin City University. "They are at the forefront of initiatives and events to increase engagement in STEM education in Ireland, e.g. Leading initiatives such as Physics Busking, Thesis in Three, Girls Hack Ireland, presenting shows such as Insiders and SwipeTv".
Seven vacancies for captains were advertised and it is a major success that five Irish scientists have landed five of these vacancies.
"I cannot wait to start our adventure on the Science Bus, to learn creative life hacks, meet new people and explore Europe. No one expects you to just turn up with a bus-load of science kit to play with. This innovative approach has the potential to inspire thousands across the EU" said Aoibheann Bird, Science Bus Captain.

"I still can't believe that they're giving us a whole bus! We get to spend nights in museums, rock out at music festivals and meet people from all over Europe. It's a dream project to work on and for 5 of the 7 captains to be chosen from Ireland shows that we have a wealth of talent available to us here. This is a fantastic platform for us to showcase Ireland and how we science can help in everyone's daily lives." Phil Smyth, Science Bus Captain.
Citizens have a major role to play in addressing the challenges to a sustainable future. It is by 'doing science together' that we combine our resources and expertise to raise awareness, build capacity, and innovative lasting solutions grounded in society. It aims to build the institutional and policy foundations for deep public engagement in science and technology in Europe.
To make this happen a consortium of 11 partners across the EU brings expertise from a range of areas including community organising, policy development, engagement in science and technology, citizen science research, technical visits and knowledge transfer in two broad strands: Environmental Sustainability and BioDesign.
The Do It Together Science network includes European Citizen Science Association (ECSA) - linking practitioners, scientists, and supporting policy makers), SMEs (Tekiu; Eutema), universities (UCL; Université Paris Descartes; Université de Geneve), science galleries, museums and arts organisations (Kapelica Gallery / Kersnikova; Medialab-Prado; RBINS) and NGOs (Meritum Association; Waag Society).
This project has received funding from the European Union's 'H2020-EU.5. - Science with and for society programme' under grant agreement no. 709443.
Further information: http://www.togetherscience.eu/