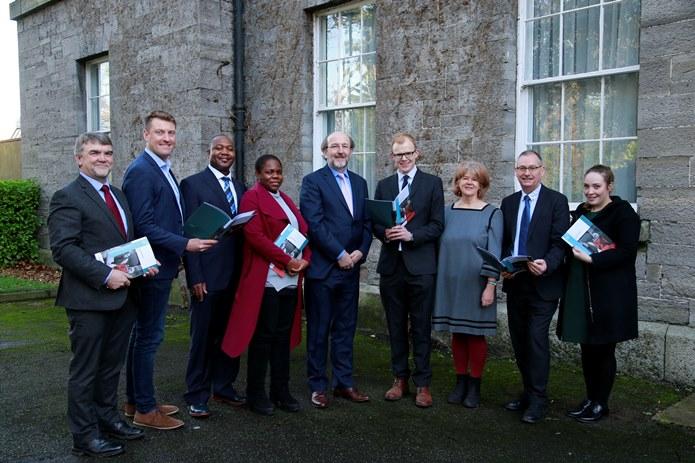 DCU launch Refugee Week to raise awareness of life for those in Direct Provision
Dublin City University today (Monday, January 29th) launched "Refugee Week" to raise awareness of the issues and challenges facing people who are currently living in Direct Provision centres in Ireland.
A range of cultural, sport and language activities are taking place as part of DCU's status as a "University of Sanctuary", the first Irish university to receive this designation in recognition of a commitment to welcome asylum seekers and refugees into the university community.
One of the key highlights is the #€21.60 campaign with a number of students living on €21.60 per week and documenting their experiences on social media.
The move is part of an effort to highlight the difficulties faced by asylum seekers and refugees who live on a weekly state welfare allowance of €21.60.
Staff and students from DCU are also helping residents from Mosney Direct Provision Centre to learn English through weekly storytelling and discussion groups.
The MELLIE Project (Migrant English Language, Literacy and Intercultural Education) runs for eleven weeks with groups sessions taking place weekly at DCU.
Sport will demonstrate its power to build bridges and forge new ties during "Refugee Week", with a five-a-side "University of Sanctuary DCU Soccer Tournament" between DCU Soccer Club and Syrian refugees from Mosney Direct Provision Centre kicking off on Wednesday afternoon.
Speaking at the launch of "Refugee Week" President of DCU, Professor Brian MacCraith, said:
"The launch of "Refugee Week" is a reflection of our ongoing commitment to promoting social inclusion and equity of access for people from an asylum and refugee backgrounds as part of our "University of Sanctuary" suite of initiatives.
"Refugee Week" brings all elements of the DCU community together to build new links with our refugee and immigrant communities, especially those in Direct Provision.
I am very pleased that it translates our institutional values into meaningful actions."
CEO of the Irish Refugee Council, Nick Henderson who attended today's launch said:
"DCU have lead the way in providing meaningful education opportunities for people seeking asylum in Ireland.The innovative mixture of scholarships, English teaching, advocacy campaigns and sport are crucial in bringing real, positive change to people's lives.
We congratulate them and wish them more success in 2018."
Today's event also marked the publication of the first annual "University of Sanctuary" report by DCU.
Some key highlights of the annual report included:
● Fifteen scholarship students enrolled at DCU since September 2017. Five students are currently studying at the University faculties(one student per each faculty) (DCU Business School, Humanities & Social Sciences, DCU Institute of Education, Science and Health, Engineering and Computing) and the remaining ten students through the online learning platform, DCU Connected.
● The inaugural "University of Sanctuary" lecture series delivered by Prof Alison Phipps, OBE, UNESCO Chair in Refugee Integration through Languages and the Arts, University of Glasgow.
● Research projects examining migrant integration into the school system and intercultural support for Syrian refugees in Ireland.
● DCU Hope Mosney Book Club providing books for people living in Direct Provision in Mosney.
● DCU Student Spinout Social Enterprise House of Akina, (founded by graduates Joshua Doyle and Lye Ogunsanya to support "University of Sanctuary" initiatives).
● Establishment of an MA in Refugee Integration.
● Hosting of Asylum Narratives Colloquium.