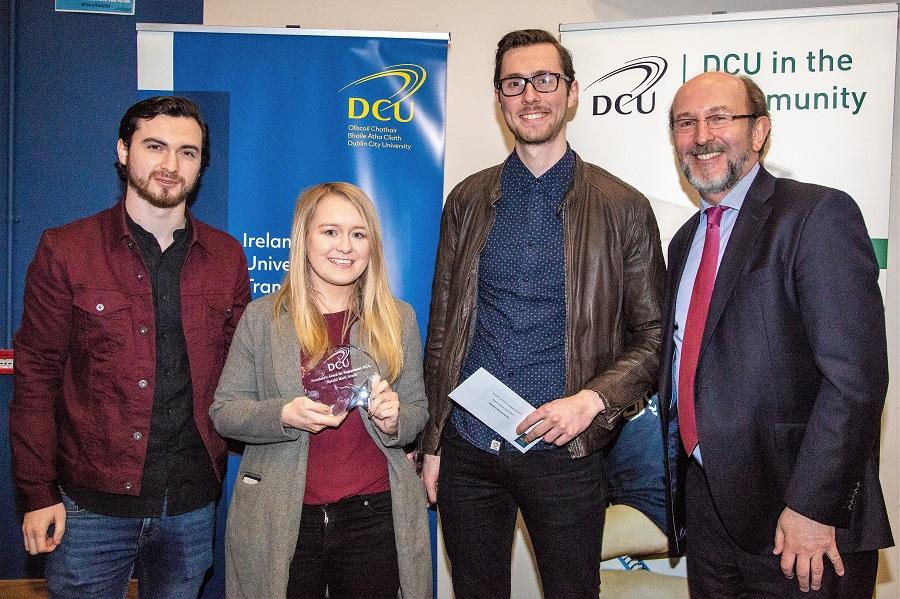 DCU honours outstanding contributions at Engagement awards
The 2018 President's Awards for Engagement were presented at a special ceremony on Wednesday at DCU by President of Dublin City University, Professor Brian MacCraith.
In the Engagement category, recipients from the areas of health, education, international relations and biological sciences were honoured for their outstanding work that has engaged both staff and students from across DCU, as well as enterprise and industry partners, with a wide ranging societal impact.
The awardees led projects in areas of STEM promotion and education among young people, youth empowerment and advocacy, and in working with groups that may be marginalised and isolated, which included the work on the foundations and principles of Autism-Friendly University.
President of Dublin City University Professor Brian MacCraith said:
"This year's Engagement Awards celebrate the excellence of staff and students in transforming lives and societies by combining enterprise and creativity in their daily activities. They also reflect the university's strong commitment to engagement with wider society as evidenced by award-winning projects. This year's entries and overall winners in the Engagement categories are a testament to the mission of this university."
The recipients of the 2018 Engagement awards:
Staff Category winner Dr Briege Casey (School of Nursing and Human Sciences) for her work in the areas of homelessness, poverty, substance misuse, intellectual disability, art and creativity and in particular leading on the Certificate in Homeless Prevention, Object Poverty exhibition and Love Loss Life project.
Staff Category Special Merit: Dr Mary Rose Sweeney and Prof Theresa Burke (School of Nursing and Human Sciences) for leading the whole-university, multi-campus research activities laying foundations for the designation of DCU as the world's first Autism Friendly University. The research informs actions to be taken to enable students with autism to thrive academically and socially.
Enterprise Engagement Award: Prof Deirdre Butler (School of STEM, Innovation and Global Studies) for her work in the development and engagement of "Smart Partnerships" to develop STEM competencies and multiple initiatives in the area of STEM education, especially among young people.
Student Category winner Ornella Nana (MSc International Relations) for her work as a youth advocate and in youth empowerment, educating young people on sustainable development goals and wide-ranging public engagement as an Irish Youth Advocate at European and worldwide events.
Student Category special merit: Biological Research Society for their student driven, engaging, creative and fun science promotion activities and workshops for young people and children linking in with the Aisling Project, Ballymun.