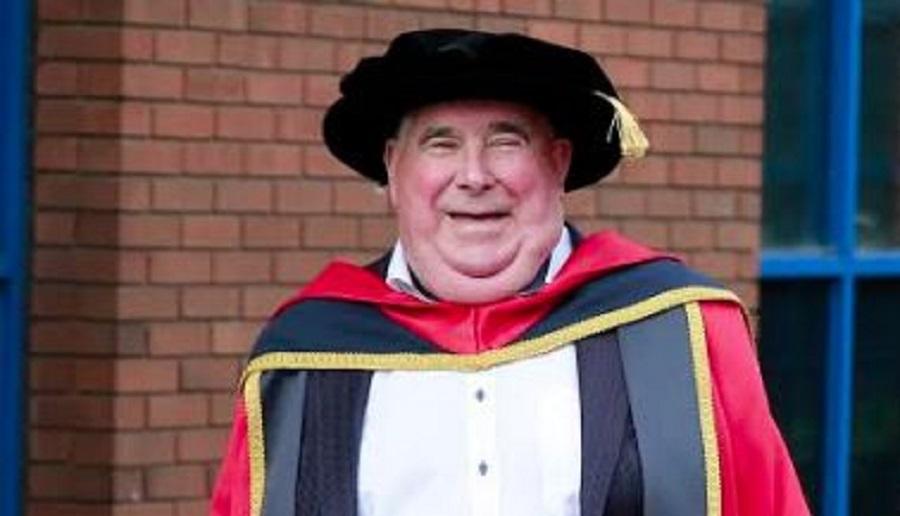 Tribute to Prof John Coolahan, RIP
On Sunday last, we learned with great sadness of the passing of Prof John Coolahan.
John was a colossus in Irish Education for more than five decades with a broad international reputation for his scholarly output. Moreover, he was a friend to many in DCU, particularly to those who joined the University through the Incorporation process that was completed in 2016.
John was formerly Chair of the Governing Body of both St. Patrick's College Drumcondra and the Mater Dei Institute of Education. In September 2017, he was conferred with an Honorary Doctorate by DCU in recognition of his immense contribution to education in Ireland.
John's relationship with what is now DCU began in 1959, when he received the 'call to training' at St Patrick's College, Drumcondra. Further studies took him to University College Dublin, where he completed a Master's dissertation on the Elizabethan poet Christopher Marlowe, and later to Trinity College Dublin for a Doctorate in Education. John was first and foremost a teacher and he taught across the complete spectrum of education, spending ten years at primary and secondary level, before commencing a career in Teacher Education, first at Carysfort College, and subsequently at UCD and Maynooth where he retired as Professor of Education in 2004.
Following his formal retirement, he continued the pattern of a career characterised by prodigious energy and extraordinary productivity, reflected in a research output of multiple monographs and over 120 scholarly essays. His first volume, 'Irish Education: its History and Structure' (1981) became the definitive survey of its subject, to be surpassed only by his most recent publication, 'Towards an Era of Lifelong Learning; a history of Irish Education 1800-2015' (2017).
Throughout his career, John played a key role in Education transformation, not only in Ireland, but also within the European Union and across the OECD, as reflected in a dozen country reviews. At home, he made significant contributions, as an Irish Times profile put it, as the 'principal mover in every major piece of education legislation … over the last four decades'. To each challenge he brought major insights, intellectual excellence, and personal integrity.
Serving on a succession of commissions and reviews, his influence shaped the 1995 White Paper, 'Charting our Education Future', the subsequent Education Act (1998), and the associated legislation, which created a range of institutions, including the National Education Psychology Service (1999), National Education Welfare Board (2000), and the Education Training Boards (2013) which support many of our schools. More recently, as chairman and rapporteur for the 'National Forum on School Patronage and Pluralism', he led a national reflection towards the resolution of the complex reordering of education provision in the Irish school system.
Convinced of the intimate association between the calibre of the teaching profession and the quality of schooling, John championed 'the teacher' throughout his career. His focus was never merely on the skills and competiencies needed to teach well, but on the formation of teachers as persons and professionals. This commitment was recognised in the award in 2017, by the Irish National Teachers' Organisation (INTO), of an Honorary 'President's Medal', the first and only time such an honour was bestowed.
John inspired generations of teachers in his own lectures. He was influential, too, in the creation of the Teaching Council (2001), a landmark development in the professionalisation of teaching in Ireland. As mentioned earlier, John played a pivotal role in DCU's Incorporation process that reached a formal conclusion in October 2016 after a complex, intensive 4-year programme.The successful completion of that work-programme achieved a result that John had advocated for, for almost half a century, the first faculty of Education in an Irish university, affording unprecedented capacity and scale to the enterprise of teacher education and research.
Among the Education community, John Coolahan was accorded universal respect. That respect was based not only on his scholarly achievements but also, more significantly, on the deep regard for his values, his humanity, and his integrity.
John was a giant of education reform and a true friend of DCU.
Ní fheicfear a leithêid arís.
RIP