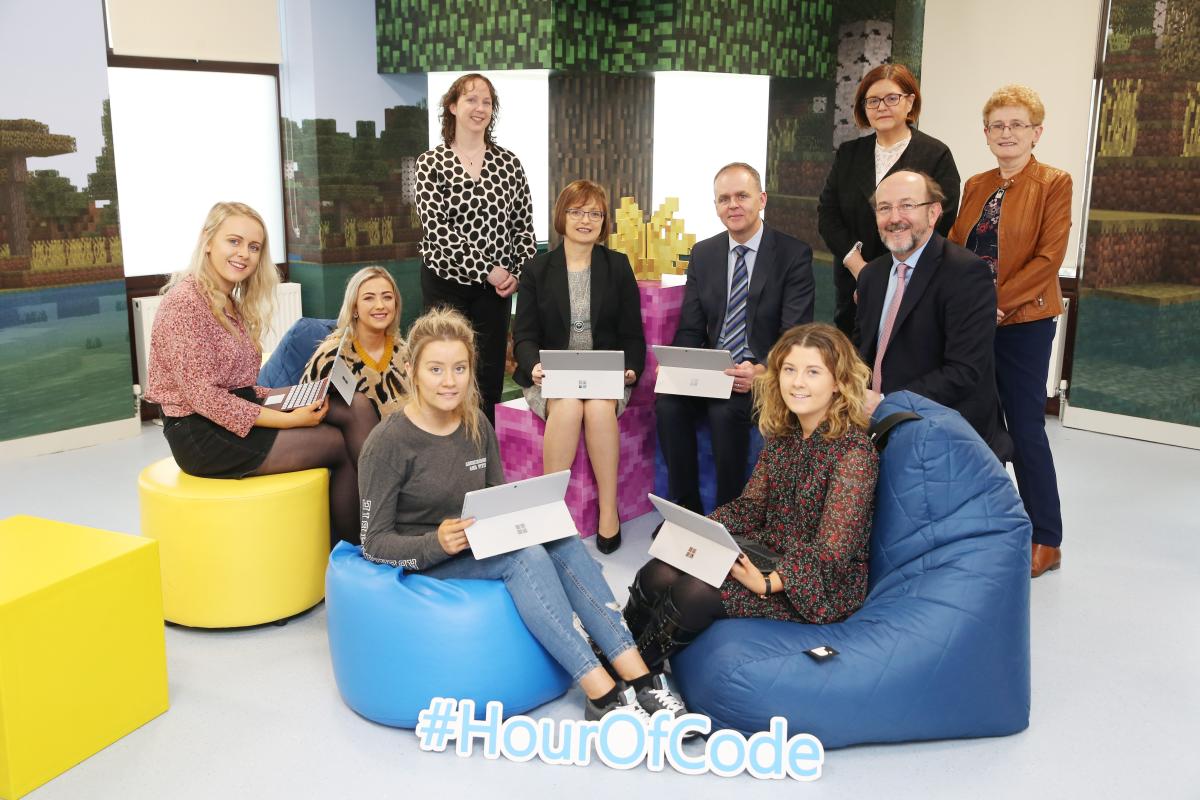 Microsoft partners with DCU to bring Hour of Code to an additional 10,000 primary students
- Over 450 student teachers from DCU will introduce coding to primary schools across Ireland
- Interactive Hour of Code Microsoft video session available to all schools looking to get involved
Dublin, 29 November 2018 – The Minister for Education and Skills Joe McHugh TD joined Microsoft Ireland today to unveil the company's plans for Hour of Code 2018 and its partnership this year with DCU to enable over 450 final year student teachers to introduce a world of coding to an additional 10,000 primary school students.
Hour of Code is an annual campaign held across the globe by Code.org and is held during Computer Science Education Week. From the 3rd to the 9th of December, Microsoft is inviting every primary school to get involved through the company's new interactive Hour of Code video session, which can be downloaded at https://aka.ms/HourOfCodeIRL. The company will also see 200 of its employees visit schools to deliver face to face Hour of Code sessions.
Speaking at the launch of the Hour of Code plans at DCU, Joe McHugh TD, Minister for Education and Skills, said: "I'm delighted to join Microsoft here in DCU to launch this year's Hour of Code campaign that will see thousands of students around Ireland get involved in a one-hour coding session. It's great to have industry involvement in promoting this for students and ensuring that the message of coding and the access to an Hour of Code is possible in every school."
"Coding continues to be a more and more important part of school curricula. We have computational thinking in Maths in primary schools, a short course in coding at Junior Cycle and of course, the introduction of Computer Science at Leaving Certificate. With this focus on the coding it is essential to partner with initial teacher education centres in order to promote STEM Education. The participation of student teachers from DCU will help to equip our young people with the computational thinking and problem-solving skills they will need to thrive in our digital world."
"As a Government, we are committed through the STEM Education Policy Statement and Implementation Plan to position Ireland as the best in Europe in STEM education by 2026. Initiatives such as this announced today will play a key role in not only developing key STEM skills amongst primary school students, it will provide our future educators with the tools to turn that passion into a life-long career."
The Hour of Code professional learning experience for student teachers in DCU, cofacilitated by DCU faculty and Microsoft employees, was hosted in the new Minecraft Studio, which was officially opened today. Microsoft has invested in this innovative Studio as a learning space for students in DCU and for practising teachers. The Studio brings the virtual immersive educational environment of Minecraft: Education Edition to life in a physical setting. Surrounding students in a Minecraft World, the Studio is equipped with devices and furniture to allow DCU faculty and students explore how innovative virtual and physical learning spaces can transform the curriculum and engage young people with new educational environments.
Cathriona Hallahan, Managing Director, Microsoft Ireland, said: "At Microsoft Ireland, our ambition is to help every student, through the power of technology, to realise their potential. We do this in a number of ways but key has been the opening of our dedicated education and innovation hub, DreamSpace, at our campus in Dublin earlier this year. Every day since it opened we've had students visit the space where our employees deliver bespoke digital experiences for them. As a company we're committed to bringing 100,000 students through this space over the next four years. We're on track to do this with students travelling from all corners of the country to visit."
"Hour of Code is an annual campaign we have taken a leadership position on for the last five years. Through Hour of Code we've engaged 15,000 students and given them a glimpse into the fun of coding. We're very excited to be collaborating with DCU on the campaign this year and having the opportunity to prepare student teachers to facilitate sessions and reach out to an extra 10,000 students and ensure we open up their eyes and minds to the possibilities that technology can create. Recent research by Microsoft has shown that by 2030, the fastest growing occupations will require skills such as collaboration, problem-solving, critical thinking and creativity. Student teachers will play a crucial role in preparing today's students with tomorrow's skill-set."
"With the ICT sector needing over 70,000 new workers over the next five years, there is a strong need to promote STEM education and provide new and innovative ways for our young people to grow their interest in technology. Our free, interactive Hour of Code video sessions for every primary school in Ireland is just one way to provide primary school students with a taste of what's possible if you open your mind to creativity."
Prof. Brian MacCraith, President of DCU said: "We are delighted to partner with Microsoft in this important Hour of Code initiative and we very much welcome their investment in the Minecraft Studio at DCU. This new facility will enhance the understanding and expertise of both student teachers and practising teachers in the area of coding. DCU places a strong emphasis on STEM Education in many ways, and we recognise that the preparation of teachers for both Primary and Post-Primary Schools in our Institute of Education, the only Faculty of Education in an Irish University, plays a critically important role in that regard. I am particularly pleased that over 450 final year student teachers at DCU will play a pivotal role in introducing a world of coding to an additional 10,000 primary school students."
Speaking today Rosa Langhammer, General Manager, CoderDojo said: "At CoderDojo, we've an ambition to grow the number of girls who code. In recent months, we've partnered with Microsoft to give young people the opportunity to develop their digital skills through the 'CoderDojo Champion Training Programme'. Through this initiative and the new Hour of Code campaign, we can attract more girls to coding, dispel stereotypes associated with the tech industry, provide access to relevant role models and get young people excited about a career path in technology."
To find out more and download the Microsoft Ireland Hour of Code tutorial, log onto https://aka.ms/HourOfCodeIRL.