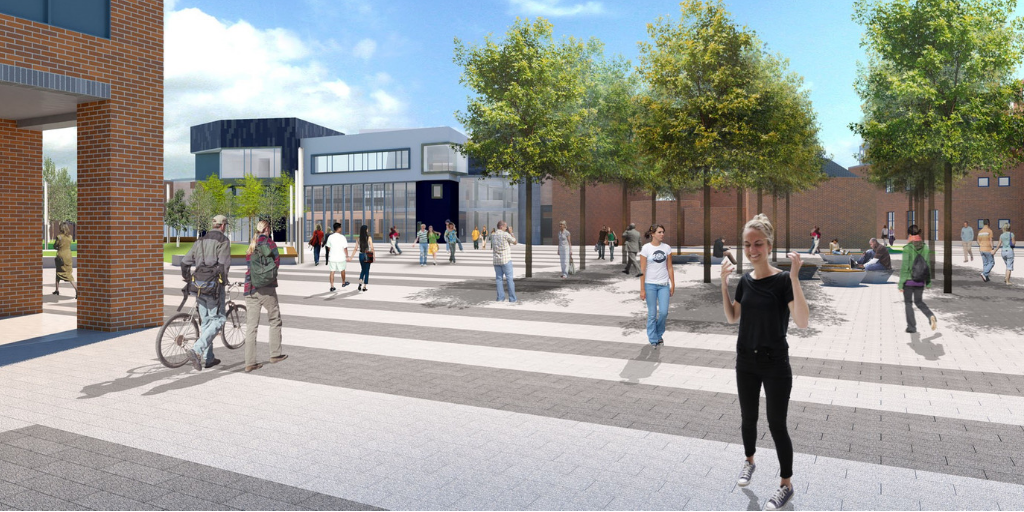 Upgrading the Main Mall at DCU Glasnevin
Bear with us while we deliver the next phase of our exciting new campus!
As part of the University's Campus Development Plan 2016-2021, the University has committed considerable investment to complete renovation works to the Public Realm spaces on the DCU Glasnevin campus, including the Mall, the Business School Square and the South Access Road.
The section of the Main Mall between the Henry Grattan and the Labyrinth is now being renovated to provide enhanced public amenity space to complement the new U building.
This will be complemented by renovation and improvement works in the South Ring Road to provide a modern pedestrian friendly access to the new U building, Sports Centre and Student Residences.
This phase of the development works will see over 9,000m2 of public amenity refurbished, providing new spaces for student amenity, enhanced circulation and improved access to all buildings.
As part of these works, we are undertaking a large-scale replanting of trees and shrubs to provide a sustainable open space with local varieties of trees and other plants. This includes the planting of over 125 native semi-mature trees and over 2,000m2 of new shrubs and lawn planting, as well as new seating areas and upgrades to campus-wide infrastructure. The public realm works will be completed by the end of 2019.
As a result, you may experience an increase in construction traffic on the Glasnevin Campus for the duration of the construction programme and all staff, students and visitors should take additional care when moving through the campus. Please bear with us while we deliver the next phase of our development.
Works will start in the next two weeks.