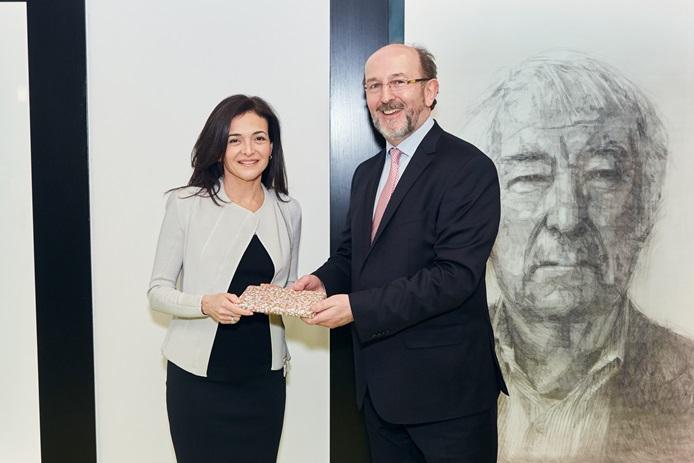 Below Image
Sheryl Sandberg visits Anti-Bullying Training and confirms commitment by Facebook to tackle bullying on its platforms
Today, Facebook COO, Sheryl Sandberg, visited Dublin City University's (DCU) St. Patrick's campus in Drumcondra to discuss the issue of bullying and online safety with a group of post-primary teachers.
The visit follows the announcement earlier today, that Facebook is tripling its investment in online safety programmes run by the National Anti-Bullying Centre (ABC) and SpunOut.ie, bringing the company's total investment in online safety programmes in Ireland to €1 million.
This money will go towards supporting important research conducted by ABC, expanding the nationwide online safety training program for teachers and parents of secondary school students, and creating online safety resources for teens in partnership with SpunOut.ie.
At DCU's St. Patrick's campus, Sheryl Sandberg met with a small group of teachers to discuss the issue of bullying in schools and to hear first-hand experiences from those dealing with bullying both on and offline.
The teachers spoke about the challenges social media brings to the classroom and Facebook's COO reaffirmed the company's commitment to tackling bullying on the platform.
Following the meeting, Sheryl Sandberg addressed over 100 teachers attending the first anti-bullying training session as part of this programme. In her remarks, she highlighted how seriously Facebook takes the issue of safety.
She reaffirmed the company's commitment to tackling harmful content saying the social network is hiring more people to review content reports, and is investing in AI systems for finding and preventing abuse across all their platforms - Facebook, Instagram and Messenger. Addressing the teachers, she said, "we know that we'll never completely stop the bad from happening, but we're committed to putting in the work and making significant investments, even when they impact our bottom line. Keeping children safe is one of our most important responsibilities at Facebook."
Sheryl also spoke about Facebook's work to date on educational resources such as the Bullying Prevention Hub and Parent's Portal and in-app controls which help people of all ages manage their experience on Facebook, saying, "we have tools that allow you to better control your experience if you're being bullied. You can block someone who is bullying you, hide comments from that person, or ignore their messages. We have a comment filter which automatically hides bullying comments intended to harass or upset people, it will alert our teams to repeated problems so we can take action. People can also customise the filter with words that might specifically be used to bully them." In addition, she informed teachers that, "you can also report bullying on behalf of a student, friend or family member."
Speaking at the announcement today, Professor Brian MacCraith, President of DCU said:
"We are delighted to welcome Facebook COO Sheryl Sandberg to DCU today and we very much appreciate the significant increase in support coming from Facebook for our Anti-bullying initiatives. This partnership between Facebook and the National Anti-Bullying Research and Resource Centre at DCU is an excellent development and will have a profound impact on the lives of thousands of students and their families.
I welcome the fact that the focus is on providing training for teachers and parents who are both faced with the growing challenge of supporting students dealing with all the complexities and dangers associated with bullying, cyberbullying, and online safety. The award of the prestigious UNESCO Chair on Tackling Bullying in Cyberspace and Schools announced last year is a measure of the global scale of the problem and of the expertise developed by Prof. O'Higgins and his team. This project is an excellent manifestation of the public good that can derive from that."
Ian Power, Executive Director at SpunOut.ie, said:
"Supporting young people to become more responsible digital citizens is core to the mission of SpunOut.ie and we're delighted to be partnering with Facebook and the National Anti-Bullying Research and Resource Centre at DCU to scale our collective response to the issue of online safety. We're excited to be working with two organisations who share our aspiration to educate and empower a generation of responsible digital citizens. The investment from Facebook and expertise of the ABC at DCU will enable us to create a library of innovative resources to help young people safely navigate their online experiences."
Liam Challenor, Doctoral researcher at the National Anti-Bullying Centre, DCU and project lead of the Anti-bullying and online safety training programme said:
"We know from our research in ABC that a whole-school approach is vital for education in bullying prevention and online safety. This training programme utilizes a train-the-trainer model, empowering teachers with the knowledge and skills to support young people and their parents to tackle bullying behaviours and increase online safety in post-primary schools."
-ends-
Pictured (l-r) Sheryl Sandberg, COO, Facebook and Prof Brian MacCraith, President of Dublin City University at DCU's Seamus Heaney Lecture Theatre, DCU St Patrick's Campus, Drumcondra