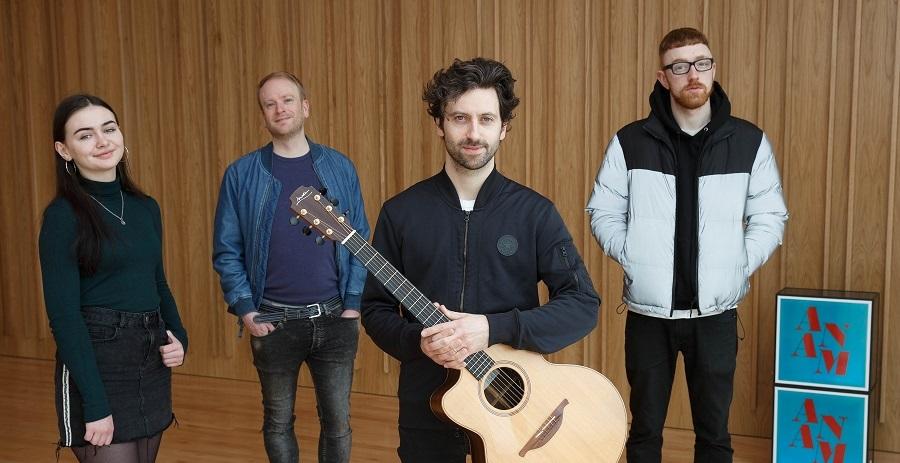 Below Image
ANAM 2019 - the return of DCU's celebration of arts, ideas and creativity in North Dublin
Line-up includes Delorentos, Natalya O'Flaherty, David Keenan, Marina Carr, Landless, Ronan Guilfoyle, Melatu Uche Okorie, and more
Dublin City University will open its doors to fans of culture and the arts on April 3rd and 4th, as the ANAM festival celebrates its second year.
Billed as a "Celebration of Arts, Ideas and Creativity in North Dublin" the programme has been curated and produced by South Wind Blows (creators of the popular Other Voices RTÉ TV show and festival) with a team led by director and renowned Irish musician, Philip King.
The two-day event, which is supported by Fingal County Council, Dublin City Council, IMRO, and Neogen, will see leading artists and musicians performing alongside DCU staff, and students, and people from the surrounding communities. It will include concerts, readings, films, masterclasses and discussions, with events across DCU's Glasnevin, Drumcondra and All Hallows campuses. Highlights include:
An exciting and eclectic line-up of music, featuring everything from choral concerts to hip hop, with performances from Delorentos, Mango X MathMan, Tebi Rex, Natalya O'Flaherty and KTG.
The Heart of the Rowl, an evening of contemporary folk and traditional music and song with contributions from David Keenan, Cormac Begley & Libby McCrohan and Landless.
Readings featuring Melatu Uche Okorie and participants from the Fighting Words programme and a literary event curated by Darren McCann, Marina Carr.
As part of DCU's University of Sanctuary Mellie storytelling initiative, Visual Voices, a photographic exhibition accompanied by a series of documentary narratives will be unveiled. The exhibition is the result of a 12-week collaboration between refugees and asylum seekers, volunteer staff and DCU students with artist Vukašin Nedeljković.
A number of thought-provoking panel discussions are also planned, two of which will explore important themes such as the relationship between music and film and the facilitation of hate speech by social media platforms.
There will be a number of Jazz elements throughout the two-day festival, including a performance by renowned percussionist Ramesh Shotham who will take to the stage with Ronan Guilfoyle and students from DCU's BA in Jazz and Contemporary Music Performance.
ANAM is an integral part of DCU's commitment to developing a North Dublin Cultural Quarter. The university is working to foster the creative and performing arts in DCU and the North Dublin region and to provide high-quality artistic and cultural experiences through public engagement opportunities, outreach programmes, visual arts initiatives, and both on-campus and community events.
Speaking about ANAM 2019, President of DCU, Prof Brian MacCraith said:
"The success of the Anam festival last year was a clear sign that people in the area fully support the bid to develop a vibrant artistic hub in North Dublin. We believe this year's event will be yet another step in achieving that goal and we look forward to welcoming DCU staff, students, alumni and the wider community to celebrate with us and enjoy an inspiring line-up of talent."
Philip King of South Wind Blows added:
"Human engagement is at the heart of the ANAM initiative. As the world becomes more virtual, augmented and artificial, ANAM forges links between students and community that are human, tactile, visceral and emotional. ANAM creates a context for creativity at the heart of the North Dublin Culture Quarter.

We're delighted to work with DCU to keep creativity, culture and the arts right at the centre of things. Developing the ANAM festival allows us to reach artists and audiences in new ways, and positions both DCU and the arts in the local community in this culturally rich part of Dublin. At South Wind Blows we're energised by these creative possibilities and we're looking forward to ANAM as one of the highlights of our work in 2019."
Anam runs on April 3rd and 4th. For more information or to book tickets visit www.dcuanam.com