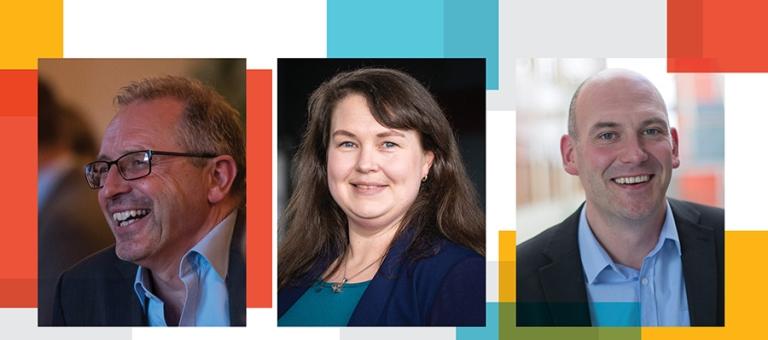 Below Image
DCU welcomes major opportunity for talent development in new research training centres for next-generation technologies, big data and AI
Dublin City University has warmly welcomed the announcement of major funding for Science Foundation Ireland's (SFI) new Centres for Research Training (CRT).
DCU will participate in three out of six centres, in the areas of Machine Learning, Digitally Enhanced Reality and Artificial Intelligence. The new initiative provides opportunities for postgraduate students and also involves significant collaboration between industry and higher education institutions.
The selection of DCU is a reflection of the university's strong academic research and commercial footprint in the areas of information technologies, data science and next-generation technologies.
Overall, the new programme by SFI will provide training opportunities for 700 postgraduate students in a total of six research training centres across Ireland through an investment of €100 million euro with a focus on responding to future skill needs in the areas of information communications technology, digital technologies and data. The announcement was made by Minister for Business, Enterprise and Innovation, Heather Humphreys TD, Minister of State for Training, Skills, Innovation and Research and Development, John Halligan TD and Professor Mark Ferguson, Director General at Science Foundation Ireland at an event held in DCU (Tuesday, March 5th) to outline details of the CRT programme, the first of its kind by the state agency responsible for investment in scientific and engineering research.
The new centres will generate strong collaboration between research and industry and involve partnerships across multiple higher education institutions including DCU, University College Dublin (UCD), Technological University of Dublin (TUD), Trinity College Dublin (TCD), Cork Institute of Technology (CIT), University College Cork (UCC), Maynooth University (NUIM), University of Limerick (UL), NUI Galway (NUIG), Tyndall National Institute (TNI) and Royal College of Surgeons Ireland (RCSI).
The three new centres in which DCU is involved are as follows:
CRT in Digitally Enhanced Reality will be led at DCU by Professor Alan Smeaton and will involve a cross faculty approach by the university, involving the university's Schools of Computing, Electronic Engineering, Nursing, Human Sciences, Communications and SALIS.
The centre will focus on the development of digital skills for next generation human-centric media technology and will address the widely recognised gap in ICT skills to provide a world-class talent pool of PhD qualified graduates deeply skilled in cutting edge digital media technology.
CRT in Artificial Intelligence and Data Analytics will be led at DCU by Dr Suzanne Little at the Insight Centre for Data Analytics and School of Computing.
The centre brings together supervisors working across the full spectrum of AI techniques. It will focus strongly on the development of AI solutions in domains such as smart buildings, mobility and transportation, autonomous vehicles, public service delivery, manufacturing, enterprise, cybersecurity, climate change and environment, agriculture, marine, food production, and natural resources.
CRT in Machine Learning will be led at DCU by Professor Noel O'Connor, also of the Insight Centre for Data Analytics and School of Electronic Engineering, and involving inter-departmental collaboration with the Schools of Engineering, Computing, Mechanical and Manufacturing Engineering.
The centre will address the urgent industry demand for Machine Learning talent.
Commenting on the announcement the President of Dublin City University Professor Brian MacCraith said:
"DCU's participation in three out of the six Research Training Centres underlines the university's well-established reputation as a centre of excellence for world-class research. It is also a welcome vote of confidence in DCU's position at the forefront of research in Machine Learning, Digitally Enhanced Reality and Artificial Intelligence. DCU has taken a lead in these areas, being the first Irish university to offer an undergraduate degree in Data Science in 2016.

The new centres represent a welcome recognition by Government of the pressing need for Higher Education and Industry to prepare for the future through collaboration, innovation and up-skilling. We cannot be followers in this arena, we must be world leaders. This investment will help Ireland to establish a place in the vanguard, as the global economy and societies face the challenges and opportunities presented by rapidly changing technologies."
Pictured (l-r) Leading the new centres at DCU are as follows: CRT in Digitally Enhanced Reality, Professor Alan Smeaton, CRT in Artificial Intelligence and Data Analytics, Dr Suzanne Little and the CRT in Machine Learning Professor Noel O'Connor