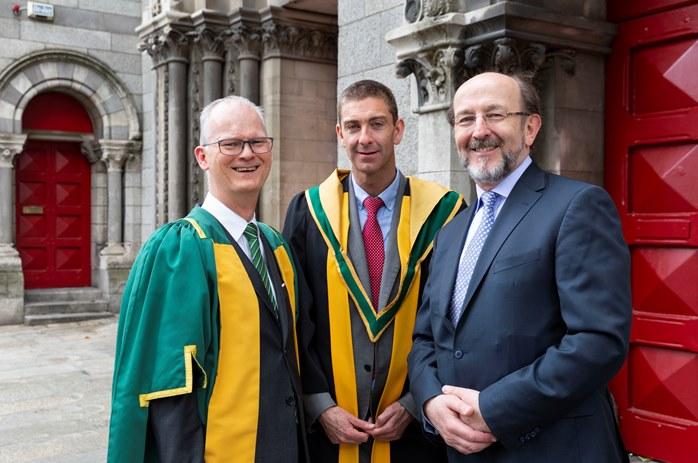 DCU Professor Liam Barry admitted to the Royal Irish Academy
Professor Barry joins Diarmaid Ferriter, Olivia O'Leary and Nobel Laureate John O'Keefe as 27 new members of the Royal Irish Academy announced
The announcement of the new members was made by the Royal Irish Academy (RIA) on Friday, May 24th at the launch of the RIA's five-year Strategic Plan which also includes plans to establish a young academy for Ireland's top young researchers in the sciences and humanities.
The young academy will provide a forum for Ireland's early to mid-career researchers and scholars so that their voices are heard within the Academy and by national and international policy makers.
It will join an international network of 45 National Young Academies that exist world-wide. Members of the young academy will be selected for their academic excellence and their commitment to public service.
Jocelyn Bell Burnell, Hon MRIA, who chaired the RIA Strategic Plan Committee said:
"The initiative will create a more diverse Academy and a new advocate for Irish research and scholarship."
The Academy will be developing plans for the Young Academy in the months ahead.
Professor Kennedy, President of the Royal Irish Academy, used the 2019 admittance day ceremony for 27 new Members of the Royal Irish Academy to make the announcement.
Welcoming these eminent scholars to the Academy Professor Kennedy said that
"These individuals have made exceptional contributions in their fields of endeavour. We are delighted to recognise their achievements".
The new Members of the Royal Irish Academy elected in 2019 are:
Sciences: Liam Barry (Dublin City University); Yvonne Buckley (Trinity College Dublin); Andrew Fowler(University of Limerick); Yuri Gunko (Trinity College Dublin); Alan Irvine (Trinity College Dublin); Paul Moynagh (Maynooth University); Valeria Nicolosi (Trinity College Dublin); Ivan Perry (University College Cork); Catherine Stanton (University College Cork); Michael Zaworotko (University of Limerick)
Humanities and Social Sciences Alan Barrett (ESRI); Paolo Bartoloni (NUI Galway); Christine Casey (Trinity College Dublin);William Crawley (BBC); Diarmaid Ferriter (University College Dublin); Alison Forrestal (NUI Galway); Moyra Haslett (Queen's University Belfast); Tom Lodge (University of Limerick);Kieran McEvoy (Queen's University Belfast); Fearghal McGarry (Queen's University Belfast); Dáithí O'Ceallaigh; Olivia O'Leary (RTE); Rowland Stout (University College Dublin); Isabel Torres (Queen's University Belfast)
Honorary Members Fionnuala Ní Aoláin (University of Minnesota); John O'Keefe (University College London)and Richard Sharpe (Oxford University)
There are 606 Members of the Royal Irish Academy (of whom 87 are Honorary or overseas Members) including: William C. Campbell, Nobel Laureate, Louise Richardson, Vice Chancellor of the University of Oxford; Mary E Daly, historian and Commissioner, Mother and Baby Homes Commission of Investigation; Brian MacCraith, physicist and President of Dublin City University; Frances Ruane, economist and Chair of the Abbey Theatre board;and Eavan Boland, poet;
Those elected are entitled to use the designation 'MRIA' after their name.
The Academy has been honouring Ireland's leading contributors to the world of learning since its establishment in 1785.
Past Members have included Maria Edgeworth, a pioneer of the modern novel and Nobel laureates: WB Yeats; Ernest Walton, Erwin Schrödinger and Seamus Heaney.
New Members include:
Professor Liam Barry is a Professor in the School of Electronic Engineering at DCU, a Principal Investigator for Science Foundation Ireland, and Director of the Radio and Optical Communications Laboratory.
His main research interests are; all-optical signal processing, optical pulse generation and characterization, hybrid radio/fibre communication systems, wavelength tuneable lasers for reconfigurable optical networks, and optical performance monitoring.
He has published over 200 articles in international peer reviewed journals, 250 papers in international peer reviewed conferences, and holds 10 patents in the area of optoelectronics.
John O'Keefe is a Nobel Prize-winning cognitive neuroscientist.
He is arguably one of the most influential neuroscientists of the last hundred years. His discoveries have laid the groundwork for much of neuroscience as we know it today.
Fionnuala Ní Aoláin is one of the world's leading human rights scholars.
William Crawley is an award-winning journalist and broadcaster with the BBC, presenting television and radio programmes on current affairs, politics, arts, science, religion and ethics.
Diarmaid Ferriter is professor of Modern Irish History at University College Dublin and a frequent presenter on social, political and cultural history in both print and broadcast media.
Alan Barrett is director of the Economic and Social Research Institute and has contributed significantly to economic policy in Ireland.
Alan Irvine is professor of Dermatology at Trinity College Dublin and has a long-standing research record in hereditary skin disease.
Moyra Haslett is professor of Eighteenth-Century and Romantic Literature at Queen's University Belfast and currently principal investigator for the Irish Song database.
Valeria Nicolosi is professor of Nanomaterials and Advanced Microscopy at Trinity College Dublin. She is an expert in high-resolution microscopy, specialising in two-dimensional nanomaterials and their applications to energy storage.
Dáithí O'Ceallaigh has played major roles both in bilateral and in multi-lateral diplomacy working for many years on British-Irish and north–south relations and overseeing the negotiation of the Dublin Convention on Cluster Munitions.
Olivia O'Leary is a journalist, broadcaster, public commentator and writer of international standing whose work makes an exceptional contribution to Irish society.
Rowland Stout is professor of Philosophy and the director of the Centre for Ethics in Public Life at University College Dublin whose research has established him as one of the most original contemporary philosophers of action and mind.