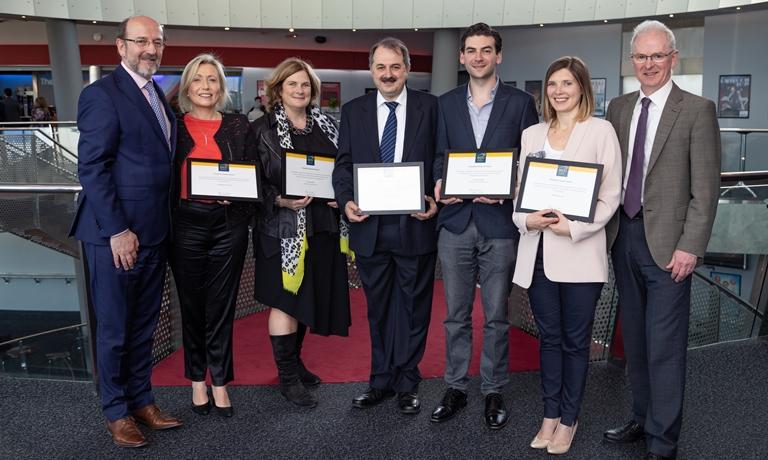 Research award recipients honoured
Awards for outstanding contributions to journalism, climate change, information technologies and dementia prevention.
DCU's 2019 President's Awards for Research were presented this week by the President of DCU, Professor Brian MacCraith, to recipients from across the university who have been involved in ground-breaking research in data- journalism, climate change, information technologies and dementia.
The awards honour outstanding research contributions by members of the academic community in their chosen field.
This year's recipients were as follows:
For his research into a new method of turning atmospheric CO2 into liquid fuels, the DCU President's Research Award for Early Career Research Staff was presented to Dr. James J. Walsh of the School of Chemical Sciences.
Jamie's research is working towards tackling the global challenge of climate change by creating new approaches for carbon capture and utilization using electrochemical methods to reduce carbon dioxide back to fuels.
His vision is that sustainable energy from wind, solar and hydro will be used in electrochemical processes to create industrial chemical feedstocks and for the production of liquid fuels.
In 2016 Jamie was awarded a very prestigious Science Foundation Ireland Starting Investigator Research Award "CARBCAP: Organocatalytic CO2 reduction on high surface-area electrodes", worth almost € 400,000.
For her research on issues such as the rise of 'Fake News', Dr. Jane Suiter, School of Communications, was the recipient of this year's President's Research Award in the area of Humanities and Social Sciences, Business, Education and related areas.
Jane is internationally recognised for the breadth of her research across many fields of journalism and political science. Among a number of multi-million euro research grants won by Jane in recent years is Provenance, which focuses on 'Fake News' and the development of new high tech tools to detect disinformation.
Her standing in her field has been recognised by various awards, such as the Brown Democracy Medal from the McCourtney Institute for Democracy at Penn State, USA, her appointment to editorial roles in a number of important journals, and regular invitations to act as a research proposal evaluator for multiple EU programmes including H2020, ERC and COST. Dr Suiter has been described "as passionate about the global societal need for a new kind of journalism researcher, one that blends literacy in cutting edge technologies with proficiency in traditional journalism".
Dr Suiter demonstrated the vision and ambition to establish FuJo as a multi-disciplinary research centre. Under her leadership, FuJo has successfully brought together colleagues from across the university, bridging the often deep-seated divide that traditionally exists between humanities and social sciences and ICT.
For work that includes research to improve communications in Internet of Things networks, Dr. Gabriel Muntean was the recipient of this year's President's Research Award in Natural Sciences, Health, Engineering and related areas. He is an Associate Professor with the School of Electronic Engineering where he teaches computer networking and software development to undergraduate and postgraduate students.
He performs research in the areas of adaptive multimedia and multisensorial networking, performance and energy-aware data communications in Internet of Things networks and performance-aware technology-enhanced learning.
Gabriel is co-Director of the DCU Performance Engineering Laboratory and has research collaborations with top research groups from all over the world. He has attracted over €5 million in direct research funding for his work, being the principal investigator of projects funded by Science Foundation Ireland, Enterprise Ireland, the European Union and also supervising students funded by the Irish Research Council.
Two further awards were also presented in the category of Research Impact. This was the inaugural year of the awards. For the purpose of the awards, "research impact is understood as an effect on, change or benefit to the economy, society, culture, public policy or services, health, the environment, or quality of life, beyond academia".
This year's recipients were Professor Kate Irving, School of Nursing and Human Sciences for the extensive range of work she has done and continues to do on the dementia service and policy landscape in Ireland.
Professor Regina Connolly, DCU Business School, was honoured for her the impact of a report that she prepared for the Department of Agriculture aimed at Improving ICT uptake and reducing the Digital Divide in Agricultural and Rural Communities.
Speaking at the event the President of DCU Professor Brian MacCraith said:
"The winners of these awards have been honoured because their research is not only World Class but also addresses some of the complex and urgent global challenges facing today's society, in areas such as Climate Change, the explosion of 'Fake News', and the development of the Internet of Things.

Their work exemplifies DCU's mission to translate research into societal and economic benefits."
Pictured (l-r) The President of DCU, Professor Brian MacCraith, Prof Regina Connolly, Dr Jane Suiter, Dr Gabriel Muntean, Dr James J Walsh, Prof Kate Irving, Prof Greg Hughes