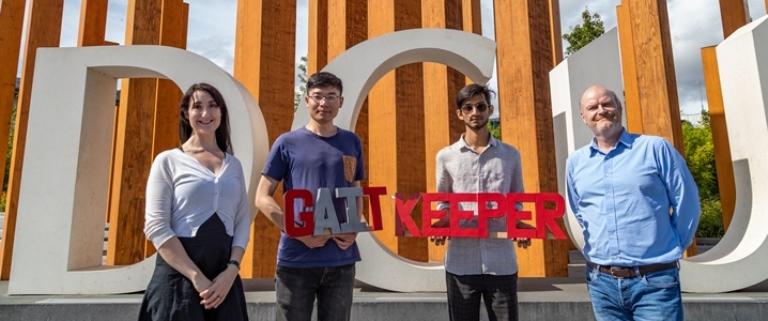 DCU's GaitKeeper project shortlisted for the 2019 European DatSci awards
The GaitKeeper project from DCU's Insight Centre for Data Analytics has been shortlisted for the prestigious 2019 European Data Science and AI awards which recognise outstanding innovations in Data Science in Europe.
GaitKeeper is the world's first system to provide gait analysis as a service; generating spatial and temporal gait analyses from video.
Gait, which has frequently been described as the "sixth vital sign" is regarded as an excellent predictor of the onset of many physical and neurological illnesses.
Dr. Aidan Boran developed GaitKeeper, in collaboration with Tallaght University Hospital and Trinity College Dublin, as a low cost, portable and non-intrusive gait analysis service to allow universal access for clinicians and patients alike.
The initial focus areas for the software will be on geriatric, functionality ability assessments and reablement services in healthcare.
Speaking about GaitKeeper Dr Aidan Boran said:
"Recent advances in AI have potential for massive impact in Healthcare.GaitKeeper is one such project.
However, understanding the needs of clinicians and patients is as important to us as any new technology."
Speaking about GaitKeeper, Professor Sean Kennelly said:
"I and my colleagues at Tallaght University hospital and Trinity College Dublin are delighted to support this very exciting project.
The GaitKeeper aim of more accurate and timely measurement of how we walk, has the potential to give invaluable objective insights into our general physical, psychological, and cognitive well-being."
GaitKeeper has been nominated in the Best Use of DataSci/AI for Health and Wellbeing category along with IBM Ireland, IBM Innovation Exchange, the Environmental Protection Agency (EPA) and Axial3D.
The winners in each of this year's categories will be announced at Croke Park on September 5th.
For more information about GaitKeeper contact aidan.boran@insight-centre.org
*Pictured (l-r) Shawna Johnston, Haolin Wei, Lavleen Bhat, Aidan Boran