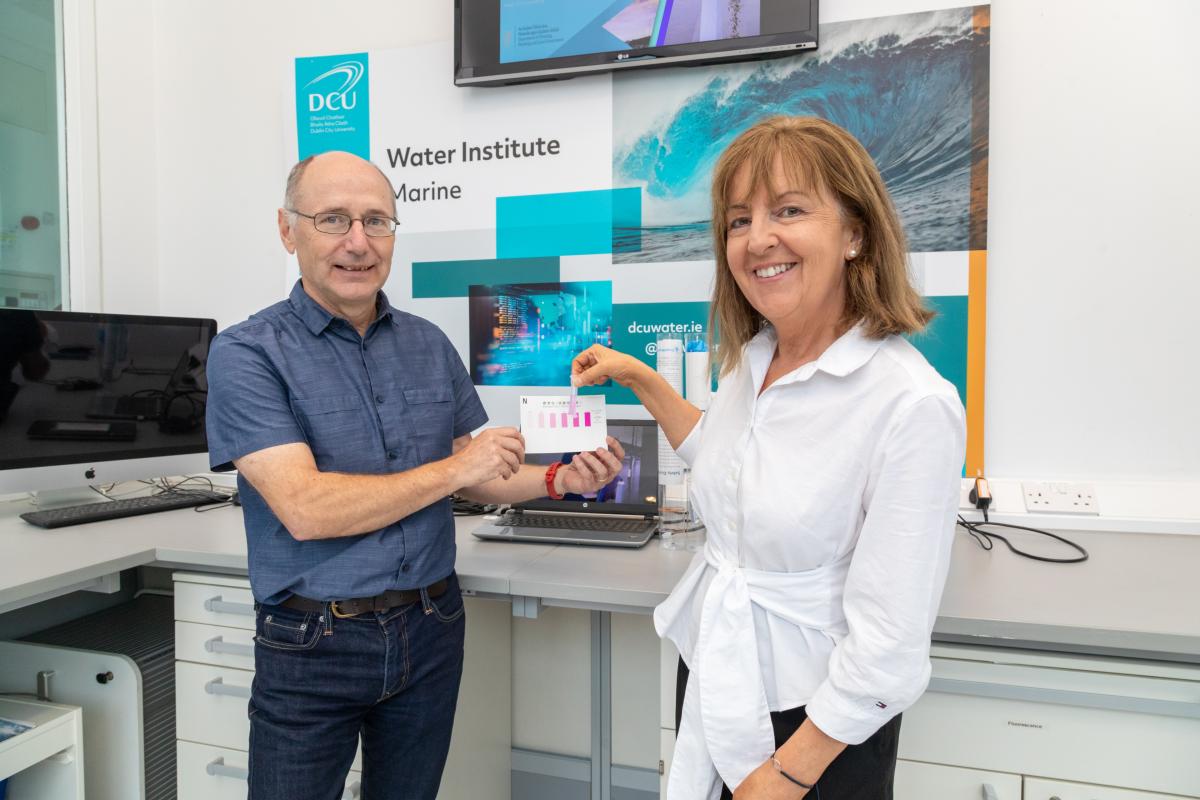 DCU Water Institute asks Dubliners to test the quality of water in the rivers and lakes in the capital
Dublin City University's Water Institute has partnered with Earthwatch Europe for the first Dublin WaterBlitz, taking place on September 20th - 23rd.

The project encourages Dubliners to test the water in rivers, lakes, streams and canals around the capital so that a snapshot of the health and state of Dublin's waterways can be taken.The survey is easy to do and the records collected will help direct conservation action.

Click here for a short video on the WaterBlitz
Anyone can register to be part of the WaterBlitz on the Earthwatch site and they will receive a free testing kit in the post. Over the four days in late September, they can test the water as many times as they like and input their results on the Freshwater Watch app. Earthwatch will then will compile a report from the data collected that will give a picture of our local waterways. This report will be sent to all volunteers.

Our waterways face increasing threats from development, as well as from human waste pollution, industrial pollution and fertilisers used for growing crops, all of which can contribute to increased levels of nutrients such as nitrates and phosphates in watercourses.

The Dublin WaterBlitz was launched today at DCU's Water Institute by two of Met Eireann's top scientists, Evelyn Cusack, Head of Forecasting and Seamus Walsh, Head of Climatology and Observations.

Speaking at the launch, Mr. Walsh said:

"Met Eireann supports DCU in the Water Blitz, a citizen science project, and we'd like to encourage all the people out there to get involved Because it's our environment, it's our water, and people need to take ownership of the scientific aspect of water, because it's very important, it's a fundamental aspect of our daily lives."

Ms. Cusack added:

"We're fortunate here in Ireland that we have an abundance of rainfall and clean fresh water, and we want to keep it that way. Everyone has a responsibility to ensure our water remains clean and healthy."

Prof. Fiona Regan, director of the DCU Water Institute said:

"The WaterBlitz, the first in Dublin, is incredibly exciting for us. We're very happy to be working with EarthWatch on this project. There's been a lot of attention recently on the state of our water here in Dublin, with millions of gallons of untreated wastewater leaking into Dublin Bay from the Ringsend water treatment plant. This survey of our watercourses and water bodies will give us a clear picture of the health of our water, detailing how clean or polluted it is.


It's vital to conduct county wide surveys like this in order that our environment is protected and conserved."
About DCU Water Institute

The DCU Water Institute is a cross-faculty initiative of research and education on water. It aims to work with all stakeholders, across academia, industry, agency and society in its research and development work. Through research and capacity building, the Water Institute develops solutions to national and global problems in water. It specialises in technology developments across science, engineering and computer science domains with strong communications focus and policy and business drivers. These areas are reflected in its academic members, who come from all faculties of DCU.

About Earthwatch and the WaterBlitz

Earthwatch's mission is to engage people worldwide in scientific field research and education to promote the understanding and action necessary for a sustainable environment.

The expansion of Earthwatch's WaterBlitz water monitoring survey from the UK into Europe has been made possible thanks to the charity's new partnership with Royal Bank of Canada, which aims to connect local communities and engage them in conserving and restoring urban waterbodies across the continent. Working with prominent scientists from Dublin City University and other European research institutions, Earthwatch will coordinate the public WaterBlitz in Ireland, France, the UK and Luxembourg at the same time, ensuring the data collected is directly comparable and helping to build a more detailed picture of water quality across Europe.

https://earthwatch.org.uk/get-involved/waterblitz