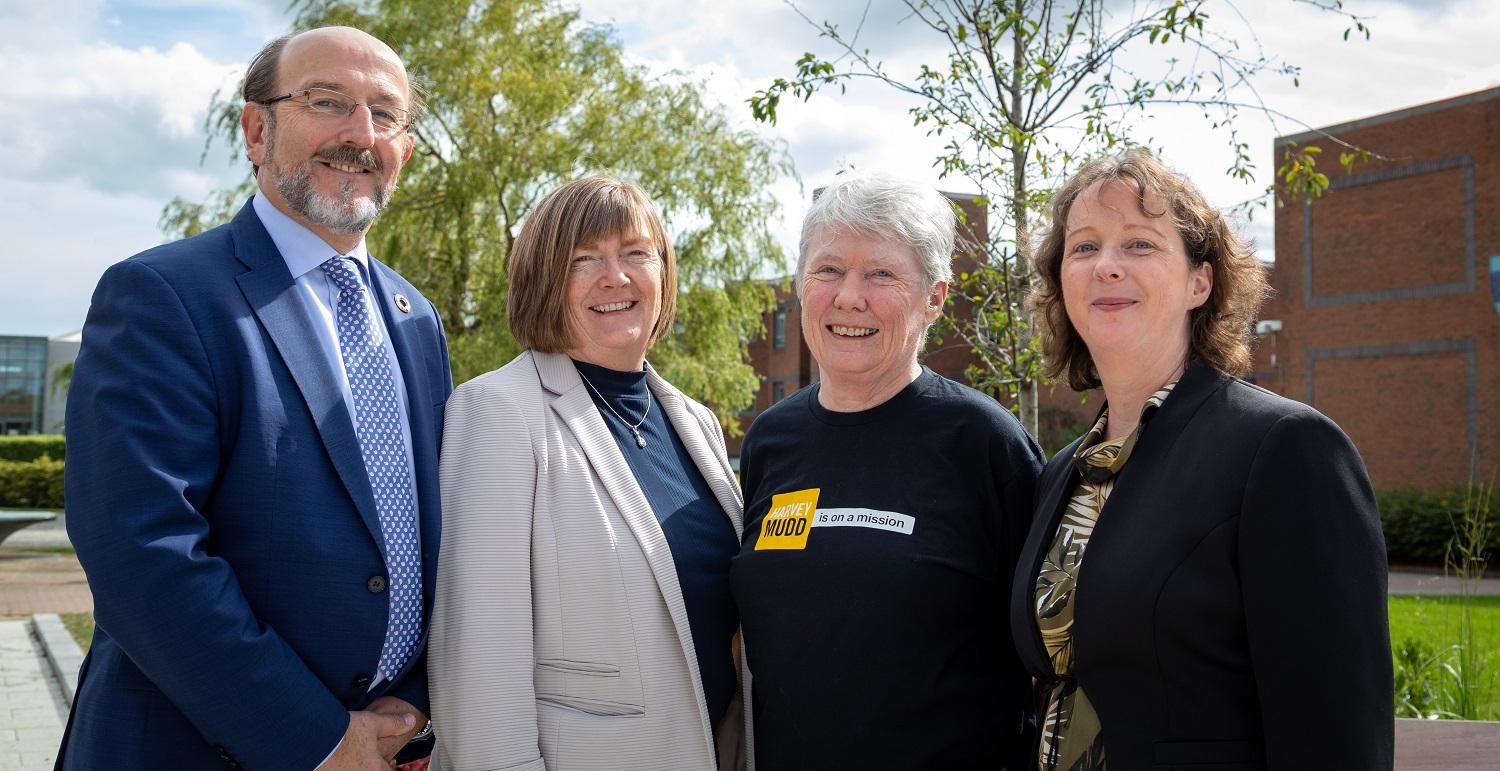 Below Image
Mentoring and improving working environment key to getting more women into STEM, says leading scholar Maria Klawe 
A renowned US scientist and scholar says more must be done to encourage women into STEM as universities struggle to keep up with massive demand from the industry.
Maria Klawe – President of the renowned high performing Harvey Mudd College in Southern California – gave a lecture on increasing the participation of women in STEM in Dublin City University earlier today.
Ms Klawe – ranked 17th in Fortune's 2014 World's 50 Greatest Leaders – is the first woman to lead Harvey Mudd and was appointed to the position in 2006.
An expert in North America on diversity in science, technology, engineering and Maths (STEM), she is a Fellow the American Academy of Arts and Sciences among her many other achievements.
Speaking today, the mathematician said she was lucky as her parents encouraged her to follow her passion.
However, she has spent much of her career trying to "figure out how we can get more women into areas of science and engineering".
"It's not just about gender – there are all kinds of people who are not encouraged to go into science and engineering. And it's partly sexual orientation, and it's partly race, it's partly class, income status and all of those kind of things," she said.
So why does the issue of women in tech matter? One reason, Ms Klawe says, is meeting demand.
"Well the first thing is there is a demand for people, particularly in areas of computer science, data science, math and other areas of engineering , demand is way bigger than we are able to meet right now.

"And so if we look at the demand, just in the United States, the number of jobs that they want to fill with fresh college graduates, we produce roughly half of that each year.

"We will never meet that demand if we don't persuade women and under-represented groups that this is a career they can do."
The second reason is working in STEM is a great job – and makes a difference. However, a team requires people to come from different backgrounds and perspectives.
"These are absolutely fantastic jobs. And yes, they pay really well. So the starting salary for a graduate of Harvey Mudd College in Computer Science a few years ago was $80,000, then it was $90,000, then it was a $100,000, then $120,000. Then last year a lot of students were getting $150,000, after a bachelor's degree. So salaries are good, but that's not why they're great jobs.
"They're jobs that are highly creative. They're jobs that are working on things that actually make a difference in the world, it doesn't matter if it's in healthcare, education, entertainment, retail.

"IT, computer science, data science; it's affecting absolutely everything.

"But the reason I think it's most important is if we look at the major problems facing the world today, whether we're talking about climate change, other environmental issues, or feeding the world's population, or educating the world, or healthcare for the world's population.

"All of these involve computer science, data science, areas of math, areas of engineering.
"And what we know from research, and what I have certainly experienced in my own life is, if you have a team working on something, for everyone on the team coming from the same sort of cultural background and perspective, you miss things. You're blinded because you're not bringing in new ideas and new lenses to look at the problems.
"But when you bring in people, and even just mixed gender is enough, to get very different perspectives.
"And personally, I think, when we look at some of the issues like fake news and what's happening facebook… I think the world actually would be quite different if those companies had a larger percentage of their employees be female from the beginning.
"For better or for worse, people who are raised in different ways and with different expectations, they bring different ideas to the table.
"So if we're going to actually address this, there are so many different ways and places where we need to make change.
"Obviously we need to increase the number of people who are graduating in these areas to be female," she said.
However, another challenge will arise for female STEM graduates who enter their workplace. Female role models in academia, and female leaders in industry is also required.
"One of the things we know is that when women start out in a career in the tech industry, they're twice as likely to leave in the first seven to ten years as men who start out.
"And the major reason they leave is because they feel that one, their work wasn't appreciated, and two, they weren't given the same access to promotion opportunities for leadership.
"We also need to have a lot more women in academia because we also know that role models are really important.
"Finally we also need to get women leaders at the highest levels in industry.
"So here's the hypothesis, very simple. If we make learning and working environments interesting and supportive for everyone, and build confidence and community among women, and also our other under-represented groups, and demystify the path for success, women will come, thrive and stay."
During the lecture, Ms Klawe said she has spent much of her time in US elementary, middle and high schools giving talks about women in science, engineering and math.
She believes much of the change can be made at undergraduate level.
"There are lots of examples of young women who got interested, but then as they grew a little bit older, and it became socially unacceptable to love robotics, computer science and engineering, they moved away from it.
"But if you get them in their first year of college… and if you make it really exciting and wonderful, you've a chance to actually keep them in that major.
She also spoke about the importance and mentoring of females at all levels.
"This is something you can do. Even if you don't know anything about computer science, because so often what women are going through is they are doing just fine, but they don't think they are doing fine. And so just encouraging a woman to persist, to continue to try, and get help makes a big difference."
Ms Klawe also told the audience that when she became President of Harvey Mudd, the area around her office was filled with pictures of male alumni, as it was mostly men who graduated from the college over the years.
She asked that pictures near the office be reflective of the diversity of the current student body.
She also had more women give tours of the college to perspective students and their families. Ms Klawe also wrote handwritten cards to young women who had just been admitted to the college.
Thanks to a number of measures, female admission rates at Harvey Mudd increased from 22pc to 50pc today. Female members of faculty went from 20pc in 1997 to 40pc today.
Before her lecture, DCU President Professor Brian MacCraith told the auditorium that he had addressed the shortage of Irish women in STEM on many occasion
"We've been trying to do things here. We're on a journey. We have Project 50/50, which is one of our initiatives where we've been naming 50 per cent of our buildings after pioneering women such as Kay McNulty and Kathleen Lonsdale.
"There are no shortage of good examples in our history, but we want to look forward to seeing many many more examples in this space
"I think that it's important that young women coming in to our campus, or coming in to our companies get that feeling of inclusion, warmth, valuing and symbols of strength from people who come before them."
Lisa Looney, Executive Dean of the Faculty of Computing and Engineering introduced Ms Klawe to the auditorium, said highlighting the promotion on women in tech is a key objective of the faculty.