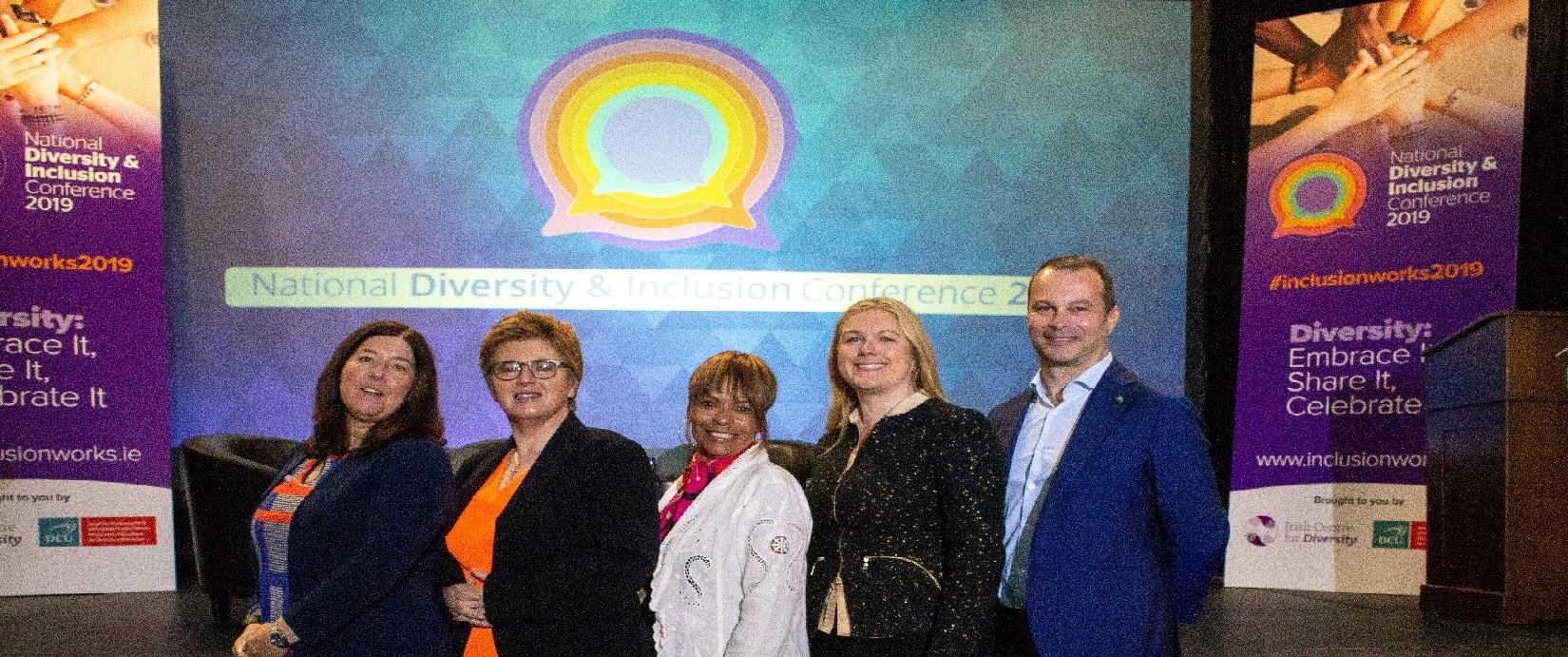 National Diversity and Inclusion Conference in DCU: Diversity leader Donna DeBerry's gives keynote address
Leading global diversity and inclusion expert Donna DeBerry says a diverse and inclusive culture in businesses can enable people to maximise "their possibilities and potentials".
Ms DeBerry made her comments at the inaugural National Diversity and Inclusion Conference, held in Dublin City University's Glasnevin Campus.
The event was organised by the DCU Centre for Excellence for Diversity and Inclusion and the Irish Centre for Diversity, and took place today.
Ms DeBerry has served as Executive Vice President of Global Diversity & Corporate Affairs for Wyndham Hotels and Resorts, and as the first Vice President of Global Diversity for Nike. Recently, she led global inclusion and diversity at the world's biggest jobs site 'Indeed', as well as Starbucks. She has also previously worked with Oprah Winfrey, the NFL and the US Olympics Community.
In her keynote address to hundreds of attendees at the conference in DCU today, Ms DeBerry said commitments to diversity "cannot be just about quotas and targets, and it can't be just only about the right thing to do.
"It really must be about promoting the environment, that brings all our differences to the forefront and creating a culture where everyone can maximise their possibilities and their potentials.
Ms DeBerry offered delegates "five quick things" we can all do "that can help boost the culture and your experience, whether it's in your personal life or professional life".

"Number one, make sure that your organisation understands the strategic context and the desire to have this diversity profiled, that we talk about," she said.

"Number two is, really we all need to question the process, procedures, and issues that are happening within your own organisation. My suggestion is to view with fresh eyes the systems that you work in, and ask yourself are you excluding people or even ideas. Do some unconscious bias training around that.

"Number three: make sure you understand and communicate the business case for achieving your organisational goals and your desires around diversity profile. And once you communicate that, I need you to do it again, and again, an again. Because repetition is everything

"Number four: Look to guide, mentor and support your colleagues. Because all we know is that it will pay off. Many people don't know and don't understand the importance of it and why it matters.

"Number five: Talk to people outside of your organisation about who you are, and why you're doing this. We need everyone to understand the importance of diversity and inclusion, and the opportunity that it offers to all of us. So I'm saying to tell your stakeholders, your family, your friends to continue to talk about diversity and inclusion, and bring those ideas to the table.
"Share your experiences, and more importantly, we need to hold leaders accountable for growing diversity and inclusion.," she said.
Officially welcoming Ms DeBerry to the National Diversity and Inclusion Conference at DCU, the University's President Professor Brian MacCraith said: "Recognising and effectively managing people's different abilities, experiences, backgrounds, needs, and personal circumstances is critical to getting the best out of people, and to ensuring that they stay with your organisation.

"However, I believe that organisations should not pursue Diversity and Inclusion for purely selfish reasons, they should do it because they realise it is the right thing to do. Certainly, that has been the case here at DCU where we have introduced a range of measures and policies to drive this agenda.

"A prime example of this is the creation of The DCU Centre of Excellence for Diversity and Inclusion, which was established in June 2018. The Centre creates a bridge between DCU's talent and industry partners, helping organisations build cultures of inclusion by providing access to the very latest in academic research, insights and tools on diversity and inclusion."
He also cited other initiatives which supported the University's efforts in the area of diversity and inclusion, including 'Women in Leadership' and DCU's designation as the world's first Autism Friendly University.
Earlier, he said the issue of diversity and inclusion have become critical facts for employers and businesses who are looking to attract and retain talent. He cited recent research which claimed that 86pc of millennials in Ireland research the culture of an organisation. "A diverse and inclusive culture is increasingly becoming a deciding factor in the decision to accept or reject a job offer," he said.
A number of key business leaders with national and international diversity expertise addressed the conference.
They included Mickael Melaye, the Managing Director of Airbus HIS, Rosarii Mannion, the National HR Director of the HSE, Margot Slattery, Country President Sodexo Ireland and Northern Ireland, Vasileios Madouros, Director of Financial Stability at the Central Bank, Manisha Mehrotra, Head of Diversity and Inclusion EMEA Bloomberg LLP, Kara McCann, Senior Labour Market Policy Executive with Ibec, and Andrea Dermody, Global Inclusion and Diversity Lead EMEA State Street.