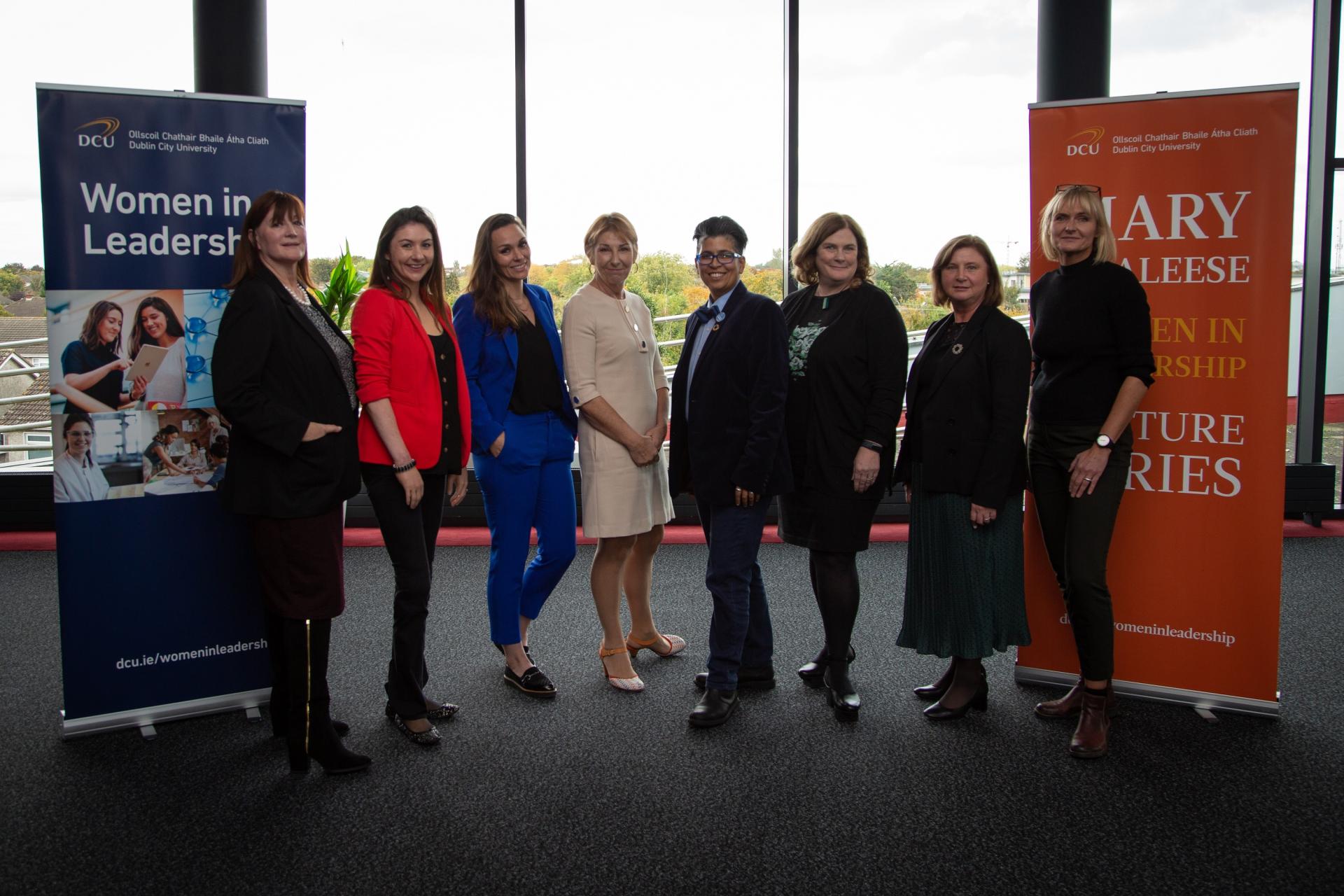 Below Image
DCU Women In Leadership Event: Leadership is 'loneliness' but 'worth it', says RTE broadcaster Aine Lawlor
Leadership is "loneliness" but "worth it", says RTE broadcaster Aine Lawlor.
The renowned host of the 'The Week In Politics' gave the keynote address at an event for DCU's Mary McAleese Women In Leaderships series today.
The event was hosted by Anne Sinnott, executive Dean of DCU's Business School, with the subsequent panel discussion moderated by Dr Jane Suiter, Director of DCU's Institute on the Future of Media and Journalism.
At the outset of her address, Ms Lawlor told the audience in DCU's 'The Helix' referred to 221+ campaigners Vicky Phelan, Stephen Teap and Lorraine Walsh. She said she observed as well as other members of the group in the Dail as Taoiseach Leo Varadkar apologised to them on behalf of the State.
"There are slogans on leadership. There are courses on leadership. There's mantras about leadership. There's positive thinking about leadership.
"But if you look at the people in the viewing gallery of the Dail yesterday… well what is leadership? Well it's lonely, it's standing up when there's nobody else around you, and nobody else to back you up, and nobody else egging you on. You're not leading anyone. You're standing up on your own. Why? Because you care about something," she said.
Ms Lawlor said that leadership is based on love and caring, and "we don't say that enough about leadership".
"Leadership is about listening. Leadership is about loving and understanding. Leadership is about bringing people to a place they don't really want to face they have to go, and that's where the loneliness comes into it.
"And I think it's really important when we're talking about leadership in life to remember… we talk about leadership in a very lame way. It's about ambition, it's about ego and believe me, to get ahead in a lot of careers you need a lot of those things, but those things are just froth.
"They might bring you success. They might bring you wealth. They might not. What they are not is leadership. When the chips fall down, it's leadership that counts," she said.
Ms Lawlor hailed the younger generation and says "we are so lucky in our daughters", and they are leading the way on issues such as #MeToo and the environment, "holding a generation to account for the resources we have wasted".
When talking about media, Ms Lawlor paid tribute to the late broadcaster Mary Raftery, as one of those journalists who had a major impact on this country.
Ms Raftery produced the ground breaking series 'States of Fear', which documented the persisted abuse of children in industrial schools and reformatories run by religious orders over decades. When broadcast in 1999, 'States of Fear' challenged how the institutions of the State and the Catholic Church treated the most vulnerable in our society.
Ms Raftery passed away in 2012.
"The one thing about media is it goes on with or without you. Once you are gone, you are yesterday's chips.
"And that's the way it should be – because it should not be about any of us who are telling the story. It's actually about the story and stories go on and on and on.
"On the other hand, Mary Raftery made a difference. Not just in broadcasting, but in this State. And I remember when Mary and Sheila (Ahern) were making these programmes that brought us a State apology from Bertie Ahern for victims of abuse in residential institutions."
These were difficult stories to tell because so many of these witnesses were "damaged" by their experiences, and Mary had to mindful of this and help them get through this process, Ms Lawlor said.
The other thing that Mary was very very clear on was about the State's accountability
She had a great kindness and passion. She had the loveliest smile. She was rigorous. And she was fearless. She walked out of RTE with the tapes when they wouldn't give her the right slot," Ms Lawlor recalled.
"I think of her very often. Really in the all the accolades of brilliant people I have seen come and go since, nobody else made the difference that Mary Raftery made. She made a difference to this State and to this nation," she said.
Continuing her address, Ms Lawlor said she also wanted to thank the men in her life. She singled out her husband, an advisor in the NUJ, and Prof John Crown whom she met while undergoing treatment for cancer.
"The men who love us and the men who work with us are hugely important too," she said.
Ms Lawlor said Prof Crown "who when I was very sick and vulnerable treated me like someone with a brain", shared with her information and gave her a route to "becoming an advocate for cancer research".
"That knowledge about cancer. That was a great gift. It really was a great gift because it was at a time when I had lost confidence and it was great to get that back. And it was great to be offered a positive role."
Ms Lawlor said prior to making her keynote address, she was talking with other female panellists beforehand about women in media, women and careers, families and child rearing.
Ms Lawlor said she spent 20 years working on RTE Radio One's flagship programme 'Morning Ireland' as it allowed her to collect her children from school, and do their homework with them in the evenings.
"That to me was leadership in my family, it was hugely important and I would do it all over again. And equally when I was doing that, I couldn't have done what I was doing yesterday which is to sit the in Dail and watch those women and the men. And actually the loveliest thing was watching the men holding the women's hands. The couples – they just kept holding hands all the way through. They didn't speak, they were just watching and listening. So they're leaders," she said.