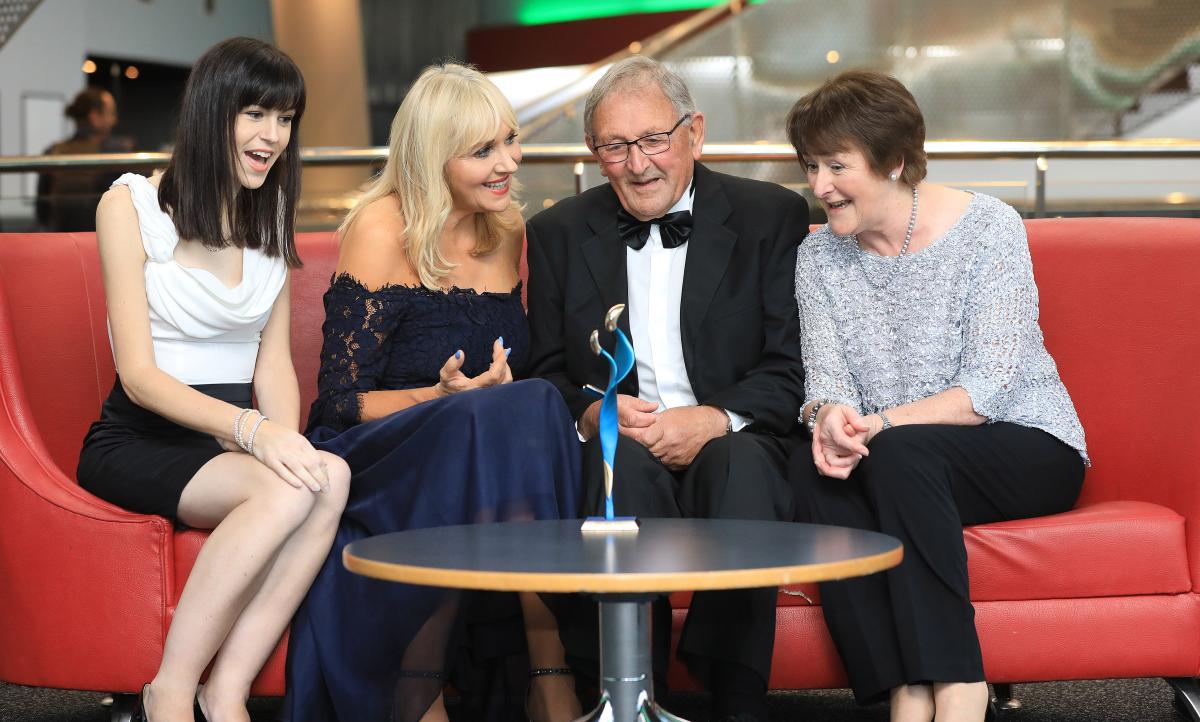 Ireland's Inspirational Teachers recognised by DCU
Four inspiring teachers, one from each province in Ireland, tonight received an inaugural "Teachers Inspire Ireland Desmond Award."
Seamas Cassidy, Nora Duffy, Sinead O'Mahony and Kelly Loughran received a Desmond Award, designed by well-known contemporary sculptor Sandra Bell, in recognition of their enormous contribution to learning and Irish society.
The President of DCU Prof. Brian MacCraith, Dr. Anne Looney, Dean of DCU's Institute of Education and businessman and philanthropist Dermot Desmond, who generously supported the initiative, made the presentations to the winners at a gala ceremony which was hosted by RTÉ broadcaster Miriam O'Callaghan in the Helix at Dublin City University.
Speaking at the event the President of DCU, Professor Brian MacCraith said:
"The motivation behind Teachers Inspire was to create a platform that would highlight the work of our exceptional teachers, and give them the validation and recognition they deserve.

I am delighted to say that this idea has truly captured the public's imagination.

We have received hundreds of nominations and heard incredible stories of teachers who have gone above and beyond for their students and their communities."
The selection process, which began in May, saw over 400 Irish teachers nominated by students, parents and former students, with many stories highlighting the ability of teachers to instil passion, promote excellence, give courage, inspire creativity and show compassion.
In recent weeks a shortlist of 20 teachers was announced following a review by an esteemed judging panel chaired by former President Mary McAleese, with the final four recipients announced tonight.
The awardees are:
Connacht recipient: Retired teacher Seamas Cassidy who taught at Tuam CBS, Co. Galway.
He was selected not only for the profound impact he had on the life of his nominator but also his local community.
Seamas's passion for teaching was renowned locally and he was described as a "pioneering adult who helped young people to believe in themselves as individuals and to think for themselves."
The review panel learned about the many ways in which Seamas made a difference, including opening up places in his higher-level Maths class to girls from neighbouring convent schools, at a time when certain educational opportunities were restricted for girls.
Leinster recipient: Nora Duffy, a retired teacher of St. Joseph's Co-Ed, East Wall.
Nora demonstrated a deep and long-lasting commitment to her local community and taught generations of families in the East Wall area.
A Donegal native, Nora made the move to Dublin in the 1960s and immersed herself into life in the area. In a career spanning over 40 years, she left an enormous legacy and inspired generations to pursue their passions and dreams.
Indeed, such was her impact that many of her students went on to become teachers, and in the case of her nominator, returned to work beside her in St Joseph's Co-Ed.
Munster recipient: Sinead O'Mahony teaches at the Mid-West School for the Deaf in Limerick.
Sinead was chosen for her unstinting dedication to her students, consistently going the "extra mile" for them and their families and for the manner in which she fosters and cultivates a culture of inclusion for all within the school system.
Sinead's nomination detailed how she constantly attends workshops and seminars outside school hours; is strongly involved in the deaf community and supports families to bring their children together outside of school.
Ulster recipient: Kelly Loughran, Beech Hill College, Monaghan.
Kelly was selected for the extra lengths she goes to in her role as a teacher consistently going above and beyond what is required.
In the words of her nominator "she doesn't just treat us like students, she treats us like people." Kelly's role as a counsellor for students across the school community and her running of the Diversity Committee; all in addition to her teaching; have had a positive impact on the whole school community.
Also presented at the event was the inaugural Teaching Council award which recognises the transformative role that teachers play in our community and society through collaboration.
Tomás Ó Ruairc, Director of the Teaching Council, who joined Prof. MacCraith and Dr. Looney to make the presentation to the winners, said:
"The Teaching Council is delighted to participate with DCU in Teachers Inspire Ireland. This award recognises the transformative role that teachers play in our communities and society through collaboration and mutual sharing of their knowledge, experience and insights to further enhance learning and education for all pupils.

The winning project is also an excellent example of what can be achieved when teachers work together with industry professionals and newly emerging technologies to develop and roll out new STEM skills to the wider teaching community."
Integrating VEX Robotics across the Primary School Curriculum, led by Maeve Liston, together with VEX Mentors from DELL EMC Limerick, the VEX Robotics Programme of Mary Immaculate College and a group of teachers from schools across Tipperary, Limerick and Cork was announced as this year's winner.
The project is supporting teachers in teaching robotics across the primary school curriculum and was achieved through the delivery of summer courses and regular professional development sessions with teachers.
Pictured (l-r) Sinead O'Mahony, Miriam O'Callaghan, Seamas Cassidy, Nora Duffy.