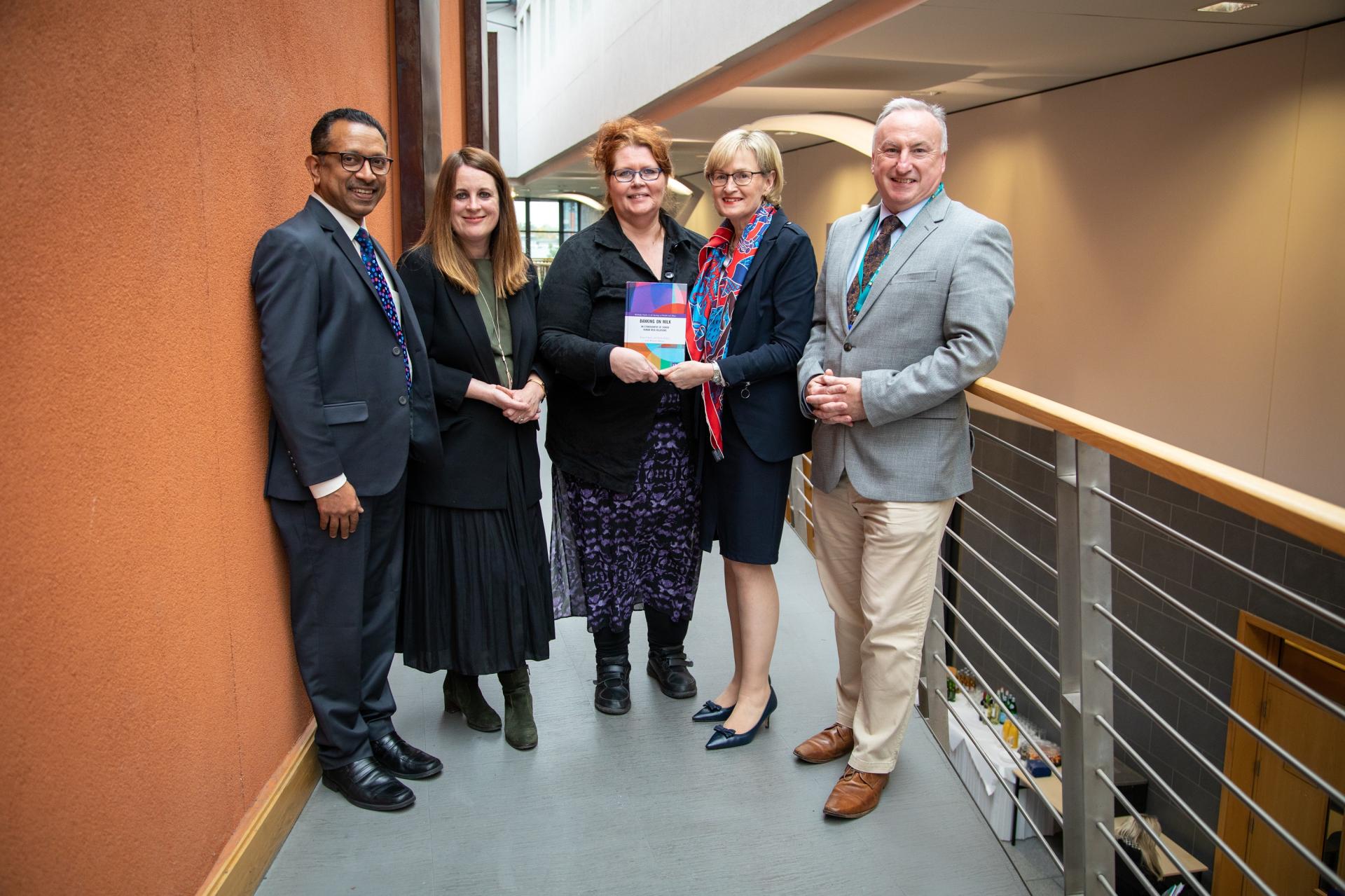 Below Image
MEP Mairead McGuinness says breastfeeding and 'Research Milk Bank' must be promoted more at DCU book launch
Mairead McGuinness says a 'Research Milk Bank' – which would allow breastfeeding mothers donate milk for other premature babies – should be set up in Ireland.
Speaking at the launch of a new book – entitled 'Banking on Milk – An Ethnography of Donor Human Milk' by DCU's Dr Tanya Cassidy and Fiona Dykes of the University of Lancashire – the MEP said few people would be aware that Irish mothers donate breast milk to help premature babies.
The Vice President of the European Parliament officially launched the book on Friday, October 25th, in DCU's School of Nursing, Psychotherapy and Community Health.
Ms McGuinness said Ireland is the only EU member state without a milk bank. Northern Ireland has a milk bank but there is none in the Republic so Ms McGuinness said she was keen to "promote the idea of a Research Milk Bank".
The milk bank in Northern Ireland serves mothers and premature babies on both sides of the border – it tests and pasteurises the breast milk, meeting demand from hospitals. A second breast milk bank in Cheshire in the UK, also helps meet demand in Ireland.
The milk is mostly given to very premature babies, the mothers of whom cannot express milk just yet. Breast milk is found to be best for their digestive system, and is full of the nutrition they need to thrive and survive.
Thousands of Irish women have donated to Breast Milk banks in recent years – the number is increasing as more Irish women are breastfeeding. This milk is sent to the banks in Northern Ireland and England for processing.
However, breastfeeding rates in Ireland are still low when compared to other developed countries - something both Dr Cassidy and Ms McGuinness are keen to tackle.
According to WHO World Health Statistics 2013, some 15pc of children in Ireland are exclusively breastfed for the first six months, compared to the global average of 38pc and WHO European average of 25pc.
"I do worry that in Ireland we have such low rates of breastfeeding, and we need to look at why," Ms McGuinness said.
Ms McGuinness told the launch she was a mother-of-four, and she became a passionate advocate for breastfeeding after giving birth to twins in 1993. She decided to breastfeed them, but then realised it wasn't the norm for women in Ireland then.
"I was never put off by where I breastfed. A lot of women feel very insecure and I don't know why that is.
"As all mothers found, it is difficult in the beginning and I don't think we say that enough. If you prepare people, that it's a bit tough and you're going to have some problems, then you won't be hit by a big shock. Because sometimes we glamorise birth and motherhood and babies, and it is wonderful, but it can also be a very difficult experience, particularly when you get mastitis and cellulitis and those things.
"So I would like to think this book will do two things. First of all, promote breastfeeding because we know that is the best option for children, and the second thing is to try and get the idea of this research milk bank established in Ireland."
"So that mothers that have babies very early, and they're tiny tiny babies, can have the next best option if you like, if the mother's supply hasn't come in, it keeps them on breast milk"
,Ms McGuinness also paid tribute to the grieving mothers who have lost their babies, but opt to donate their breast milk so that other babies can survive.
"I mean I think that it's very emotional that a woman would decide, having lost her child, would continue to express milk to give to another child.
"It's a very personal thing to do, it's very difficult but clearly if it saves a life, or enhances a life, the child that gets breast milk, it is better than formula," she said.
"I think a lot of people would not have heard of this in Ireland or be aware that there are mothers who supply milk through this system, and it is delivered to these little human beings who need that sustenance.
"So for many many reasons, this is a beautiful story with a very strong personal narrative which I urge you if you haven't read, to read.
"With grief and all its linked emotions, it's very much part of the story, but also it's very practical. There are women who are prepared to give milk to little babies who need this nutrition. We should find a way in Ireland to allow them to do that, and we should get that supply going.
"I just want to thank you Tanya. It's a lovely story," Ms McGuinness said.
She also promised Dr Cassidy that she will talk about the issue as the European Parliament looks at the future of Europe.
"We're talking about climate change, and biodiversity and all of these challenges, and health and nutrition and obesity.
"And perhaps we need to start at very beginning and try and encourage as many mothers to breastfeed their children and also encourage society to take a different view of breastfeeding, to celebrate it.
"To see it as a natural, normal event and also to recognise that there are stresses in the way we live today which mitigate against women who want to breastfeed, pressures to look like the perfect mother afterwards and I think those are things we should challenge because they are an inhibitor to women whatever age to feed their own children," she added.
Dr Cassidy said she was "honoured" to have Ms McGuinness launch her book, and said she has been asked to share her research around the world.
"My main impetus is to let more and more people know about the potential of this intervention and to remove a lot of the stigma that's associated about thinking that breast milk in general, but also thinking about breast milk from other mothers for babies as well," she said.
Dr Mary Rose Sweeney, Head of the School of Nursing, Psychotherapy and Community Health, led tributes to Dr Cassidy for her "beautifully written and beautifully produced" book.
"Breast milk banking is an essential and life-saving resource for premature babies all around the world where they can get access to it. So we really can't underestimate the importance of the work that Tanya is doing with this book," Dr Sweeney added.
"The research for this book was funded by Horizon 2020 Marie Curie Award and Tanya received this in her career research stream. It is the largest comparative ethnographic study ever taken of Donor Human Milk in the world."
The book is available at www.routledge.com, and the eBook is available at www.taylorfrancis.com