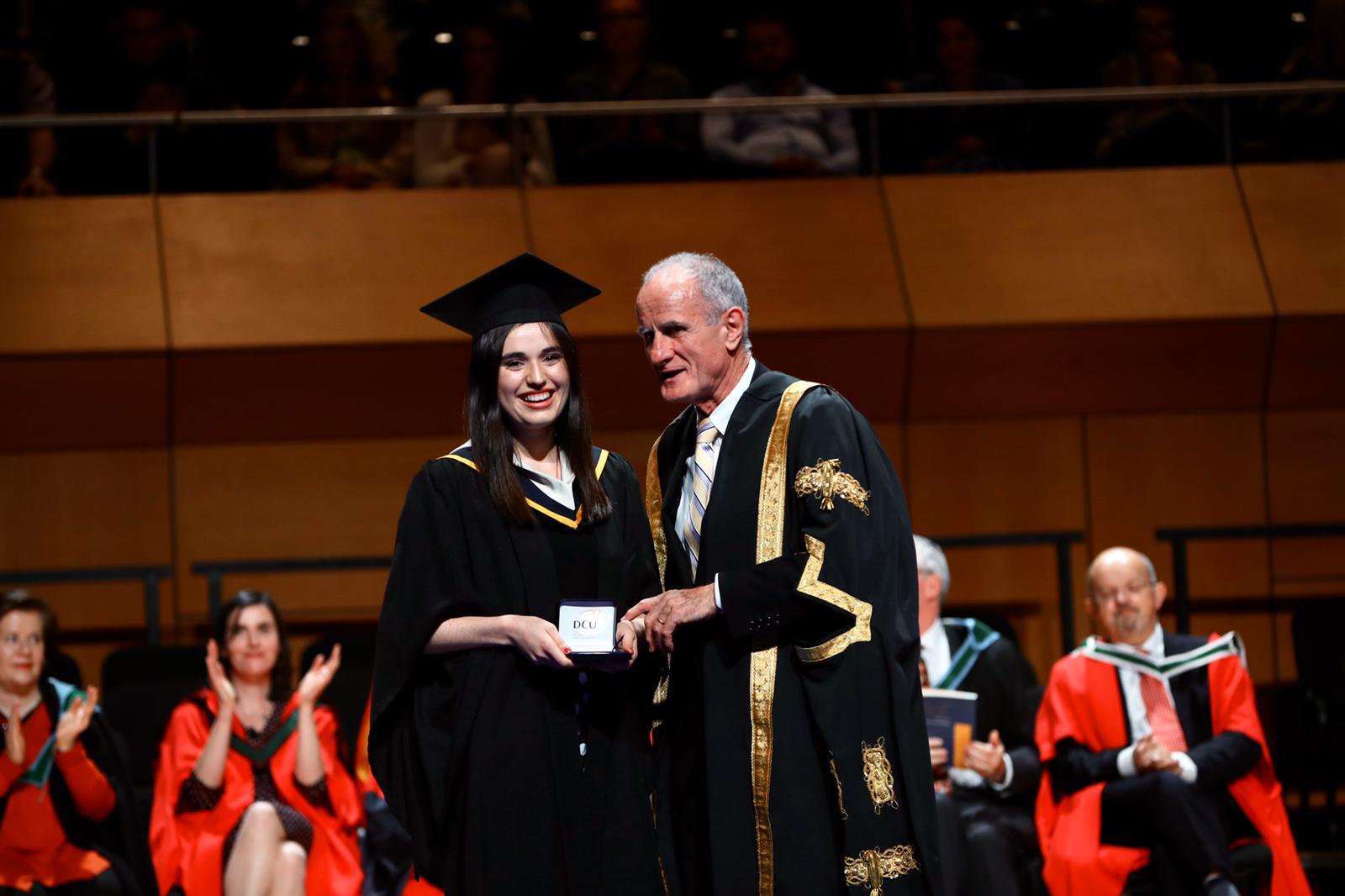 Below Image
DCU Business School Graduate Sorcha Killian receives prestigious Chancellor's Medal
The prestigious Chancellor's Medal has been awarded to Sorcha Killian in recognition of her academic achievement and engagement in student life during her undergraduate studies at DCU.
Ms Killian, from Ranelagh in Dublin, graduated with a BA in Global Business (Canada) earlier this week.
The medal was presented by the Chancellor of Dublin City University Dr Martin McAleese to Sorcha at Friday's graduation ceremony.
Delivering the citation at this evening's graduation ceremony, DCU President Brian McCraith said: "Our double degree programmes allow students to spend two years studying at DCU before departing for the partner university abroad. It was with a sense of adventure that this first group of students departed DCU for two years of study in Canada. Being a new degree programme, the road was indeed the one less travelled and Sorcha has undoubtedly paved a new path for students pursuing a double degree with our partner university in Canada.
"During her first two years at DCU Sorcha took on the role of student ambassador, helping with promoting the Business School at various events and acting as a mentor to new students.
"In particular, she has worked with incoming students registered with our disability services.
"Additionally, she adopted the role of Chair of the Mental Health Society at DCU and was an avid advocate for awareness of mental health issues among students. In her time as Chair of the society, Sorcha led several events, including a charity concert and managed to double the budget of the society through securing additional external sponsorship.
"After completing these two years at DCU, including being awarded a summer internship at Ernst & Young, Sorcha, along with her classmates set forth to complete the second part of her degree at Brock University in St. Catharines, Canada.
"During her two years studying at Brock University Sorcha again became highly involved in societies adopting the role of Executive Vice President of the Business Students Association. Her work here included the founding of the Women in Business society. As founder and President of this society, Sorcha led a number of initiatives aimed at increasing awareness of the need for greater inclusion and equality of women in the context of the business workplace and in particular around the area of STEM. Among the key outputs of her work was a conference titled 'The Rise' which included keynote speakers from across a variety of industries and presented by eight female CEO's from across Canada.
"Her initiative taking while at Brock University ultimately led to her gaining national acclaim – resulting in her being awarded 'All Star Executive of the Year' by the Canadian Association of Business Schools. This award, at the national level, acknowledged her involvement in founding the 'Women in Business society', 'the Rise' conference, and for securing new partnerships with industry including raising corporate funding by 400% for student events.
"Sorcha's academic achievements should also be celebrated and is highlighted in her achieving an additional award for finishing joint-third across the suite of Global Business degrees.
"It is with great pride for the university that our students not only act as ambassadors to DCU and to Ireland but go further and demonstrate significant initiative whilst studying abroad: Sorcha has achieved all of this and is the archetype for future generations of DCU students studying at home and abroad."
Sorcha had another reason to celebrate this week - her mother Marie Hayden graudated with an MSc in Organisational Psychology from DCU on Friday. Sorcha now works with the Web Summit, while her mother works for Jacob's Engineering.