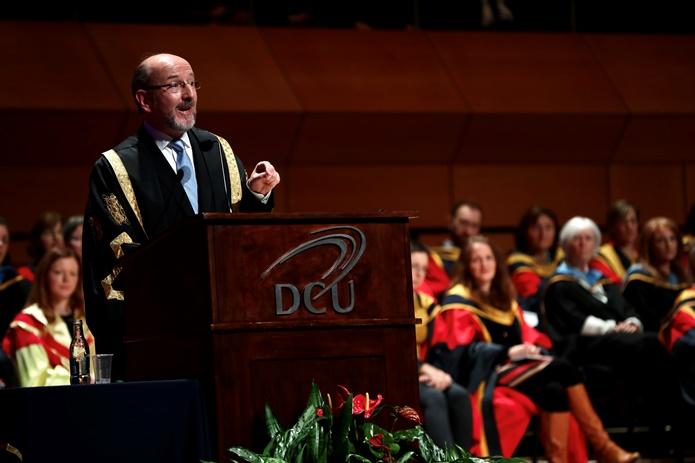 Below Image
DCU Graduation: President says universities must focus on developing 'citizens of the world'
Universities need to tackle globalisation's ethical challenges as society grapples with rising populism and xenophobia.
And higher education institutions must focus on developing "citizens of the world" among their students, instead of focusing solely on their employability, Dublin City University President Professor Brian MacCraith has said.
Speaking during a graduation ceremony in DCU on Wednesday, November 6, the Prof MacCraith said the role of universities goes way beyond a "simple utilitarian approach to employability" when it comes to their students.
"Universities like DCU must concentrate even more on developing citizens of the world with values that transcend borders.

"At times of extreme populism, rampant nationalism and xenophobia, universities need to tackle globalization's ethical challenges, they need to contribute to the creation of a global conscience that transcends national interests and actively resists the vulgar populist rhetoric of 'my country first'," Pres MacCraith said.
He told graduates that DCU takes this responsibility very seriously, with their institutional values reflecting their commitments to inclusion, diversity and equality.
This was reflected, he said, by DCU devising ways of widening participation in education.
"Access to Higher Education should be about your ability alone and no other form of label or disadvantage, not means, not age, not gender, not sexual orientation, not nationality, not colour, not ethnicity, not any condition, disability, or special need should be allowed present a barrier to that access," he said.
DCU is home to Ireland's first and largest Access programme – which is celebrating 30 years in existence in 2020 and has 1,300 students currently enrolled.
It was also designated as Ireland's first University of Sanctuary in 2016, in recognition of the supports and initiatives DCU offers to immigrants and refugees, particularly those in Direct Provision.
And in 2018, it was designated the world's first Autism Friendly University, following a two-year programme of research with advocacy organisation AsIAm.
In his address to graduates, DCU Chancellor Dr Martin McAleese focused on how the emergence of different cultures in Irish society has helped create a bright future for everyone.

"We live in a country, which in a short period of time, has absorbed dynamic, hardworking, and highly competent new citizens from many other countries and cultures.

"So about today, 17 per cent of our population was born outside of Ireland. That fresh energy, the youthfulness of our population and days like this tell us that the future is worth looking forward to."
Uncertainties brought about by Climate Change, Brexit and the rise in populism are challenges new graduates will face, Dr McAleese said.
"And yet, every generation faces new circumstances and situations that test us sometimes to the very limit.
"We face the wall of unknowns with Brexit, its chaos and unintended consequences. A frightening mess of man's making with climate change. A flood of migrants driven out of their homes by violence and poverty. A disheartening rise in populism, racism, sectarianism, intolerance, and a dangerous, superficial chauvinism in global political discourse.
"We have never been wealthier as a nation and still we struggle to cope adequately and effectively with homelessness.
"The baton of responsibility shifts very quickly from one generation to the next, but before you know it, you will be on the front line dealing with whatever our country has to cope with."
DCU's Autumn conferring ceremonies are taking place from today (November 6th) to Saturday, November 9th during which 4,591 students will graduate from the university.