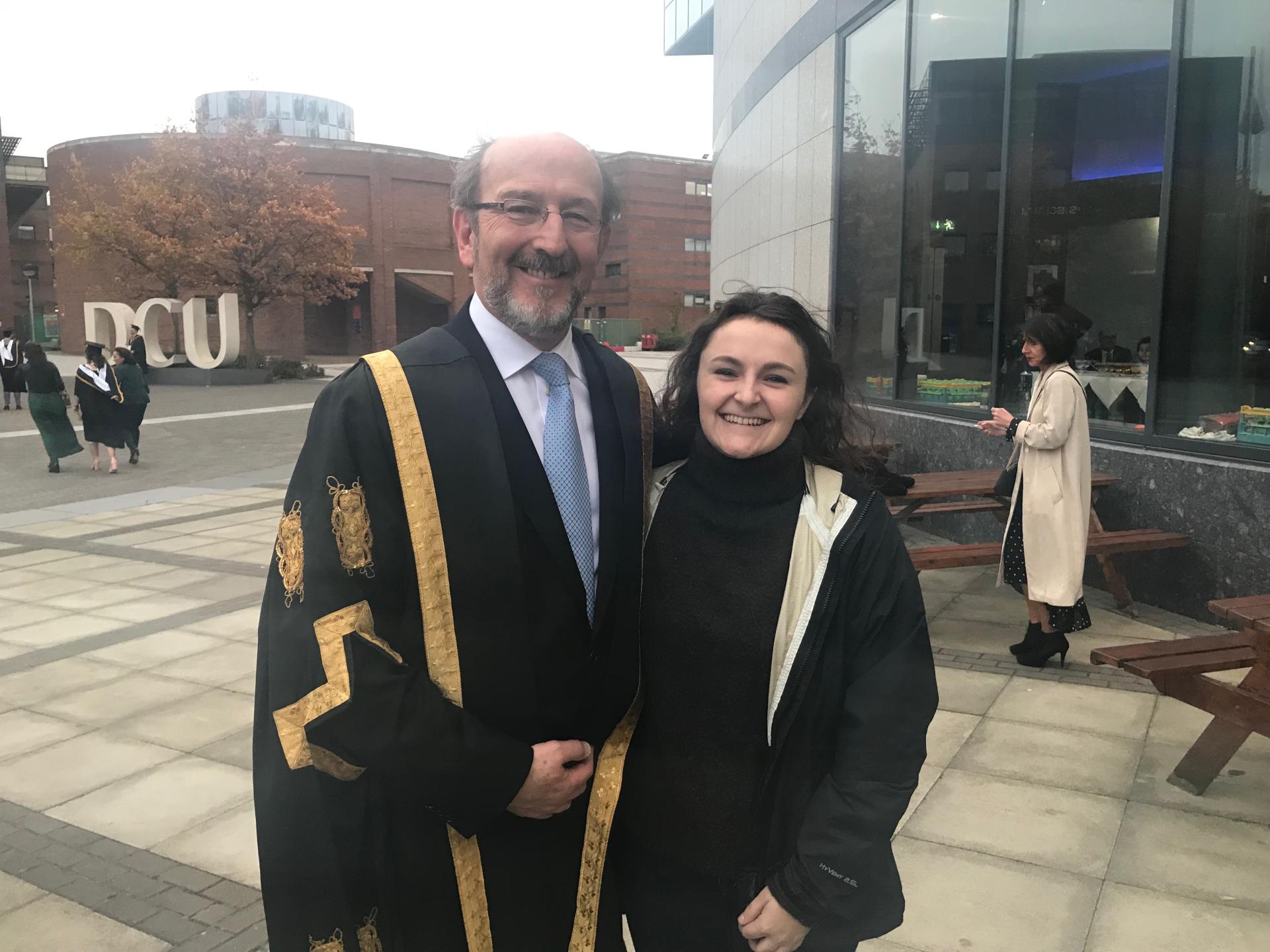 Below Image
DCU MA student helps President draft final graduation speech
MA student Joy Ferguson helped draft DCU President Brian MacCraith's final graduation speech, which he delivered last Saturday afternoon.
Joy, who is studying for an MA in Political Communication, approached Prof MacCraith with a view helping write his speech after attending the DCU 'Fireside Chat' series with Barack Obama speechwriter Cody Keenan.
Following the delivery of the speech, there was a great reaction from graduates and their families saying they found the words inspirational.
So following demand, we've decided to publsh the segment that Joy helped draft with Prof MacCraith
"Today, you leave behind a part of your life unlike anything that will come after it. You are now entering the most important part of learning: taking what you've learned as you step into the wider world and using that knowledge in new and greater ways. Today, we celebrate that step, and we celebrate your accomplishments.
"You've addressed some major challenges along your journey to date and emerged as better versions of yourselves. And now, you're entering a society fraught with even greater challenges. A world that will require you to draw a line and say, this is where I leave my mark. This is the injustice I need to fight. This is the error I need to fix. This is the field where my expertise is needed. Because without graduates like yourselves, how will we address major challenges that are facing us all – challenges that my generation hasn't fixed! Challenges like climate change? Intense poverty? Religious conflict? How will we combat the rampant inequality between those of different race, sexuality, and gender?
"These issues require you to draw that line, and make informed contributions and impact on what comes next for our communities. Our nations. Our world.
"So what can universities do?
"University is the place where celebration of the simple stops, and we rejoice in the efforts of great and creative and thoughtful minds.
"University teaches us to look beyond 280 characters for inspiration. University emboldens us to be responsible citizens and to demand appropriate answers from our leaders. To question authority for the betterment of society. University teaches us how to be critical thinkers, and push past the status quo.
"The world you're entering today has suffered from group-think and a default to the status quo. A pattern of doing what's always been done has led to institutions that are built on prejudice and passivity. In your next steps, we hope you've been armed with the courage to bring about transformation.
"We hope our mission statement here at DCU has armed you with the courage to do that every day. We know it has a special impact on a day like this, so before you go, listen to it one more time: "To transform lives and societies through education, research, innovation, and engagement."
"Your lives have been transformed. By the work of professors, mentors, and peers standing beside you and working with you on that very cause. So now that you're leaving this place, armed with wonderful university education, what part of this world will YOU transform first?"