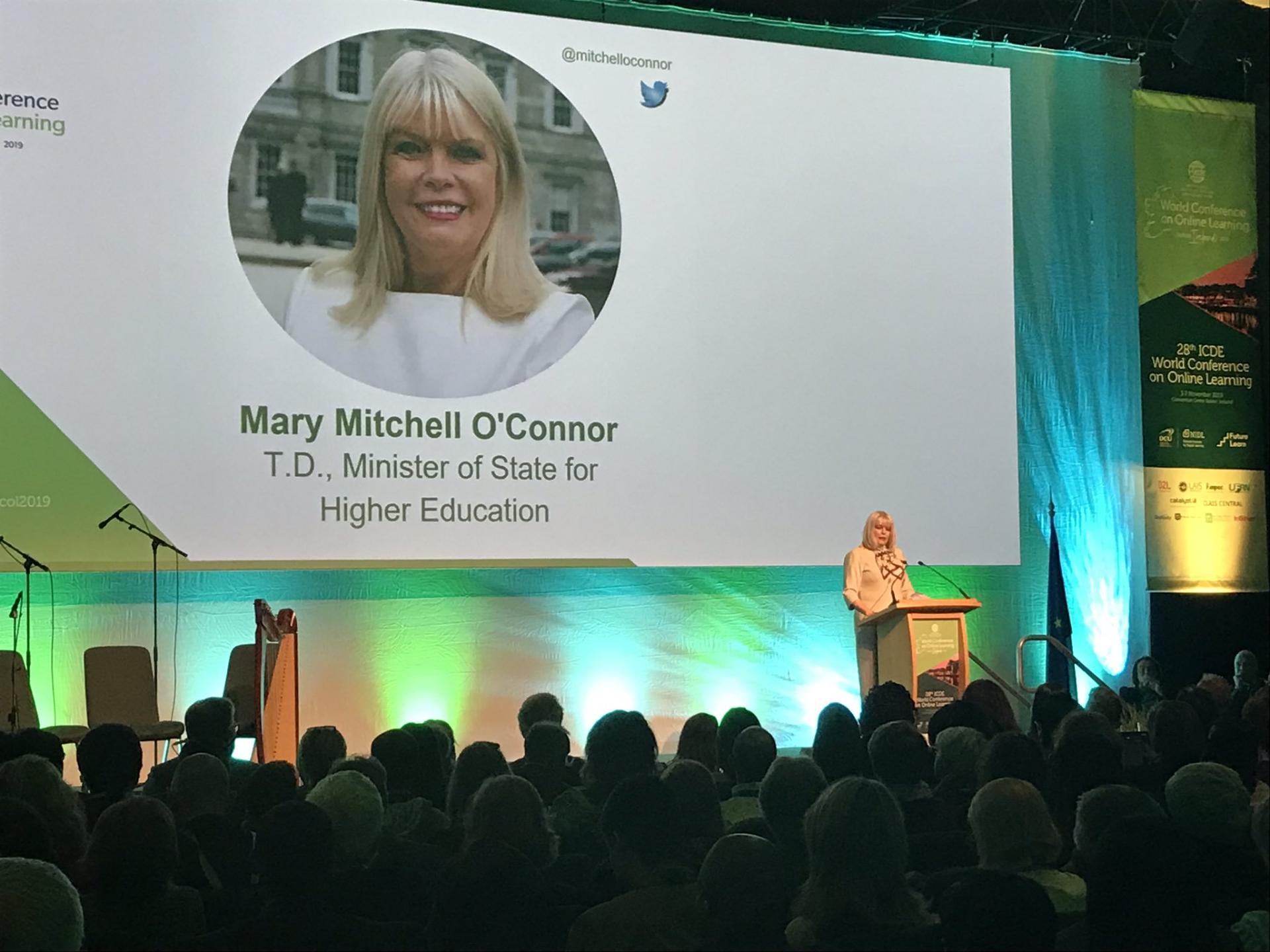 Minister tells World Conference on Online Learning 'lifelong learning needs to be the norm' as technology evolves
Minister for Higher Education Mary Mitchell O'Connor says lifelong learning needs to be the "norm so that we are adaptable to new technologies".
She also said it was the government's ambition to position Ireland as a "global leader in education provision".
Ms Mitchell O'Connor made her remarks as she officially opened the World Conference for Online Learning 2019, which is being hosted by Dublin City University at the National Convention Centre in Dublin's city centre.
The four day conference – which started on Sunday, November 3rd - has attracted some 800 delegates from 80 countries around the world.
Addressing the conference on Monday, Ms Mitchell O'Connor said the conference is "timely".
"There is much current debate around the use of online engagement, the role of social media and their influence on political discourse.
"So first, let me stress that online engagement and online learning must be ethical, and responsible. It is most important that online learning enlightens and empowers, not engenders fear and suspicion.
"Online Learning promotes real inquiry and real interrogation, the enemies of propaganda and fake news."
She described the National Digital Learning Institute (NIDL) and Dublin City University as the "bright beacons" of Ireland's Higher Education landscape.
Ms Mitchell O'Connor said the government is "ambitious to position ourselves as a global leader in education provision. And by 2020, our aim is for the total economic value of international education to be €2.1 billon. We want to create links and relationships, our personal, institutional and country level that will last far into the future."
The Minister said there are now 225,000 students involved in full-time and part-time in higher education.
Ireland is a "multi-cultural hub", attracting people from all over the world, she said.
"Our country is one of the most diverse in the world. One in six people living in Ireland, were not born here. That diversity has become one of our strengths, and it makes our economy stronger, inclusivity, creativity, ethics and innovation are the values that we aspire to in Ireland.
"What was a closed past has been an open present. And the innovation and the Education is at its very heart.
"We want ideas and people to flow freely around our economy, strengthening and deepening Ireland as a technology hub. We have the ambition to make Ireland the tech capital of Europe, and that includes education and technology.
"Central to our vision is presenting Ireland as one of the most globalised and open economies of the world. That depends on talented people.
"We know that we need to consider new ways of attracting, retaining and enhancing talent through remote and flexible, educational, upskilling and working options.
"We need to make it easier for females as well as males to get the job done.
"We need to see lifelong learning as the norm, so that we are adaptable to new technologies and sectors.
"Our government's Future Jobs Ireland plan and program is about supporting business, but also about investing in the development of our people. The world of work is changing.
"Advancing technology means that Ireland or means that society is always switched on. Connectivity and accessibility is changing the way that people work," she said.
DCU President Brian MacCraith said the university is delighted to host the conference 2at a time when online education is redefining traditional models of teaching and learning".
Some 30 University Presidents, Vice-Chancellors and Rectors are attending the conference and met yesterday at DCU for the Global Presidents' Summit, Pres MacCraith said.
Several Ambassadors and First Secretaries are also participating in the event, with representatives from Brazil, China and New Zealand.
DCU have been embracing the opportunities that come with digital technology and online learning, Prof MacCraith said.
DCU set up the National Institute for Digital Learning (NIDL) five years ago.
"Demand for our DCU Connected online programmes continues to grow each year and we have also recently launched a global strategic partnership with FutureLearn that has led us to develop new master's degrees in areas like Fintech, Artificial Intelligence and Block Chain, as well as pursuing the development of a number of new stackable micro-credentials," Prof MacCraith said.
"It's also important to us that we offer a unique Irish perspective in today's digitally connected world. 50,000 learners from 136 countries have registered for our free online courses in Irish Language and Culture (on the FutureLearn platform) since they were launched in January 2018."
"DCU is also a major partner in the new European Universities initiative, with significant funding from the European Commission, for our ECIU consortium. This exciting new initiative will leverage the potential of new digital technologies to develop a suite of micro-learning experiences and credit-earning micro-credentials anchored in the principles of a challenge-based curriculum across members of the European Consortium of Innovative Universities (ECIU)."