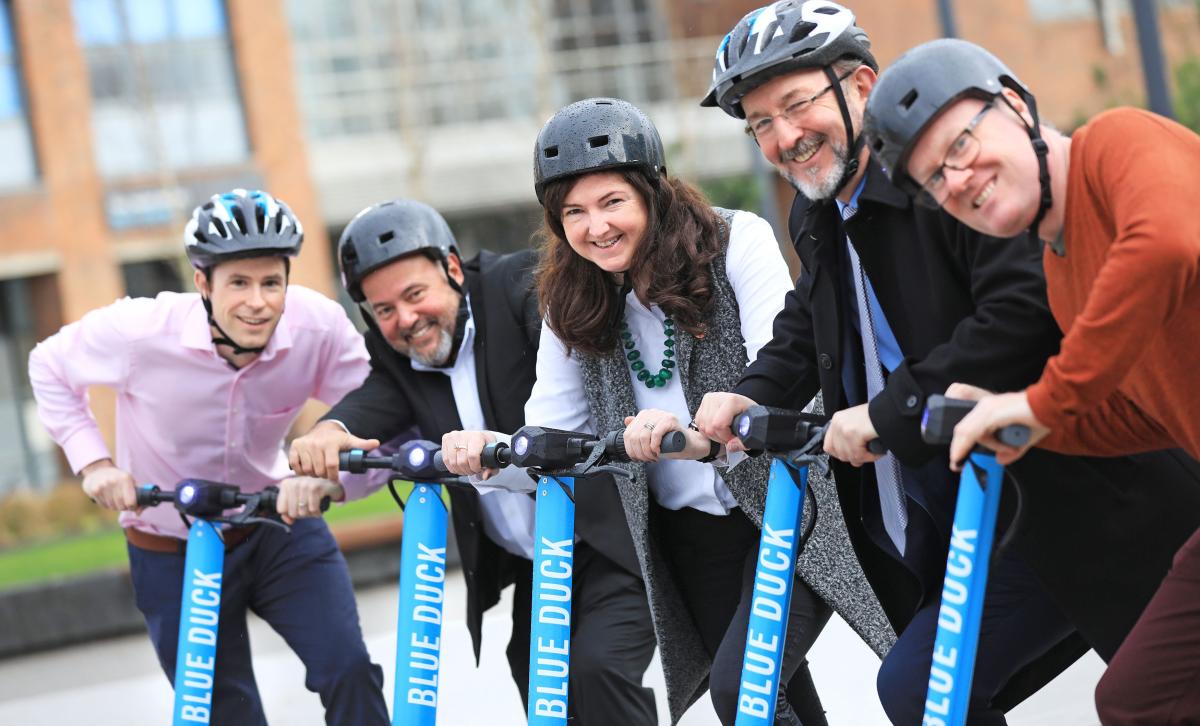 DCU part of pilot project for next-generation technologies for e-scooters
Dublin City University is playing a key role in the testing of next generation technologies for the micromobility industry following confirmation that the university's Glasnevin campus will act as a test-bed for the deployment of technologies devised by the Luna consortium on electric scooters (e-scooters) provided by US company Blue Duck.
Earlier this morning, Luna, comprising of Transpoco, a leader in vehicle tracking and fleet management solutions and Taoglas, the world's leading provider of next-generation IoT solutions, both of whom are based at DCU Alpha (the university's innovation campus) announced a partnership with U.S. e-scooter operator Blue Duck, to pilot its centimeter-level location technology ahead of commercial roll-out.
The pilot project which will take place in Dublin City University's private campus road network aims to provide valuable control and governance data to inform Irish and global policy formulation on e-scooter usage.
Luna is a telematic device, which will enable scooter operators to pinpoint the exact location of their scooters within 5cm level accuracy. As of now, all operators rely on legacy GPS to track and locate their scooters which only provides meter-level accuracy.
It was established on the premise that while GPS is suitable for most modes of traditional transport, its meter-level accuracy does not enable scooter operators to pinpoint the exact location of its scooters meaning that it's impossible for operators or authorities to stringently enforce rules and policies for scooter usage in cities.
This has led to many safety problems, such as trip hazards, trespass and pedestrian collisions which have severely hindered the first wave of global scooter deployment.
Currently, e-scooters are prohibited from public road networks in Ireland. However, a recent bill to amend the Irish Road Traffic Act 1961 to regulate for the use of electric scooters indicates a potential shift on the horizon.
Blue Duck Scooters is an electric scooter operator based in Texas. The company's commitment to investing in superior micromobility assets, and use of its own employees to deploy, collect, charge, maintain, and repair its scooters, sets it apart from other scooter operators and yields a well-maintained fleet optimized for safety and rider satisfaction.
Blue Duck is committed to partnering with cities, universities and corporate campuses in designing cleantech, last-mile transportation solutions.
Speaking at the pilot launch the President of DCU Prof. Brian MacCraith said:
"The positioning technology employed in this collaboration is a perfect example of the engaged, solutions-focussed research and innovation that is emerging from DCU Alpha.

The creation of safe e-mobility solutions like this has major potential for increasing public use of sustainable transport. DCU is proud to be a testing ground for this project which we hope will make a valuable contribution to the development of smart cities worldwide".
Speaking on the partnership, Blue Duck CEO, Michael Keane stated:
"We were excited to learn about Luna's centimeter-level GPS technology when it was announced two months ago. That level of precision would allow us to locate our scooters more efficiently and would lead to stricter compliance with geofencing requirements. A successful outcome of this pilot test could lead to significant enhancements to our ability to manage our fleets responsibly while providing exceptional service to our partners and riders".
"We are delighted to have already found a pilot partner, particularly one which is so focussed on the safety and compliance of its riders," stated Andrew Fleury, CEO, Luna.

"Our partnership with Blue Duck will generate invaluable data which aims to inform policy here in Ireland and once commercially launched, will hopefully pave a path towards the adoption of this form of high accuracy positioning technology".

"The wide-scale European adoption of scooters as a trusted micromobilty solution is really at a major impasse. Safety and rider behavior has always been the crux of the problem - not just accidents on the road, but pedestrian hazards from careless riding on footpaths and tripping hazards from scooters abandoned in random locations in between rentals. Our technology will address all of these issues by providing a much more accurate means to locate scooters and govern their usage".
Jamie Cudden, Smart City lead for Dublin City Council, added:
"Luna's trial with an international player like Blue Duck, is a great example of the calibre of groundbreaking mobility solutions that are being rolled out in Dublin.
We're also looking forward to see how the data gleaned from the pilot could potentially enable informed conversations around micromobility and how it could be integrated into the city's transport system in due course".
Pictured (l-r) Andrew Fleury, CEO, Luna, Peter Gomez, Blue Duck Scooters, Director of Sustainability DCU, Sam Fahy, President of DCU, Professor Brian MacCraith, Ronan Quinlan, Luna