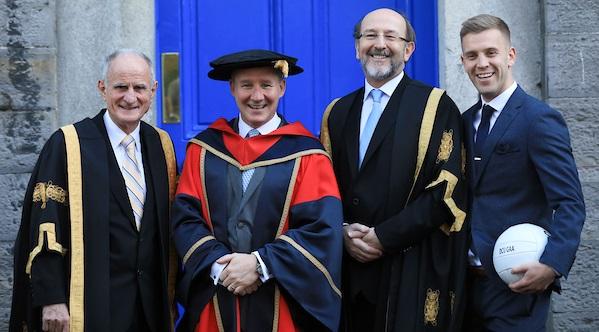 Below Image
Jim Gavin 'honoured and humbled' after receiving honorary doctorate from Dublin City University
Dublin's record breaking manager Jim Gavin has said he is "honoured" and "humbled" by an award bestowed on him at an honorary conferral in Dublin City University today.
The All-Ireland winning former Dublin manager – who managed the county's senior football team to an unprecedented five-in-a-row in September – gave an inspirational address at the ceremony in The Helix earlier today.
Accepting the doctorate Jim Gavin said "I am honoured, and I am humbled by this award and I accept it on behalf of the people who have shaped me and the teams, institutions and organisations that I have been privileged to represent and serve".
In his acceptance speech, Dr Gavin spoke about the qualities required by leaders – and how they have to serve the team and "eat last", something he was taught during his time in the Defence Forces.
"In Oglaigh na hEireann, I learned about commitment. I was taught that it's not about you. It's about committing yourselves to your troops, to your team, to your people.
"A team feels a leader's commitment when the leader takes time to serve them.
"Jesus washed feet. Martin Luther King marched. Mother Theresa fed the poorest of the poor and the sick.
"I learned that leaders eat last.
"When you serve your team, you help them grow, and they help you grow. They also learn that you can't serve yourself and the team at the same time.
"You have to decide – are you going to serve me or we?
"The Aer Corps taught me a lot about preparation and being prepared. I find structures taught me to work hard to get ready for expected situation, events that you know will happen.
"Equally important, I was taught to plan and prepare for the unexpected. What happens when what is supposed to happen, doesn't happen. Unfortunately, I lost some close colleagues and friends along my aviation journey. This is a question you must always be asking, and solving.
"In business, and in sport and education, no leader can control the outcome of the contest, or competition. But you can control how to prepare for it."
Addressing school and university students in the O'Mahony theatre, he asked: "In modern life, have we got that balance right?"
"John Doran, educator and author, said 'We're born with two fears. The fear of loud noises and the fear of falling over'
"The fear of not fitting in, the fear of missing out. The fear of being offline. John said that 75pc of teenagers spend 75pc of their time looking down. What are they missing by not looking up. Or maybe it's the fear of failure. The fear of not being enough.
"To all the students here today, Viktor Frankl, a Holocaust survivor from Auschwitz in World War II, said that between the stimulus and a response, there is a space. And in that space is our power to choose our response.
"In our response is growth. And most of our freedom. So believe yourself and be the best version of yourself. You're free to give it go and do the best you can. With this ability that you have, in the time that you've got, in the space that you're in.
"You're able to fail as the first attempt in learning. Mistakes become VILE - Very Interesting Learning Experiences. I want you to take the possibility that there's nothing wrong with you. That is what is right with you can fix.
"But let us also remember that you don't deserve anything in life, and dreams don't become reality through magic. It takes sweat, determination, self-sacrifice and hard work."
Speaking about the GAA, he said: "It has been a privilege to be part of a unique sporting and cultural organisation called the Gaelic Athletic Association.
"The GAA is Ireland's largest sporting organization. And it is celebrated as one of the greatest amateur sporting associations in the world. It's part of the Irish consciousness and plays an influential role in Irish society that extends far beyond the basic game of Gaelic games."
Talking about the current Dublin team and their most recent All-Ireland success, Dr Gavin recalled how he first met the team for this year's championship in May. They met in an area in Drumcondra where Dublin claimed their first All-Ireland title in 1891, scoring victory over Cork.
"There is a deep humility amongst the current Dublin football players, and it was fitting to build this year's championship journey, recalling the names and the stories of those players from 128 years ago," he said.
Dr Gavin thanked his wife Jennifer for her "unequivocal support", their two children Jasmine and Jude who "inspire me to be my best every day", his parents, siblings, family and friends.
At the start of the ceremony, DCU's Director of Sport and Wellbeing, James Galvin, delivered the citation for Jim Gavin.
"The accomplishments of the Dublin men's Gaelic Football senior team, while Jim Gavin has been in charge, have been truly astounding.
"Jim's meticulous, detailed, forensic level of preparation has led Dublin to become the first ever men's GAA team to win five All-Irelands in a row. But that is just one of an impressive array of achievements."
"Perhaps the most impressive facet of Dublin's success was the culture Jim created, and the team's ability to achieve draws and narrow wins out of extremely tight positions. That does not happen by chance. 32 of the team's League and Championship games were decided by a goal or less. Of those 32, the Dubs lost just nine. That surely comes down to resilience and character. Jim made sure the Dublin camp had both.
"Always encouraging his players to have busy lives outside of sport, empathetic to their personal needs, receptive to them when they returned home from travelling and a stickler for discipline, Gavin moulded the best team culture in GAA history."
"While he has stepped away from the inter-county stage, there is every chance we will see him coaching the underage teams of Ballyboden St Enda's where his children play. That tells us a lot about Jim Gavin. His lifelong dedication to Gaelic Football is not just about winning. It is about leadership and instilling a passion for sport, teamwork and excellence in those around him."
Dublin City University had a strong connection with this year's All-Ireland final team led by Jim Gavin, with a total of 17 DCU students and graduates actively involved in the panel which has trained at DCU Sports Ground for many years.
Commenting on Jim Gavin's outstanding contribution, Professor Brian MacCraith, DCU President, said: "The award of an Honorary Doctorate by DCU is not only a recognition of excellence, it is also a public statement of the values and priorities that this University cherishes. Jim Gavin has not only excelled in his achievements, but he has also set standards of performance and values that make him an exemplary role model, especially for our young people."
Dr Martin McAleese, Chancellor of DCU, also paid tribute to Mr Gavin for his many achievements both on and off the pitch.
Among the guests at today's event were other DCU Honorary graduates Kilkenny manager Brian Cody and GAA broadcasting legend Micheál Ó Muircheartaigh, GAA President John Horan, and RTE Sport broadcasters Marty Morrissey and Robbie Irwin.