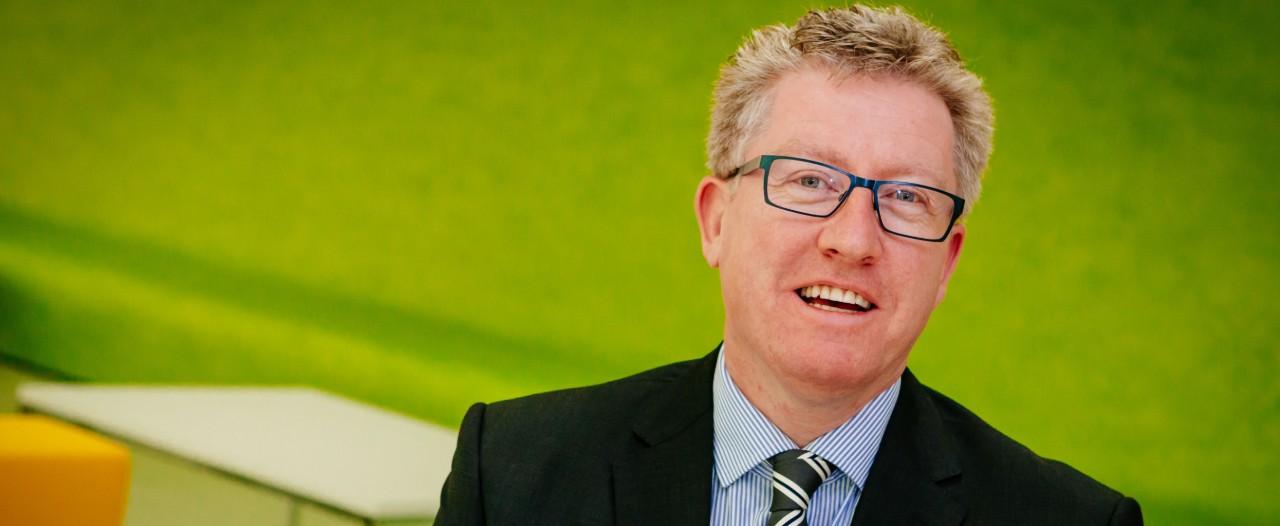 Below Image
Professor Dáire Keogh confirmed as Dublin City University President-designate
Professor Dáire Keogh has been confirmed as Dublin City University President-designate.
Following an extensive international search process over the past 18 months, that resulted in the shortlisting and interview of six outstanding candidates, the Governing Authority of Dublin City University has today approved the appointment of Professor Dáire Keogh as its new President to succeed Professor Brian MacCraith whose term of office ends on July 13th, 2020.
Professor Keogh, is currently Deputy President of Dublin City University and a Professor of History.
Professor Keogh was President of St Patrick's College Drumcondra from 2012 until 2016 when the college was incorporated into DCU. He has published extensively on the history of popular politics, religion and education in Ireland.
The Chancellor of Dublin City University, Dr Martin McAleese, has welcomed the appointment of Professor Dáire Keogh as the fourth President of the University from mid-July 2020.
"Professor Keogh is a highly respected academic and an outstanding Deputy President. As the university celebrates its 40th anniversary in 2020 Professor Keogh as President will build on the progress that has been made to date and provide the leadership to drive DCU's mission to transform lives and societies through education, research, innovation and engagement," Dr McAleese said.
The outgoing President of DCU, Professor Brian MacCraith, welcomed the choice of Professor Keogh.
"I very much welcome the announcement today that Professor Dáire Keogh will be the next President of DCU. I have worked closely with Professor Keogh for the last seven years and he has been my Deputy President for the last four years. So I am very aware of all the strengths and commitment that he will bring to the role and I am very confident that he will advance the University significantly over the coming decade," Prof MacCraith said.
Professor Keogh said he was delighted and honoured to take up the position from next July,
"I am highly honoured to be invited to lead DCU to its next stage. DCU is an incredible place, it was the first University to introduce an Access to Education programme and it is a beacon of excellence setting a standard for universities in terms of innovation, engagement, and opportunity.
I look forward to working with my wonderful colleagues to offer the very best to our students and partners. I also look forward to working closely with colleagues in the other Irish universities and higher education institutions, and with the HEA and the government," Prof Keogh said.
Biography
Dáire Keogh is a Professor of History and currently Deputy President of Dublin City University. In that role he has a broad range of responsibilities including Student Experience, Strategic Planning, Alumni, and Sport.
He served as President of St Patrick's College Drumcondra (2012-16) where he led an expansion of the College's curriculum, and the completion of an ambitious capital programme, which included the construction of the iconic Cregan Library in Drumcondra. He led the College team through its Incorporation into DCU in 2016.
He is the founding Chair of the British Irish Chamber of Commerce 'Higher Education, Research, and Industry Committee', a group which has made a significant contribution to advancing education and enterprise collaborations in the context of Brexit. He has also served as a board member of The Centre for Cross Border Studies.
Dáire has a strong international profile, and is currently a Fellow at the University Design Institute, at DCU's American partner, Arizona State University. He is a founding member of the European Quality Assurance Register (EQAR) Committee, the body charged by EU Governments with monitoring quality assurance in higher education across the continent. He held an adjunct professorship at the University of Notre Dame.
Dáire was educated at Synge Street CBS and graduated from University College Dublin with a BA in History. Further studies took him to the Gregorian University, Rome (BPh), University of Glasgow (MTh), and Trinity College, Dublin, where he completed a PhD in History. He qualified as a Chartered Director of the Institute of Directors.
He has published extensively on the history of popular politics, religion, gender, and education in Ireland. A former Government of Ireland Senior Research Fellow, he is currently Principal Investigator of an Irish Research Council funded project to publish the mammoth correspondence of Cardinal Paul Cullen. He is chair of the Editorial Board of Studia Hibernica, DCU's Journal of Irish Studies.
He has a strong commitment to equality issues and served as Vice President of the Irish Federation of University Teachers (IFUT). Since 2014, he has been a board member of Women for Election, whose mission is to inspire, equip and support women to succeed in politics.
He recently completed a term as a Council Member of the National Council for Curriculum and Assessment. He is a member of the Edmund Rice Schools Trust, chair of the Board of Marley Grange National School in Rathfarnham and a member of the Board of Management of Clongowes Wood College. He chairs the Rathfarnham Concert Band Society, and is a member of the Irish Association of the Order of Malta.
He is married to Katie Keogh, a native of Indiana (USA), and they have four children.