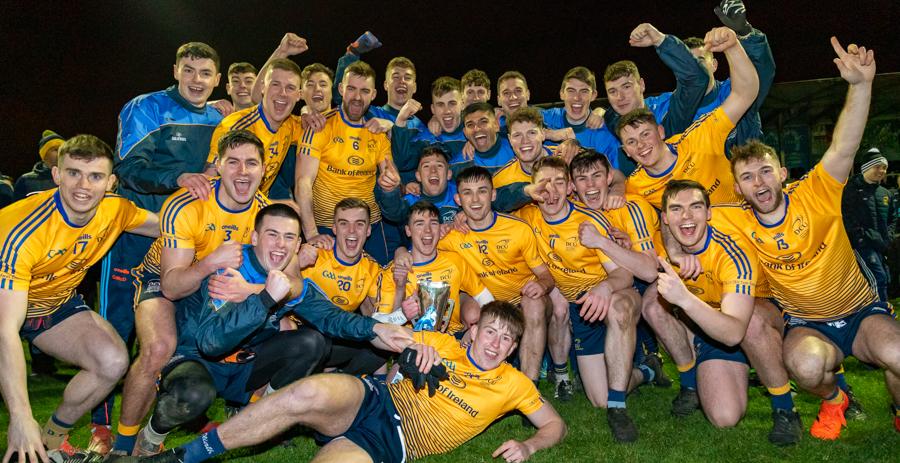 Below Image
DCU claim fifth Sigerson Cup title
DCU claimed their fifth Sigerson Cup title with an impressive 0-14 to 0-07 win over IT Carlow at the DCU Sportsground last night (Wednesday, Jan 29th)
It tops off a super campaign for the Paddy Christie managed outfit and gives cause for extra celebration as DCU celebrates its 40th anniversary this year.
Dublin goalkeeper Evan Comerford and Monaghan forward David Garland combined with seven points, overall to help their side overcome a tough IT Carlow side managed by Laois man Pat Critchley.
Dublin forward and Ballymun Kickhams club player Paddy Small accounted for 0-02 of his side's total in an overall excellent team display.
DCU enjoyed an 0-04 to 0-01 lead after 20 minutes but IT Carlow fought back with points from Evan Lowry while Cian Farrell was also key for IT Carlow.
DCU stretched their lead to five after the break with Monaghan forward Micheál Bannigan clipping over a free.
IT Carlow did respond but DCU were too strong, stretching their lead to six and running out eventual winners with a seven point margin.
Scorers for DCU: David Garland (0-4 1f), Evan Comerford (0-3 3f), Paddy Small (0-2), Micheál Bannigan (0-2, 2f), Shane Carthy (0-1), Sean Bugler (0-1), Brian Stack (0-1).
Scorers for IT Carlow: Cian Farrell (0-6 6f), Evan Lowry (0-1). Referee: Derek O'Mahoney (Tipperary)