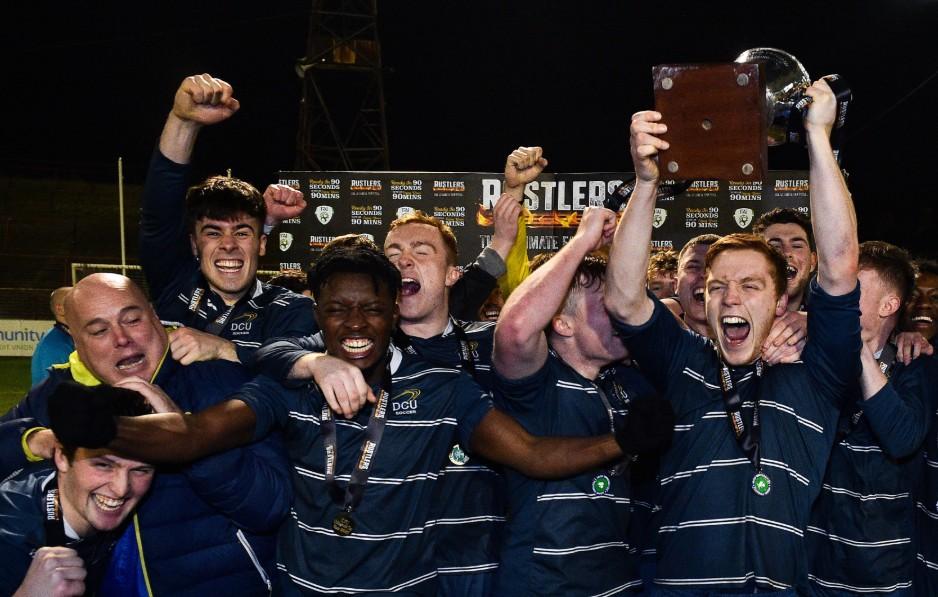 Below Image
DCU win Collingwood Cup for the first time in their history
DCU won their first ever Collingwood Cup following a dramatic penalty shoot-out, beating Ulster University 4-1 on spot kicks at Dalymount Park last night.
It marked an historic night for the club as, aside from winning their first ever cup title, it was also their first time in the final.
The first-half proceedings were a tight and cagey affair with both defences on top.
DCU striker Jack O'Connor had the best chance of the opening half, but his goal-bound shot was cleared off the line by Ulster defender Owen McConville.
DCU keeper Imrich Toth was also kept busy batting away a number of dangerous free-kicks from Ulster full-back Craig Taylor while Ulster University midfielders Mark McKenna and Niall McGinley were dominant in midfield.
The tempo of the game dipped in the second half; perhaps not surprising since both sides were playing their third game in as many days. Scoreless at the end of full and extra time, it was all down to the penalty shoot-out to find a winner of the 100th Collingwood Cup Final.
David Mugalu, Tristan Noack-Hofmann and Sean McCarthy were all on target for DCU with star striker Jack O'Connor hitting the decisive strike for the Declan Roche managed side.
The victory was extra sweet as captain Eric Whelan was named as the Player of the Tournament.
The Collingwood Cup win comes hot on the heels of the university's Sigerson Cup victory last week; both achievements all the more special as the university celebrates its fortieth anniversary this year.
The possibility of a trio of titles is also on the cards as DCU Dóchas Éireann take on University College Cork in the Fitzgibbon Cup semi-final at 4pm on Saturday Feb 8 in DCU Sportsgrounds with the winners facing either IT Carlow or Mary Immaculate, Limerick in the final.
********
Collingwood Cup Final teams:
DCU: I Toth; R Smith, P Kelly, E Whelan, T Noach Hofmann; S Cronin, A Connolly (J Rice 99); S Trimble (D Mugalu 79), J O'Sullivan (D Sexton 59), S McCarthy, J O'Connor.
Ulster University: M McClurg; S Cairns, M Greenfield, O McConville. C Taylor; M McKenna, N McGinley; N Best (R Weatherhead 77), R Wilson, N Maciulaitis; N Beta.
Referee: Owen Murphy (Dublin)