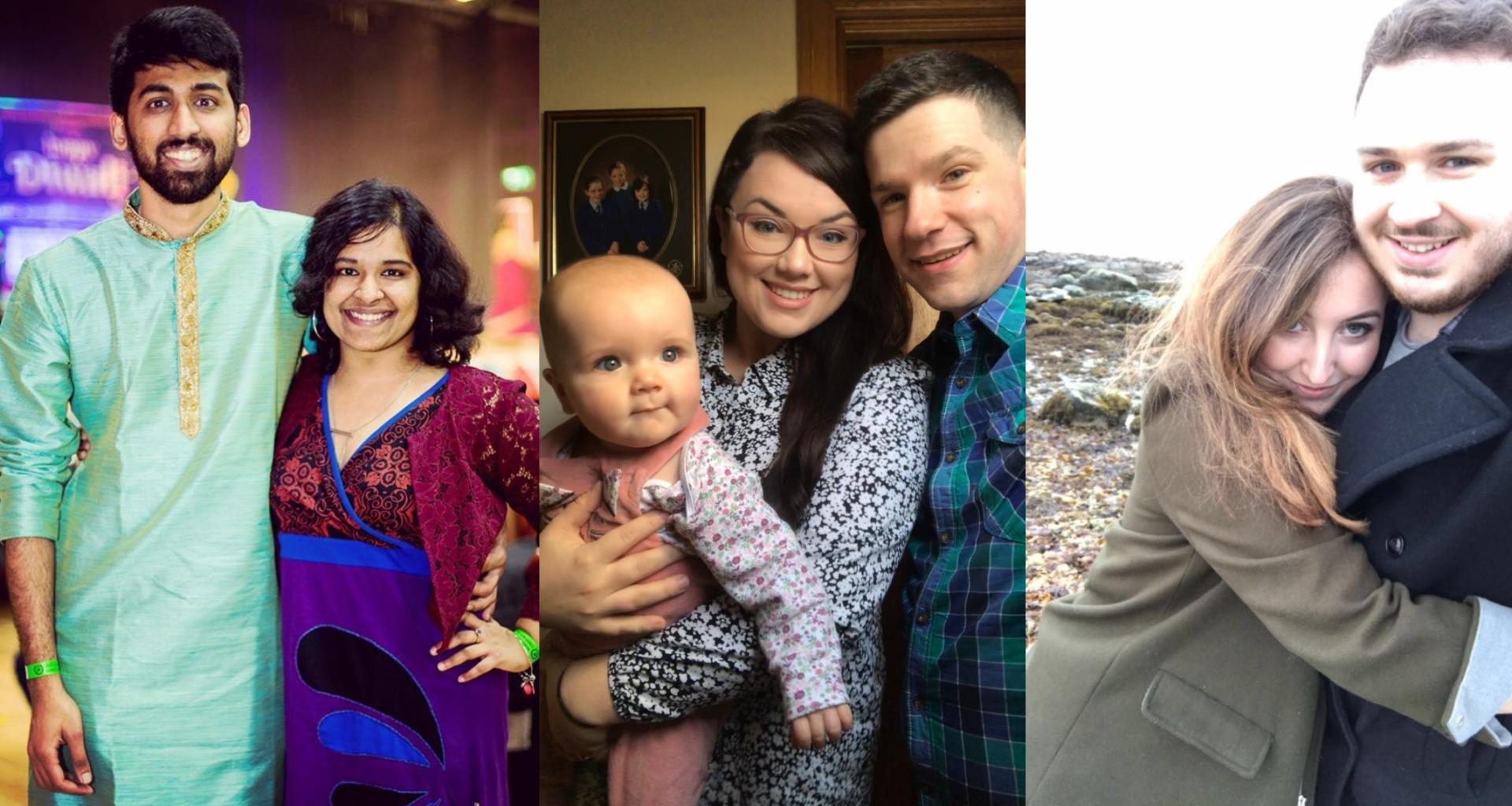 Below Image
DCU's most romantic faculty is.... DCU Alumni #DCU40 St Valentine's Day competition reveals long lasting campus romance
Humanities and Social Sciences is the most 'romantic' faculty in DCU, a DCU Alumni St Valentine's Day competition has unveiled.
The faculty is the runaway winner in the love stakes following a special St Valentine's Day call-out aimed at couples who met in Dublin City University.
The second most romantic faculty is Computing and Engineering, followed by the Faculty of Science & Health, DCU Business School, with the DCU Institute of Education bringing up the rear.
The DCU Alumni St Valentine's Day competition – a light-hearted competition aimed at couples who first met in the university and part of DCU's 40th anniversary – threw up some interesting results.
Some 38pc of those who entered completed courses in the DCU Faculty of Humanities and Social Sciences. Couples from the School of Law and Government had the most love stories.
Next was the Faculty of Computing and Engineering, with 26pc of competition entrants studying here. Computer Applications fared well on the romance stakes in this faculty.
In third place was the Faculty of Science & Health with a respectable 15pc of entrants.
DCU Business School had 12pc, while the Institute of Education had 9pc.
The winners for this year's special DCU40 Alumni St Valentine's Competition will be treated to a special candlelit three course meal in DCU's 1838 Restaurant in Albert College on Friday, St Valentine's Day.
Mary Larkin, Alumni Relations Officer said: 'We've been speaking to alumni in recent weeks in relation to DCU's 40th anniversary this year. Anecdotally, we believed Engineering and Computing would be the most romantic, so we were surprised to see Humanities as the runaway winner!"
Among the couples who entered were Ranjani Nagarajan and Udgam Mehetre, both from India but who met while studying in DCU as international students. The couple hope to marry in three years' time.
"DCU was a miracle that brought two Indians, speaking two different languages, together. We're getting married in 2023. It's been four magical years so far, and it is still hard to believe that the same guy I met at DCU back in 2015, is the same guy I come home to every day! Here's to a happy Valentine's for all the souls that experienced this magic at DCU!"
Aine Duffy and Conor Murphy met when Aine was studying Computer Science, and both were members of DCU's 'RedBrick' society. Now together eight years, Aine and Conor are parents to beautiful baby girl Faye.
"Roses were red, Violets were blue, I found my Claire, Thanks to you, DCU!" is a romantic verse from Marketing, Innovation & Technology Alumnus David Barry.
He met partner Claire Hannigan during Orientation Week back in 2011. They were friends while in DCU - but became a couple in their final year, after David finally worked up the courage to ask her out.
"After countless chickening out asking her out, it took her to leave the country and move to Australia before I could pluck up the courage to ask her out," he said.

"Claire couldn't make it to graduation as she had gone to Australia but we kept in touch - in fact, as soon as she landed back, we had organised our first date! The rest is history. We now live together for the past two years and have many fond memories of DCU. If it wasn't for DCU, I wouldn't have met my best friend."
Arts student Stephanie Frewen and her partner Matthew Lynam, a multi-media student, met in NUBAR during Stephanie's second year. "I remember he told me his name was Greg. I believed him. He also told me he was a triplet. He even showed me his Facebook profile picture in which I originally believed to be him with the two other triplets. This is before I knew he was in the multimedia course and had photo shop skills! We both loved our time in DCU, Matt worked at the SU help desk for two years and I was based on st Patrick's campus. We wouldn't have met if the amalgamation of the colleges didn't happen! We've been together three years now," said Stephanie, who graduated in 2018
Cormac Flynn, an Economics, Politics & Law student, met Applied Languages student Chloe White, while on a protest in 2018. "Chloe and I met when we happened to end up next to each other at a protest in 2018. A group of students were sleeping out in front of Shanowen Halls and Square accommodation to protest a rise in their rents. Chloe and I happened to lie beside each other and bonded over TV shows, movies and Earth, Wind and Fire's September. We spent the whole night together and the next day I brought her for breakfast (and lunch too!). It was a whirlwind experience and we've been inseparable since."
Caoilinn Tighe, an Institute of Education student who graduated in 2019, met Aiden McInerney in her first year. "He signed me up to Potter society and I quickly joined the committee alongside him. We immediately became best friends and stayed close whole way through college. We then got together my final year."
Accounting & Finance grad Aoife Costello, who graduated in 2009, met her partner Colm O'Reilly in DCU. However, Cupid's arrow didn't strike until two years after they left DCU. "Colm and I both studied on the same course for three years in DCU from 2006 to 2009, Accounting and Finance. While we we were in the same wider circle of friends in college, we never properly met. We bumped into each other randomly in January 2011 socialising with seperate groups of friends in a bar, and the rest is history! We bought a house together in 2015 and got married in 2017. We like to think we met after college when it was the right time for us both! After we met, we came across a photo Colm's parents have of him on stage collecting his degree in the Helix, and my parents are sitting in the foreground! We have DCU to thank for meeting each other!"
Aine Duffy, who studied Computer Science and Software Engineering, graduating in 2015, was friends with Conor Murphy. And it was some time before love blossomed! For a year we were joined at the hip. We got the same bus to college, we had the same classes, we had the same friends. Then one day I just looked at him differently? And that was it. We fell crazy in love, had our first date in the new bar. Went to all out lectures together. I joined Redbrick and so did he. We spent every day in the common room together. We moved in together just down the road from DCU. We are together eight years and building our first home. Oh - we also have our little baby Faye. Who knows? Maybe she'll go to DCU some day too."
We'll be sharing our favourite DCU love stores on our social channels in the run to Valentine's Day - so give DCU Alumni a follow!