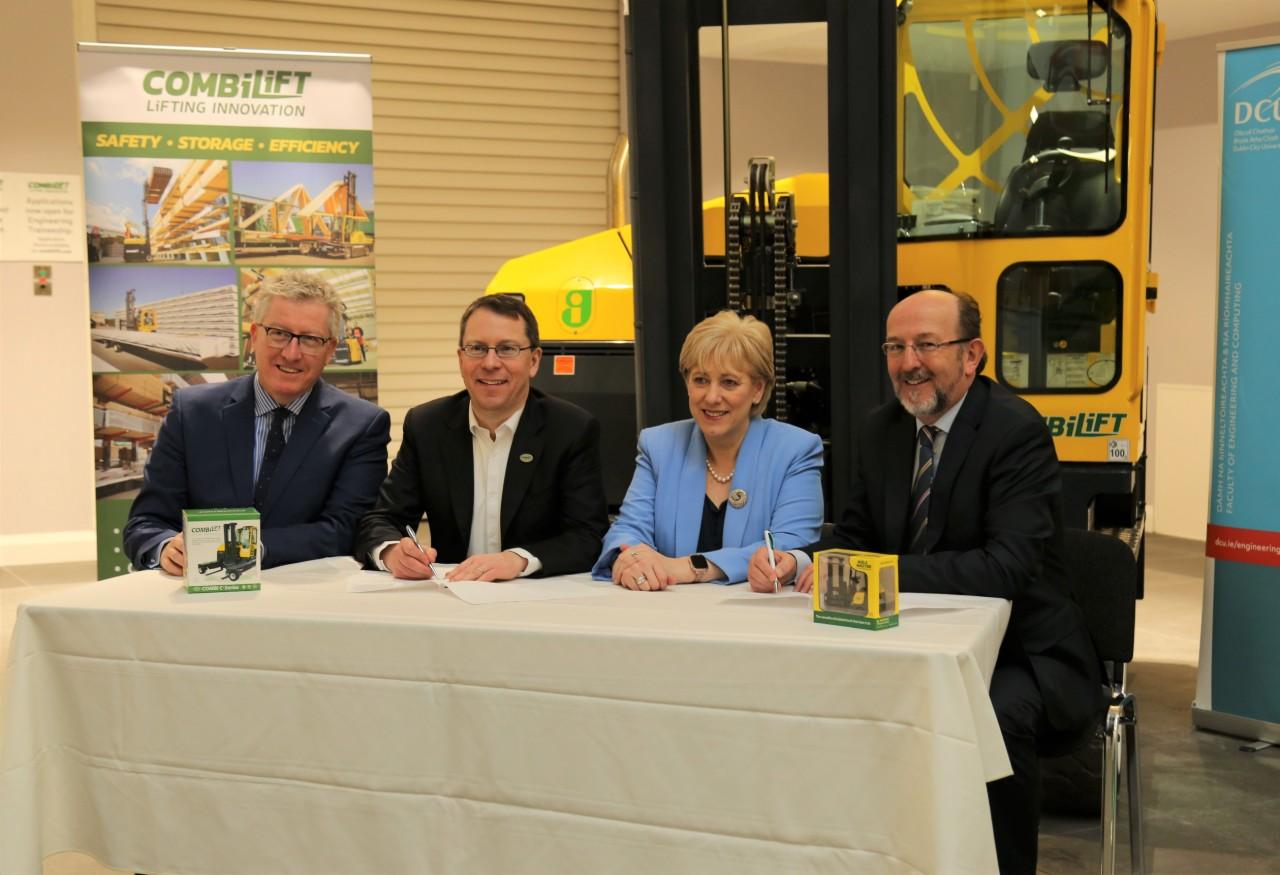 Below Image
Strategic Industry-University agreement for Border and North East between DCU and Combilift
Dublin City University and Combilift have signed a memorandum of understanding (MOU) to further develop the relationship between both organisations.
The partnership reflects the university's on-going commitment to industry engagement for the purposes of research, innovation, graduate employment and education.
The agreement with the Monaghan company will focus on 3 key areas:
Future Talent Development including career opportunities for DCU graduates (undergraduate and postgraduate level); the identification of future skills needs and emerging talent needs. It will also include curriculum developments taking into account novel or emerging needs.
Research, Development and Innovation combining industry and academic expertise with a particular focus on critical areas such as Internet of Things (IoT), Data Analytics, Process Engineering, Advanced Manufacturing, Autonomous Vehicles and Artificial Intelligence.
Education with a focus on cultivating STEM (Science, Technology, Engineering, Maths) education at both regional and national level from primary level upwards.
In addition, there are plans to collaborate on hosting an annual STEAM (Science, Tech, Engineering, Arts, Maths) student innovation competition.
The official announcement was attended by the Minister for Business, Enterprise and Innovation Heather Humphreys TD, who joined the President of Dublin City University, Professor Brian MacCraith, Deputy President, Professor Daire Keogh and CEO of Combilift, Martin McVicar, at Combilift's Global Headquarters in Monaghan for the official MOU signing.
Welcoming the agreement, the Minister for Business, Enterprise and Innovation, Heather Humphreys said:

"The need for companies to constantly focus on upskilling and future skills needs is a key priority of the Government's Future Jobs Plan.

This exciting new partnership with DCU will ensure that Combilift has the right skills set to embrace and utilise new technologies in areas like Artificial Intelligence and Advanced Manufacturing which are going to transform industries and the way we work in the future".

Commenting on the agreement, the President of DCU, Professor Brian MacCraith said:

"As Ireland's University of Enterprise, DCU is delighted to strengthen its collaboration with Combilift, one of Ireland's most successful and innovative indigenous companies.

By tapping into DCU's wealth of research and expertise, the company can ensure it remains at the cutting edge of innovation.

Meanwhile, the involvement of companies like Combilift in our INTRA work placement programme is vital for developing our students' talent, and maintaining DCU's position as one of the world's top 20 universities for graduate employment rate".

Combilift CEO Martin McVicar commented:

"The growth of the global economy has intensified the need for strategic partnerships between industry and the education and training sector.

This MOU is further evidence of Combilift's commitment to enhancing the development and up-skilling of the workforce in this region. It is a natural progression from the work Combilift has undertaken in the development of traineeship and apprenticeship courses.

Over the past year, Combilift has worked closely with DCU in facilitating work placements and hired DCU graduates as part of our Autonomous Vehicle Project.

This strategic partnership will enable Combilift to forge a long-term collaborative relationship with DCU in a number of other areas including partnering on research projects and the promotion of STEM in local primary schools which will support the growth and development of STEM subjects among primary and post-primary pupils".
Pictured (l-r) Professor Daire Keogh, Deputy President, DCU Combilift CEO Martin McVicar, Minister for Business, Enterprise and Innovation, Heather Humphreys, Professor Brian MacCraith, President of DCU.
About Combilift:
Combilift is the largest global manufacturer of multi-directional forklifts and an acknowledged leader in long load handling solutions.
Established in 1998, the company has sold over 50,000 units in 85 countries.
It now employs mo+re than 650 people at its Global Headquarters and manufacturing in Monaghan.