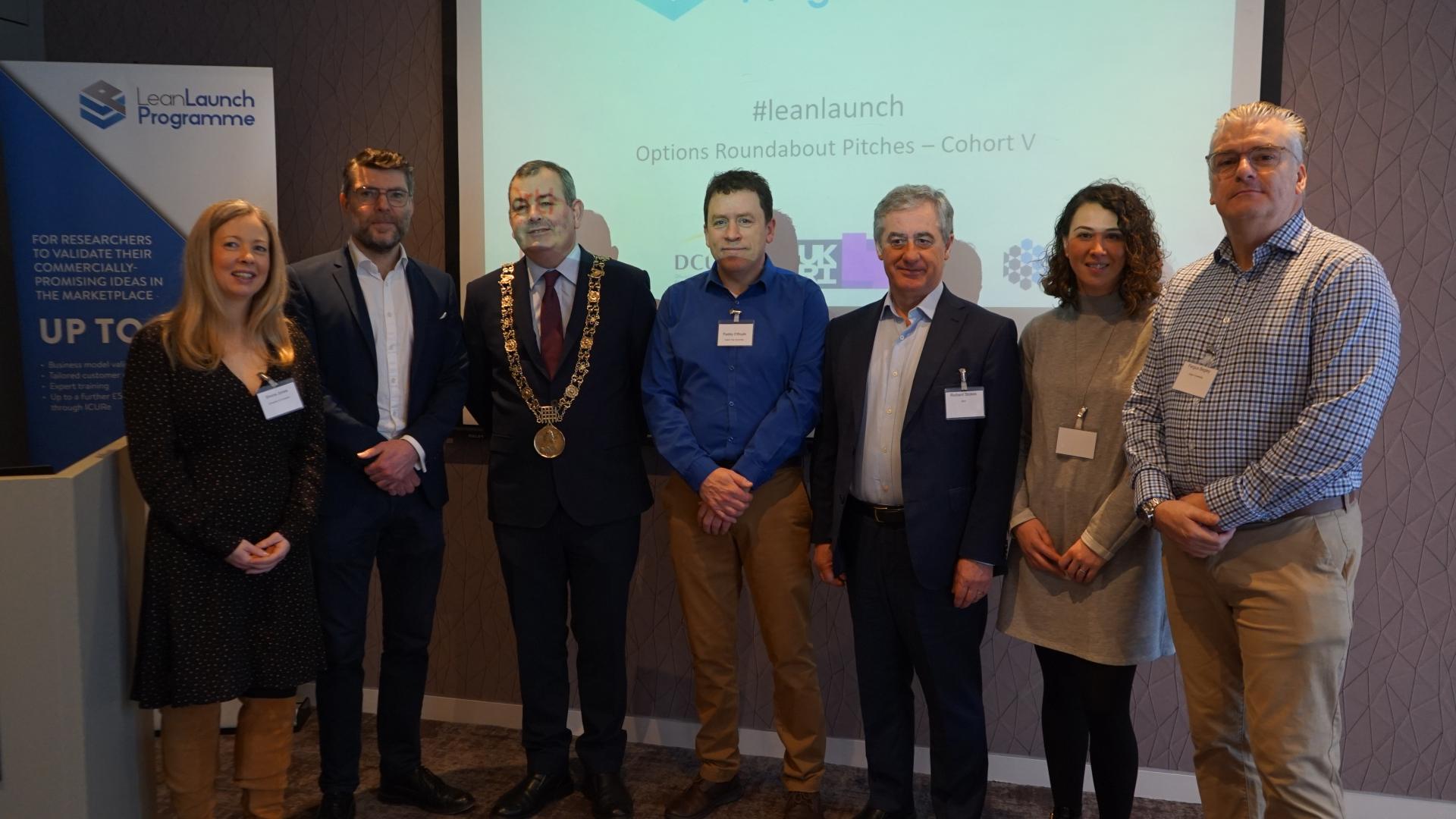 Below Image
DCU and Queen's among the teams pitching their ideas at Lean Launch
The Lord Mayor of Dublin, Tom Brabazon, welcomed ten university teams from across the UK and Ireland, hoping to turn their research into commercial success to the Spencer Hotel in Dublin today. They were there to pitch their latest deep tech ventures to an experienced panel of funders and stakeholders.
They completed the Lean Launch pre–accelerator programme, a North/ South collaboration between Dublin City University and Queen's University Belfast, who lead the North–by–Northwest (NxNW) consortium of universities.
Through this seven-week programme, teams from leading universities across the UK and Ireland participated in a rigorous customer discovery journey conducting over 200 engagements with businesses worldwide to test their value propositions and determine whether there is a market for products or services that utilise outcomes from their research.
Richard Stokes, Director of Commercialisation at DCU, said:
"We are delighted to be collaborating with Queen's and NxNW partners on this innovative programme to help our staff and students accelerate economic impact and commercialisation from their research at DCU."
Tom Brabazon, the Lord Mayor of Dublin said
"I am delighted to see our local University partners working collaboratively to bring this cohort of teams representing Universities from across the UK and Ireland, to Dublin today. In the council we believe that strategies to successfully support regional economic growth, increasingly rely on building a knowledge based economy in partnership with universities and research partners The Lean Launch Programme exemplifies this model of business/academia collaboration."
Led by Queen's, NxNW partners is an expanding community of innovators, entrepreneurs and investors to help accelerate the commercialisation of university research in the North of England, Scotland and Ireland. Formed in 2018, the consortium has created fifteen high-tech university spin-out companies securing in excess of £3.9m of seed funding investment.
Brian McCaul, CEO, QUBIS, said:
"Queen's has a strong track–record of generating economic impact from its research. As we continue to expand our NxNW consortium, hosting this event in Dublin today, marks a significant step for us in bring Lean Launch Programme to a wider community"
Previous successful spinouts of the programme include Causeway Sensors, Green Lizard Technologies, and Phion Therapeutics who have gone on to secure further grant funding and achieve success in their respective markets.
To learn more visit the QUBIS website or contact Lean Launch Programme Director Dr Paul Donachy p.donachy@qub.ac.uk
Photograph:
(L-R) Shona Jones, University of Liverpool, Brian McCaul, CEO, QUBIS, The Lord Mayor of Dublin, Tom Brabazon, Paddy O'Boyle, Dublin City University, Richard Stokes, Dublin City University, Kerri Crossey, EIT Seedbed Programme Manager, Fergus Begley, Ulster University