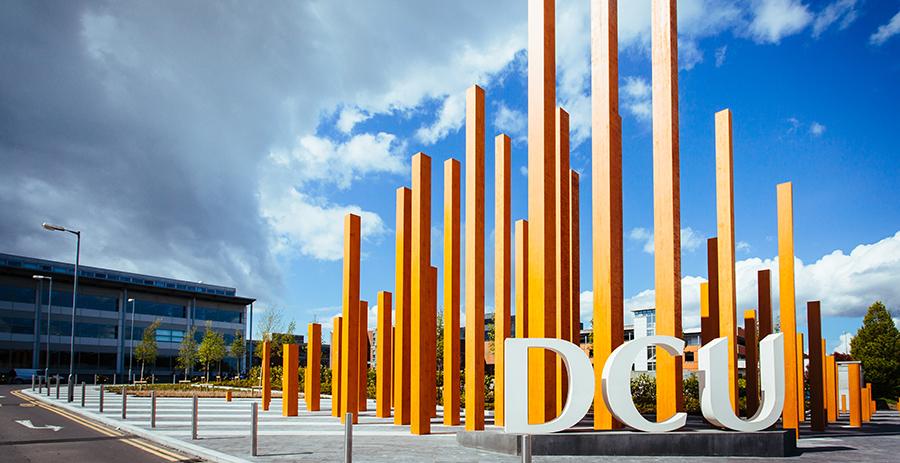 Below Image
DCU implements measures to support students through alternative online assessments
DCU has provided students with details of their alternative end-of-year assessments and a range of measures put in place to help them to complete their academic year during the current COVID-19 crisis. All of DCU's alternative assessments will be carried out online.
Alternatives to campus-based exams will be conducted in various forms depending on students' specific programme requirements. Over 70% of the alternative assessments conducted by DCU will be through set tasks or take-away examination, with the remainder conducted via synchronous exams (i.e. every student takes the exam at a specified time for a fixed duration) on Loop, DCU's online learning platform, which is familiar to all of its students.
DCU has also advised students that it has extended the examination period by a week out to May 23rd to allow for the need to address any unforeseen technical issues that may arise for students in these unprecedented circumstances.
Writing to all students, VP for Academic Affairs, Eithne Guilfoyle said,
"We have put a major effort into redesigning our approach to alternative final assessments, developing new schedules and evaluating the technical challenges involved. Throughout this process, our priorities have been to help our students to complete this academic year, to ensure academic integrity and maintain the value of your DCU degree, but to also take account of these exceptional circumstances and ensure that there are no negative implications, either financial or administrative, for students who have to, or choose to, re-sit exams, and we will use familiar online environments, where possible, to conduct exams."
President of DCU, Professor Brian MacCraith, added,
"While DCU campuses have been closed since March 12th, the university has remained very much open albeit online. Before designing alternative assessments for an online environment, we first conducted a detailed survey of our students to determine if their ability to access and engage with learning online was being affected by their internet connectivity. The responses of nearly 4,000 DCU students were analysed and taken into account by our academic staff when redesigning alternative final assessments."
The survey was issued to students to get a better understanding of how effectively they were engaging with the new online teaching and learning environment and to inform DCU's approach to alternative online assessments. The survey found that most students (94%) are conducting their online learning using a laptop or desktop computer.
A significant portion (31%) of those surveyed stated that they are reliant on mobile data for access to their college materials. For more than two-fifths (42%) of those surveyed, internet access and speed is never or very rarely a problem. However, of concern to DCU academic staff, is the fact that the majority of respondents acknowledged that internet access and speed can be an issue, with one-fifth of the sample noting that internet access/speed is always (6%) or very often (15%) a significant issue for them.
The most common Internet Service Providers (ISPs) of the students surveyed are Eir, Virgin Media and Vodafone, together making up 70% of the respondents. Along with other higher education institutions, DCU has been advocating for zero-rating of data usage for education purposes during this crisis.
DCU has informed its students that it will take a number of steps to mitigate the potential impact of variable internet connectivity on students during their examinations.
First, to address any technical issues that may arise, DCU will have flexible deadlines to allow for slow uploads and, for students who have difficulty in uploading material, they will have the option to submit their work via email. Instructions to students regarding file size and formats of assignments will also take account of slow internet connections and DCU has extended its examination timetable from 8.00 am until 7.00 pm each day to enable students to access the internet when there may be less demand from home-workers.
Second, on the day of timed (synchronous) alternative assessments or deadlines, DCU will provide enhanced supports for students including a 'DCU Examination Support Centre' that students can contact for 'live' guidance during the examination.
Throughout the period leading up to and during the exams, DCU has assured students that a number of welfare, academic and practical supports will be in place to support them.
For example, Students will have access to materials on preparing for exams and taking care of themselves prior to and during exams. This will be available through DCU's online learning platform, Loop, in a dedicated 'Discover Exam Success' section where students can find out about new learning strategies, ways of staying calm along with tips on how to give their best performance on the day of the exam. The university will also run a 'Virtual Exam Bootcamp' during the week of April 20th that will cover motivation, exam strategies, exam stress and exam performance.
All student welfare supports, including counselling and financial assistance, will continue to be offered, albeit online, during this period.