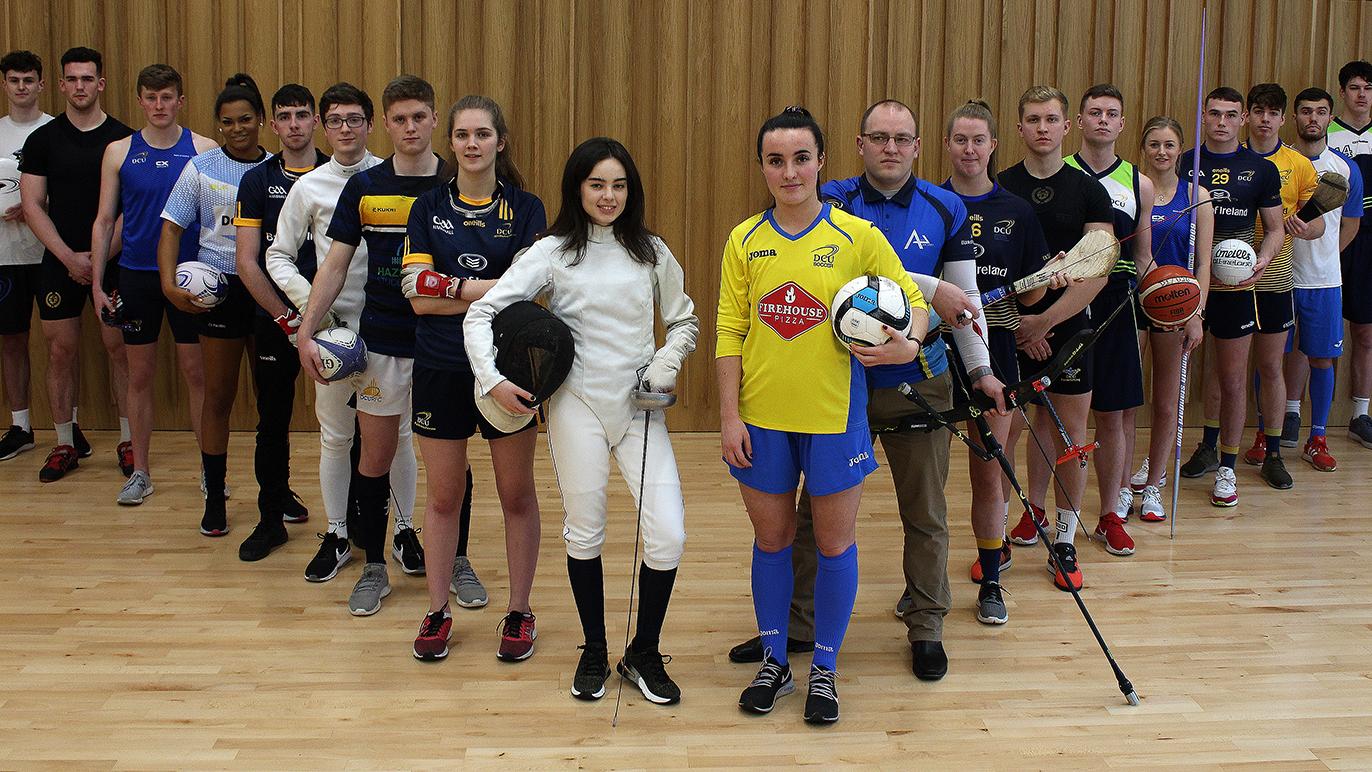 Below Image
DCU wins two Student Sport Ireland Awards
DCU has been named the Student Sport Ireland Sports College of the Year 2020, for the second year in a row. DCU won the inaugural award in 2019. This award recognises colleges and universities participation and achievements in Cup and League competitions run by the organisation, and this year also includes competitions run by other National Governing Bodies. Eleven sports were included in this year's award including Men's GAA, Ladies GAA, Men's Soccer, Women's Soccer, Volleyball, Basketball, Pool, Karting, Badminton Rugby and Netball. The Award was presented to DCU at the Student Sport Ireland Virtual Networking event on May 21st.
James Galvin, Director of Sports & Wellbeing said "This is a wonderful achievement by our DCU Sports clubs; I am so proud and inspired by the commitment and dedication of our student-athletes, coaches and staff who have worked together over the last year. This award is merited recognition of their hard work to succeed, both on the field and in the classroom. Each person embraces what it means to be a student-athlete at DCU and to succeed in all areas of life".
Úna Redmond, Manager of the Office of Student Life said 'I am delighted to hear of this Award for the second year in a row. It is a testament to the dedication and commitment of our student clubs and the professional staff who support them and once again highlights the role sport plays in the DCU student experience."
DCU student Aine McParland was also awarded the Student Sport Ireland Student Leadership Award 2020.
Aine has been extensively involved in student sport and life in DCU over the last 3 years as she has studied for her degree in Accounting and Finance.
Paul O'Brien, DCU Interim Head of Gaelic Games said "I am delighted that Aine has been awarded with this prestigious award. It is fully merited for her immense contribution to Gaelic Games in DCU and beyond. She has been the very heartbeat of the club and we have a massive task on hand to fill the void that will be left with her graduation from Accounting & Finance. I am lucky to have learned from Aine in her time in DCU."
Yvonne McGowan, Senior Sports Development Officer said "Aine has been a model student during her time in DCU and constantly seeks opportunities to develop sport in DCU from her work as a coach, committee member and player with DCU GAA, to her leadership role with DCU Club Life Committee, 20x20 and the LGFA Higher Education Colleges Committee. Aine epitomises a true student leader that has embraced and grown from the development opportunities in DCU and third level sport."
Aine's achievements this year include:
DCU Dóchas Éireann GAA Club - Club Secretary, Coach Giles Cup team & Player Moynihan Team

LGFA Higher Education Colleges Committee, Registrar

DCU Club Life Committee, Ordinary Member

DCU 20x20 Student Champion