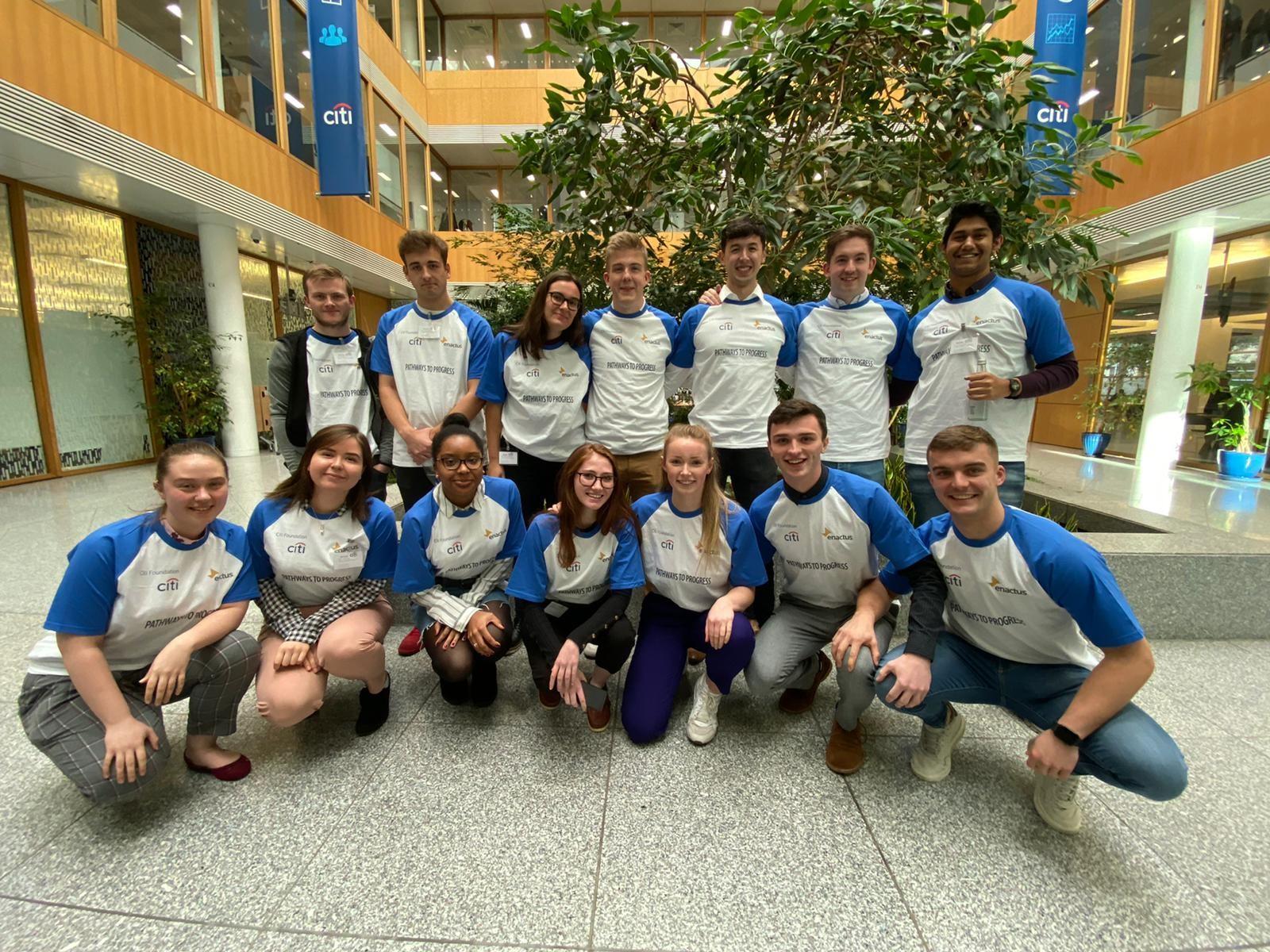 Enactus DCU crowned 2020 Enactus Ireland Champions
Enactus DCU was crowned the winner of the Enactus Ireland social entrepreneurship national competition on Thursday, May 28th, for the sixth time in nine years.
This year the final event was streamed live to family and friends and a wider audience of academic and business stakeholders.
One of the winning team's projects Dyslex.ie sets out to improve the reading skills of the dyslexic community.
The online software helps to reduce the number of errors while reading and helps to increase reading speed by making websites and online content more accessible to readers.
Another of the team's projects is Speakeasy working with primary and second level students to develop their public speaking skills.
This year's presenting team was Eoin Treacy, Suzanne Jackson, Emily Fulton (all in DCUBS), Jack Parkes (SALIS) Kevin Cogan (Computing), with Alethea Williams (DCUBS), ably led during the year by Enactus DCU Chairs Thomas Bird (DCUBS) and Ruth Lombard (Health & Society) and with Noel Hatton (DCUBS) as video editor.
Enactus DCU is mentored by a panel of business and academic advisors, including Dr Emer Ní Bhrádaigh, Fiontar agus Scoil na Gaeilge; Dr Ciarán Dunne, SALIS; Dr Róisín Lyons and John Byrne, DCUBS.
The Dyslex.ie team was advised by Dr Ellen Reynor of the School of Inclusive and Special Education.
This year, the social entrepreneurship competition, supported by Bank of Ireland saw colleges from 9 HEI's across the country compete for the title, with DCU shortlisted along with TCD, UCD and UL.
Enactus DCU will go forward to represent Ireland at the Enactus World Cup this coming September, competing against students in 36 other countries worldwide.
Enactus judge and Chairman of Enterprise Ireland Terence O'Rourke said,
"DCU's project was the standout this year based on its innovative use of technology to ultimately improve the experience of reading for those with dyslexia.'.
DCU's presentation can be viewed here
About Enactus Ireland
Enactus Ireland supports 3rd level students to create, and implement, social entrepreneurial projects which have a positive impact on their communities.
These projects are financially, socially and environmentally sustainable. Working with the worlds of business and academia,
Enactus students, and their projects, are mentored and trained by business and faculty advisers, equipping them to create real change.
Enactus Ireland is supported by KPMG, Bank of Ireland, Aer Lingus, Citi Foundation, Enterprise Rent-a-Car, KBC Bank, The Ireland Funds, Unilever, Enterprise Ireland and HSBC.
About Enactus Worldwide
Enactus, a global non-profit, is the world's largest experiential learning platform dedicated to creating a better world while developing the next generation of entrepreneurial leaders and social innovators.
The Enactus network of global business, academic and student leaders are committed to using the power of entrepreneurial action to transform lives in a sustainable way.