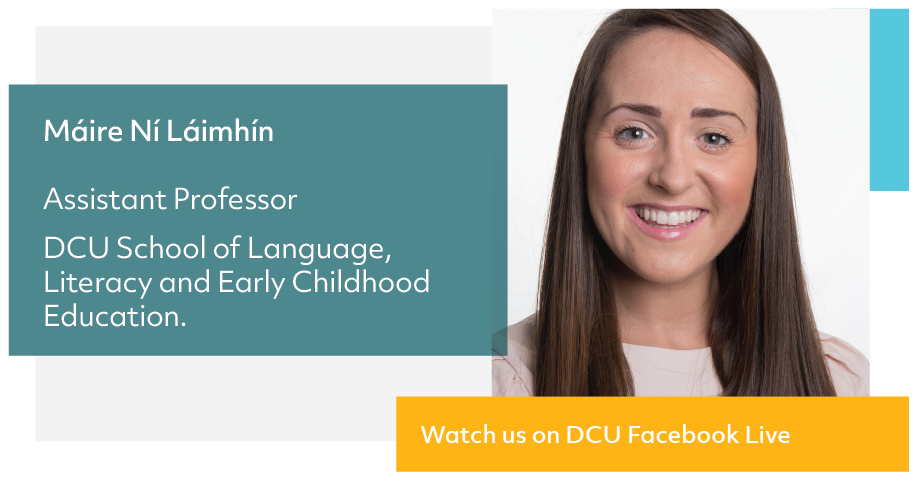 Below Image
Supporting parents and teachers with Gaeilge sa Bhaile
Supporting parents and teachers with Gaeilge sa Bhaile is the focus of our next Facebook Live Broadcast taking place on Wednesday, May 27th at 1.00pm.
Máire Ní Láimhín, Assistant Professor in Education at the DCU Institute of Education will host the fourth instalment of the, 'From a Distance' series launched by Professor Anne Looney, Executive Dean of the Institute of Education at DCU.
This series looks at how Covid-19 is changing our thinking about education, schooling and teaching.
Wednesday's upcoming session will include topics such as,
What does the language learning process entail?
How can I support my children/pupils with language learning?
What strategies will help my children/pupils with Gaeilge?
Where can I find some useful resources?
Máire works in the School of Language, Literacy and Early Childhood Education Teagasc na Gaeilge at the DCU Institute of Education.
Drawing from her experience as a primary school teacher, she has a particular interest in the Irish language and has taught in a variety of Gaelscoileanna and English-medium primary schools in Ireland and abroad.
Máire worked as a Language Advisor with Foireann na Gaeilge in the Professional Development Service for Teachers on the design and delivery of nationwide teacher training for the Primary Language Curriculum.
She has presented her studies at conferences organised by the Irish Association of Teachers in Special Education, the Educational Studies Association of Ireland and An Tionól Forbartha Gaeloideachas in association with An Chomhairle um Oideachais Gaeltachta agus Gaelscolaíochta.
If you have any questions about supporting your children with Gaeilge that you would like to ask Máire DM us on Twitter or Facebook or pop us an email at socialmedia@dcu.ie.
Beidh Máire Ní Láimhín Ollamh Cúnta, Institiúid Oideachais OCBÁC ag tabhairt faoin gceathrú mhír de shraith, 'From a Distance' seolta ag An tOllamh Anne Looney, Déan-Feidhmiúcháin, Institiúid Oideachais OCBÁC.
Díríonn an tsraith seo ar an gcaoi a bhfuil Covid-19 ag dul i bhfeidhm ar oideachas, scolaíocht agus múinteoireacht. Is iad na topaicí a bheidh á phlé ar an gCéadaoin seo ná:
• Cad atá i gceist leis an bpróséis foghlama teangacha?
• Conas is féidir tacú le páistí nó daltaí scoile agus iad ag foghlaim teangacha?
• Cén sórt strátéisí a chábhróidh le páistí/daltaí scoile chun Gaeilge a fhoghlaim?
• Cá bhfuil na háiseanna úsáideacha ar fáil?
Tá Máire Ní Láimhín ag obair i Scoil na Teanga, na Litearthachta agus an Oideachas Luath-Óige san Institiúid Oideachais OCBÁC.
Ón taithí ar fad atá ag Máire ó bheith ag obair mar mhúinteoir bunscoile i nGaelscoileanna agus i scoileanna Béarla anseo in Éirinn agus thar lear, tá an-suim aici sa Ghaeilge.
Bhí Máire ag obair mar Chomhairleoir Teanga leis an tSeirbhís um Fhorbairt Ghairmiúil do Mhúinteoirí ag cur cúrsaí oiliúna ar fáil ar Churaclam Teanga na Bunscoile.
Má tá ceist ar bith agat faoi conas is féidir tacú le páistí nó daltaí scoile le Gaeilge a fhoghlaim, cuir chugainn iad ar Twitter nó Facebook nó cuir ríomhphost chuig socialmedia@dcu.ie