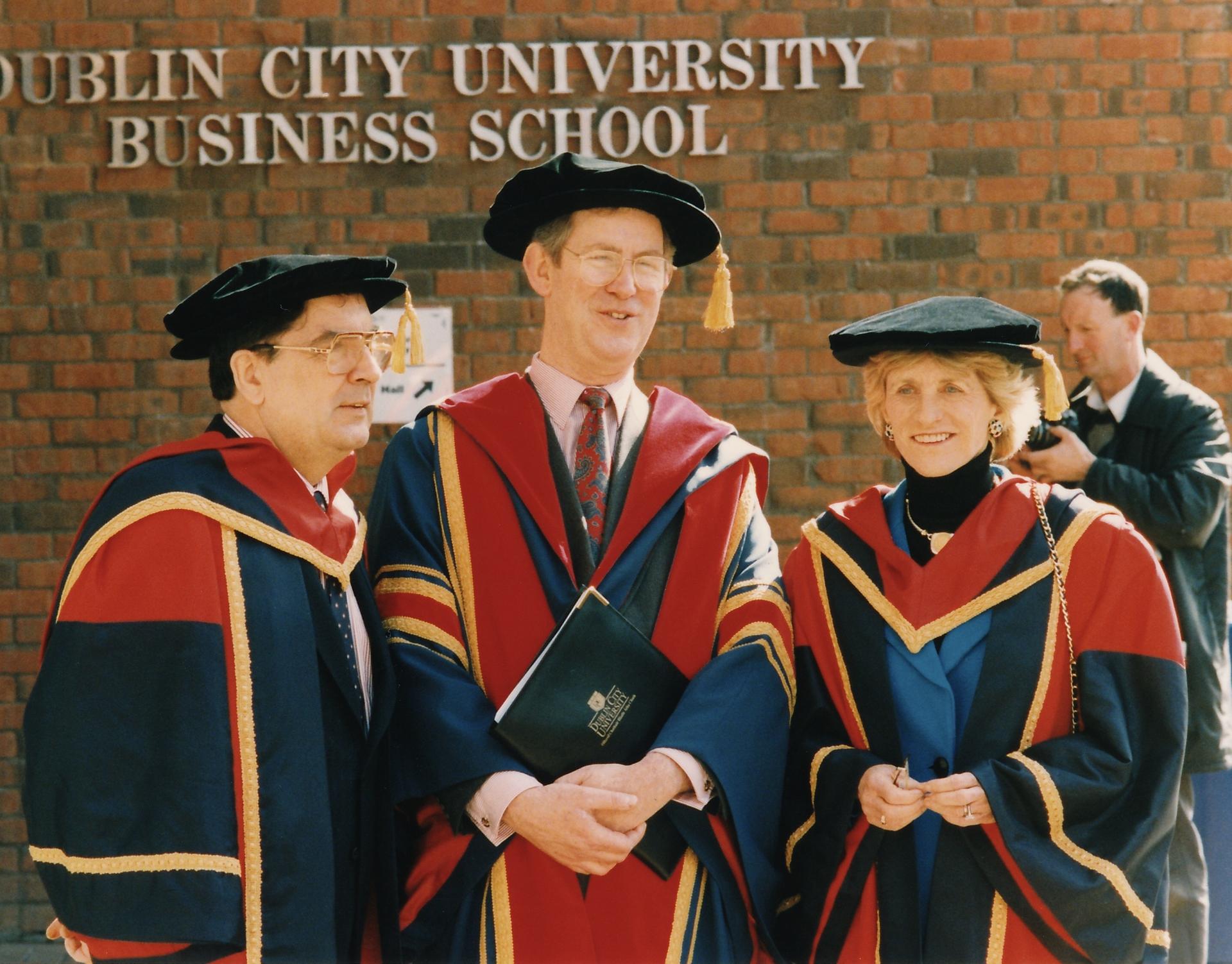 Below Image
Dublin City University remembers Jean Kennedy Smith
Dublin City University today remembers the former US Ambassador to Ireland, who passed away at the age of 92 on June 17th.

Mrs. Kennedy Smith was conferred with an honorary doctorate by DCU on March 26th 1994. She was joined that day by former leader of the SDLP and winner of the Nobel Peace Prize, John Hume, Stanford academic and sociologist Prof. James March, and Chairman of Killeen Investments, Timothy Mahony.

Mrs. Kennedy Smith was appointed as Ambassador to Ireland by President Bill Clinton and served from 1993 to 1998. She was awarded honorary Irish citizenship in 1998.

She was the eighth of nine children born to Joseph Kennedy and Rose Fitzgerald. Her siblings were Joseph P. Kennedy Jr., U.S. President John F. Kennedy, Rose Marie Kennedy, Special Olympics founder Eunice Kennedy Shriver, Patricia Kennedy Lawford, U.S. Attorney General and U.S. Senator Robert F. Kennedy, and U.S. Senator Ted Kennedy.

The citation for Ms. Kennedy Smith's honorary doctorate speaks about her work with the Very Special Arts project, an organisation that provides a wide range of programmes in the arts for people with mental and physical disabilities. Very Special Arts Ireland was founded in 1987. In 2001 VSA Ireland changed its name to Arts & Disability Ireland in order to reflect contemporary thinking about disability inclusion.

The citation included the following:

"Dublin City University has always had a strong commitment to serving the needs of people with disabilities and promoting their full integration into the university community and Irish society. We are happy to be able to pay tribute to the work and achievements of Mrs. Kennedy Smith, and we are honoured and delighted that she has agreed to accept from the university, the degree of Doctor of Philosophy, honoris causa."

President of DCU, Prof. Brian MacCraith said

"I learned with great sadness of the death of Jean Kennedy Smith. As US ambassador to Ireland, Jean played a critical and dynamic role in paving the way for the peace process in Northern Ireland. She also had a hugely positive impact on the lives of people with disabilities through her philanthropic work with Very Special Arts."

Ms. Kennedy Smith predeceased by her husband Stephen Edward Smith and is survived by her children, Stephen Jr, William, Amanda and Kym.