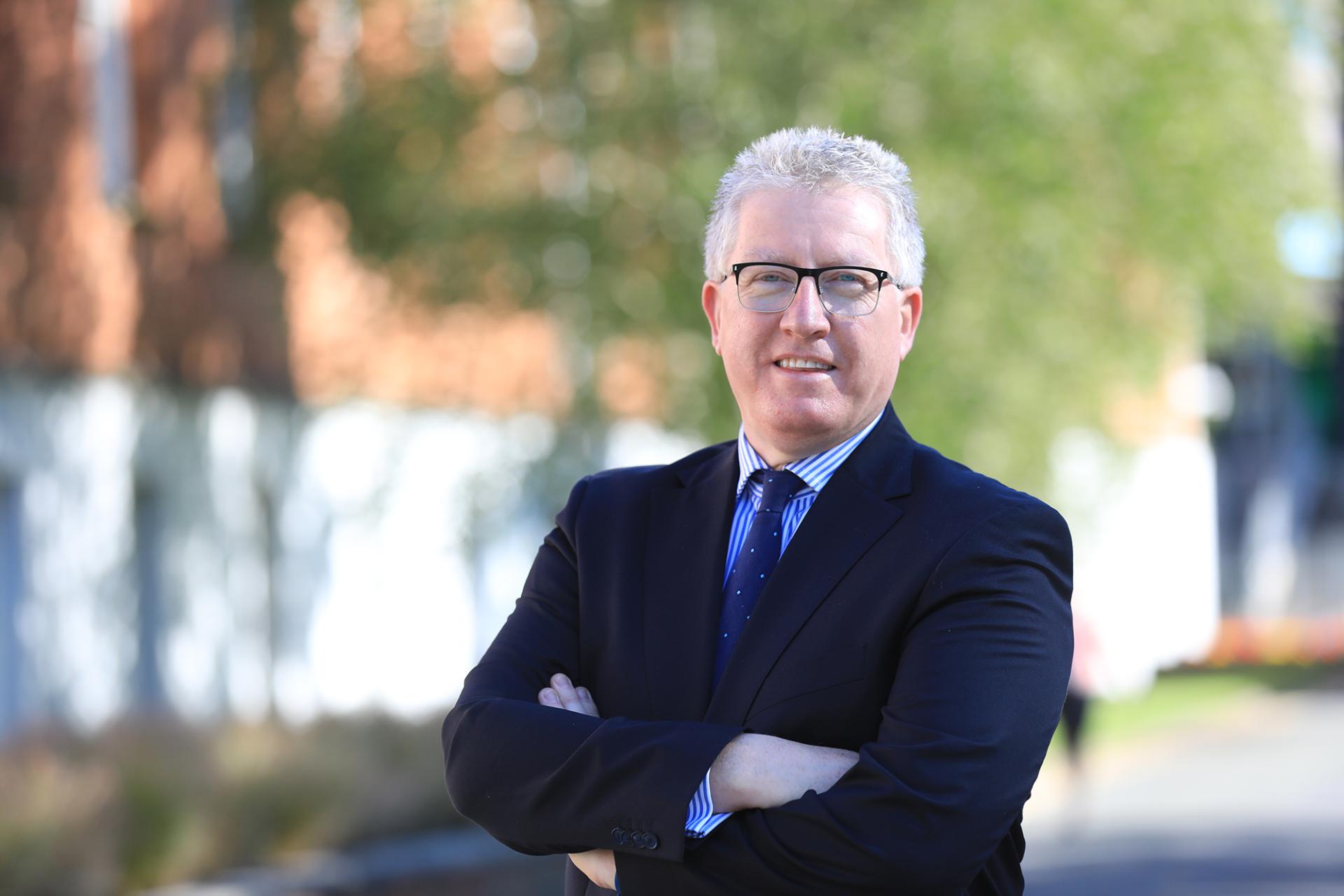 New DCU President Daire Keogh takes office today
Today marked the first day in office for DCU's new President, Professor Daire Keogh.
Professor Keogh has succeeded Professor Brian MacCraith, who had reached the end of this ten year term, having been DCU President since July 2010. Professor Keogh was President of St Patrick's College Drumcondra from 2012 until 2016 when the college was incorporated into DCU.Since then he has served as Deputy President of DCU.
Professor Keogh will be outlining his vision for DCU in an address to staff on Thursday July 16th.
Speaking ahead of that address, he said
"It is my great honour to lead the university in the next phase of its development. Despite the challenges facing higher education, the COVID-19 challenge has shown DCU at its very best. As a university we have excellent principles and exceptional people, students, staff, and supporters. Together, we will build on DCU's deserved reputation as an engaged and innovative university, committed to the advance of Irish life.

I want to pay tribute to Prof Brian MacCraith for his leadership over the past decade. As he stands down, he leaves DCU in a great position to advance our mission to Transform Lives and Society."
Biography
Dáire Keogh, a Dubliner, is a Professor of History at DCU and former President of St Patrick's College, Drumcondra. He is a Fellow of the University Design Institute at Arizona State University. He serves on several boards, including Women For Election.
As President of St Patrick's College Drumcondra (2012-16) where he led an expansion of the College's curriculum, and the completion of an ambitious capital programme, which included the construction of the iconic Cregan Library in Drumcondra. He led the College team through its Incorporation into DCU in 2016.
He is the founding Chair of the British Irish Chamber of Commerce 'Higher Education, Research, and Industry Committee', a group which has made a significant contribution to advancing education and enterprise collaborations in the context of Brexit. He has also served as a board member of The Centre for Cross Border Studies.
Dáire has a strong international profile, and is currently a Fellow at the University Design Institute, at DCU's American partner, Arizona State University. He is a founding member of the European Quality Assurance Register (EQAR) Committee, the body charged by EU Governments with monitoring quality assurance in higher education across the continent. He held an adjunct professorship at the University of Notre Dame.
Dáire was educated at Synge Street CBS and graduated from University College Dublin with a BA in History. Further studies took him to the Gregorian University, Rome (BPh), University of Glasgow (MTh), and Trinity College, Dublin, where he completed a PhD in History. He qualified as a Chartered Director of the Institute of Directors.
He has published extensively on the history of popular politics, religion, gender, and education in Ireland. A former Government of Ireland Senior Research Fellow, he is currently Principal Investigator of an Irish Research Council funded project to publish the mammoth correspondence of Cardinal Paul Cullen. He is chair of the Editorial Board of Studia Hibernica, DCU's Journal of Irish Studies.
He has a strong commitment to equality issues and served as Vice President of the Irish Federation of University Teachers (IFUT). Since 2014, he has been a board member of Women for Election, whose mission is to inspire, equip and support women to succeed in politics.
He recently completed a term as a Council Member of the National Council for Curriculum and Assessment. He is a member of the Edmund Rice Schools Trust, chair of the Board of Marley Grange National School in Rathfarnham and a member of the Board of Management of Clongowes Wood College. He chairs the Rathfarnham Concert Band Society, and is a member of the Irish Association of the Order of Malta.
He is married to Katie Keogh, a native of Indiana (USA), and they have four children.