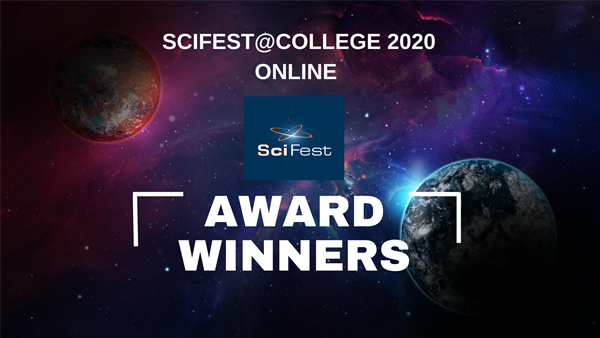 Below Image
The effect of exercise on short-term memory wins SciFest@DCU 2020
Congratulations to the students and teachers that rose to the challenge of participating online in SciFest@College for 2020.
The 2020 SciFest@DCU Award Winners were announced on 31 July and the top prize, the Science Foundation Ireland Best Project Award, went to Ciara Heaney, Holly Bond and Jinlong Situ with their teacher Ms. Jilly Fleming from Wesley College, Ballinteer, for their project 'The effect of exercise on short-term memory'.
The Runner-up Best Project Award went to Ciara Harrison, Aoife Farley, Amy Geraghty with their teacher Mr. Brian Higgins from Loreto Secondary School, Balbriggan, for their project on 'The Correlation Between Classical Music and Concentration'.
This is DCU's fifth year to participate as one of 16 regional hosts for SciFest@College and the first year that SciFest@College has gone online. A total of 430 projects were submitted in March 2020 and judging was completed online across the 16 Regional Fairs to select the winners. The Best Project award winners from each regional STEM fair go on to compete at the national final in November 2020.
"SciFest is a competition that stimulates students to develop an interest in STEM, while prioritising inclusivity and inquiry-based learning and these goals are strongly aligned with the mission of our research Centre for Advancement of STEM Teaching and Learning (CASTeL)" said SciFest@DCU co-ordinator Dr. Eilish McLoughlin, Associate Professor in School of Physical Sciences and Director of CASTeL.
"We are very grateful the dedication of our 2020 judging panel for their careful review of each project and participation in the online selection of SciFest@DCU winning projects" said Dr. Odilla Finlayson, Associate Professor in School of Chemistry Sciences and Judging Coordinator for DCU.
Speaking at the announcement of 2020 SciFest@College Awards Winners, Sheila Porter, SciFest Founder and CEO said,
"SciFest has now been running for 12 years, and 2020 will mark our 13th year of the competition. Well done to the dedicated students who entered over 430 projects to SciFest@College 2020 online and many congratulations to the lucky winners. A very sincere Thank You to all the teachers who, in very difficult circumstances, found the time to support and encourage their students to participate in the online competition".
11 other projects were selected as regional award winners at SciFest@DCU 2020:
Boston Scientific Medical Devices Award: Mony Aramalla, St Mary's Secondary School, Holy Faith Convent, Glasnevin, Dublin 11 for her project, e-CBT - An Innovative Device and App for Impulse Controls. Teacher was Ms. Laura Brown.
Specsavers Making a Difference Award: Khushi Ferguson from St Mary's Secondary School, Holy Faith Convent, Glasnevin, Dublin 11 for her project, Calling It Out. Teacher was Ms. Laura Brown.
Intel Best Technology Project Award: Muirne O Connor, Katie Moroney, Mimi Bracken from Loreto Secondary School, Balbriggan, Co. Dublin for their project, Analysis on the effect natural skills and trash talk have on Esports performance. Teacher was Ms Chloe White.
Institute of Physics Award: Meghan Castaneda from Leixlip Community School, Leixlip, Co. Kildare for her project, What material insulates hot water the best? Teacher was Ms Catherine Holohan.
Newstalk Best Communicator Award: Alice Ní Bhroin and Conor Mac Alcoc from School Coláiste Mhuire, Bothar Rath Tó, Baile Atha Cliath 7 for their project, How much do we really know about germs and bacteria? Teacher was Ms Nora-Jane Ní Mhéalóid.
Environmental Award: Róisín Kellegher and Eva Cunningham from Mount Sackville Secondary School, Chapelizod, Dublin 20, got their project, Eco-Anxiety: Can Our Young Eco-Worriers Become Eco-Warriors and Can They Save Our Planet? Teacher was Ms Joan Hegarty.
Esero Ireland Discover Space Award: Gráinne Browne from Mount Sackville Secondary School, Chapelizod, Dublin 20 for her project, Can neutron stars tell us more about the Big Bang? Teacher was Ms Joan Hegarty.
Maths in Science Award: Sophie O'Sullivan, Grace Kodia and Hannah Cullen from Loreto Secondary School, Balbriggan, Co Dublin for their project, Does Outdoor Learning Improve The Quality Of Education. Teacher was Dr Niamh Mc Nally.
Irish Science Teachers' Association Award: Keela Murphy from St Joseph Of Cluny Secondary School, Killiney, Co Dublin for her project, How to determine the best length of a skipping rope. Teacher was Ms Aileen Wall.
Junior Innovation Award: Mony Aramalla, St Mary's Secondary School, Holy Faith Convent, Glasnevin, Dublin 11 for her project, e-CBT - An Innovative Device and App for Impulse Controls. Teacher was Ms. Laura Brown.
Merit Award: Mabel Jennings, Isobel Briody and Laoise Gunning from Santa Sabina Dominican College, Sutton, Dublin 13 for their project, Which is more effective at reading the pH of a substance: A Natural pH Indicator or a Universal pH Indicator? Teacher was Ms Deirbhile O'Keeffe
About CASTeL
DCU's CASTeL Centre for Advancement of STEM Teaching and Learning at DCU is the largest centre for STEM education in Ireland and its objective is to enhance STEM education at all educational levels - supported by evidence-based research and contributing to international good practice. CASTeL researchers will provide pedagogic support to schools to adopt effective approaches to teaching, learning of energy and sustainability though the professional development of teachers. For more information, please go to the CASTeL website: www.castel.ie
About SciFest
SciFest is an all-inclusive, all-island science initiative which fosters active, collaborative and inquiry-based learning among second-level students. It involves second-level students showcasing science, technology, engineering and maths (STEM) projects at a series of one-day science fairs held locally in schools and in 16 location regional locations - the 11 Institutes of Technology, TU Dublin (Blanchardstown, Kevin St and Tallaght), Dublin City University and St Mary's College Derry. The winners from each regional STEM fair go on to compete at a national final in November 2020. For more information please go to the SciFest website: www.scifest.ie
About Science Foundation Ireland
Science Foundation Ireland funds oriented basic and applied research in the areas of science, technology, engineering, and mathematics (STEM) which promotes and assists the development and competitiveness of industry, enterprise and employment in Ireland. The Foundation also promotes and supports the study of, education in and engagement with, STEM and promotes an awareness and understanding of the value of STEM to society and in particular to the growth of the economy. For more information visit www.sfi.ie