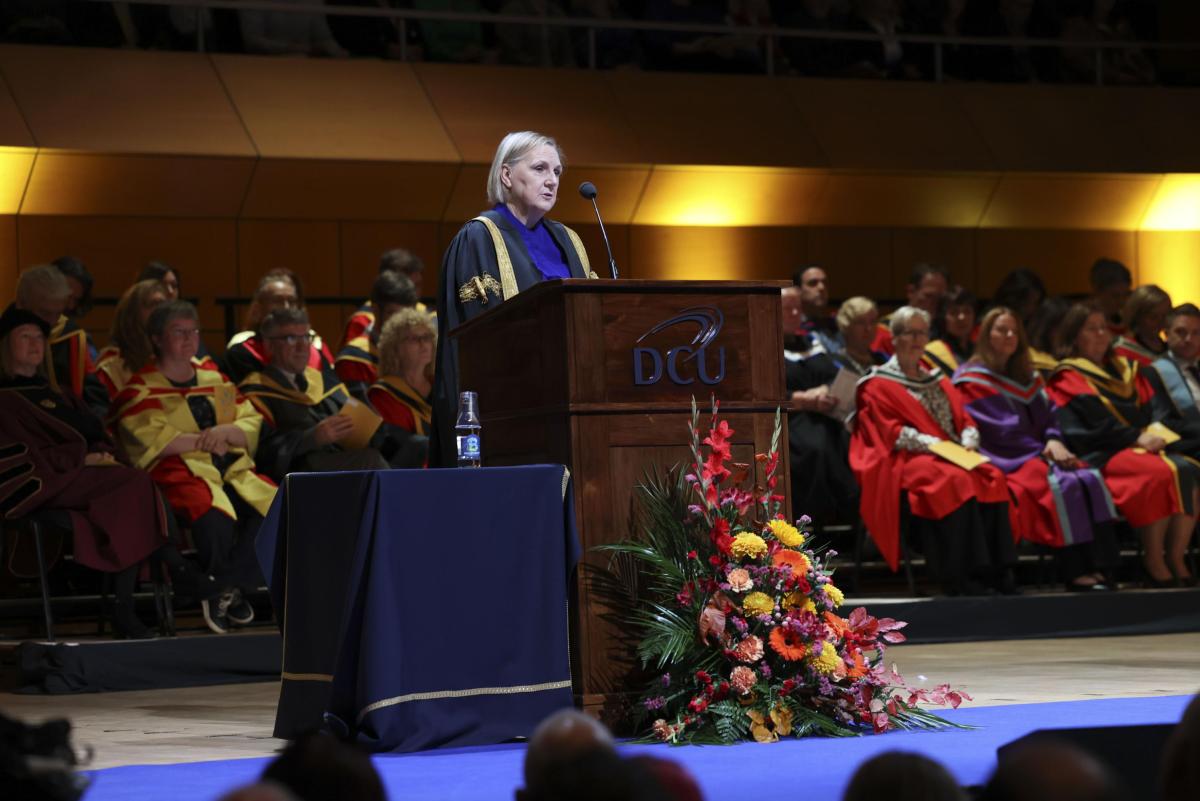 Brid Horan reappointed Chancellor of Dublin City University
Brid Horan has been reappointed as Chancellor of Dublin City University. Approved by a unanimous vote by the University's Governing Authority, she will serve as Chancellor until July 2025.
First appointed to the position in September 2021, Brid Horan has over 30 years' experience in executive, non-executive, and voluntary roles in leading private and public sector organisations and a distinguished record of service and advocacy in NGOs and the arts.
She held senior executive positions with ESB as Executive Director and Deputy Chief Executive; she is chair of the Irish Cancer Society and co-founded the 30% Club Ireland, which promotes gender-balance, including opportunities for women to study for careers in STEM - science, technology, engineering and mathematics. She has served on the board of IDA Ireland, and recently completed a term as a board member of the Dublin Theatre Festival.
She has also served as a member of DCU Governing Authority from September 2014 to June 2021, on the Audit Committee from 2014 to 2016 and as Committee Chair from 2016 to 2021.
Prior to joining the Authority in 2014, she was also appointed by the Minister for Education and Skills as an external member of the Expert Group on Future Funding for Higher Education in Ireland (generally known as the Cassells Group).
In 2016, she was appointed by the Higher Education Authority as Chair of an International Expert Panel to undertake a review of Ireland's Higher Education Funding Allocation Model.   This determines the allocation of funding across higher education institutions including universities and institutes of technology.
Prof Dáire Keogh, President of Dublin City University said
"I warmly welcome the election Governing Authority to reappoint Brid Horan as Chancellor of DCU.

During her first term, she made an outstanding contribution to the governance and advancement of the University. I look forward to working closely with her over the coming years as DCU continues to consolidate its position as a leading innovative European University."
Brid Horan said
"I am delighted to be embarking on a second term as Chancellor of Dublin City University. To serve in this role has been a great honour and I wish to thank DCU Governing Authority for their continued trust and support.

DCU plays a leading role in Higher Education for Ireland's young people, in life-long learning, innovation and research. Delivering an excellent student experience and supporting their career and personal development are at the heart of the work of the University's committed and passionate staff, academic and professional."