School of Policy & Practice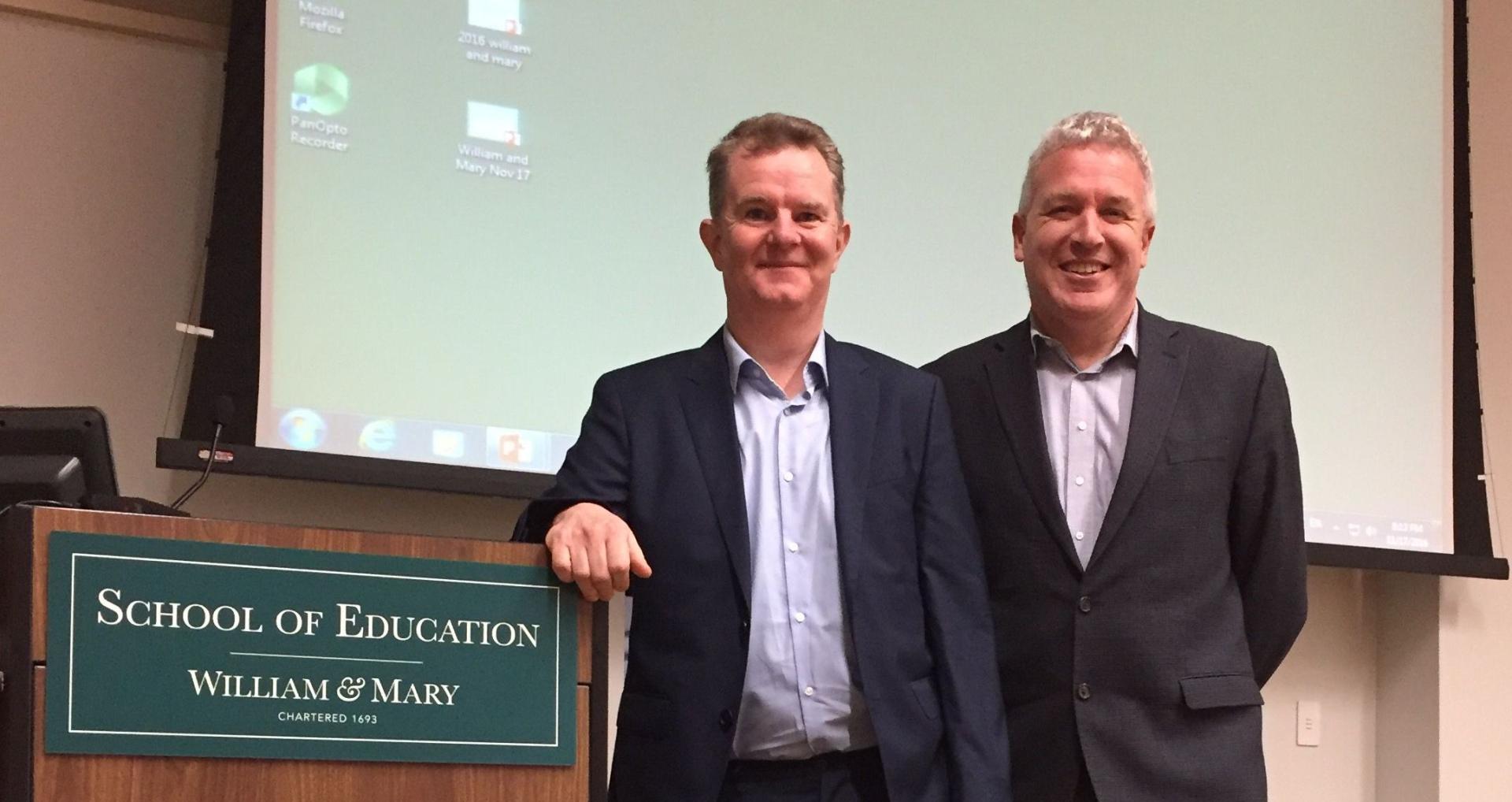 Below Image
Prof Joe O'Hara delivers Keynote Address at the College of William and Mary, Virginia, USA
Prof Joe O'Hara of the School of Policy and Practice was the keynote speaker at seminar on Irish Education hosted by the School of Education at the College of William and Mary in Virginia, USA. In a lecture entitled ' A Never Ending Story? Reconceptualizing Initial Teacher Education in Ireland' Prof O'Hara outlined the recent history of teacher education reforms in Ireland to an audience of faculty, students, school administrators and researchers. Highlighting the significant changes that have taken place over the last decade he identified the emergence of the DCU Institute of Education as perhaps the most important development in Irish Teacher Education in recent times. The second speaker for the evening was Dr Colm O'Reilly, Director of the Centre for Talented Youth Ireland (CTYI) who gave an overview of development of gifted education in Ireland the pivotal role played by CTYI and DCU in this process.
The evening was hosted by Prof Tracy Cross, Executive director of W&M's Center for Gifted Education and Adjunct Professor at the DCU Institute of Education. Funded by William & Mary's Center for Gifted Education, with support from the Reves Center for International Studies, it was intended to build on the already close links between DCU and William and Mary. Closing the session Prof Cross invited students and faculty to join them in their work and to explore ways in which DCU and William and Mary could work together to address issues of systemic need in the fields of gifted education and teacher education.
The College of William and Mary is one of the oldest educational institutions in North America and the School of Education is a dynamic and forward looking education department that provides educational opportunities for educators at undergraduate and postgraduate levels. The Center for Gifted Education at William and Mary is recognised as an international leader in field of gifted education and is renowned for its curricular programmes and research.