School of Policy & Practice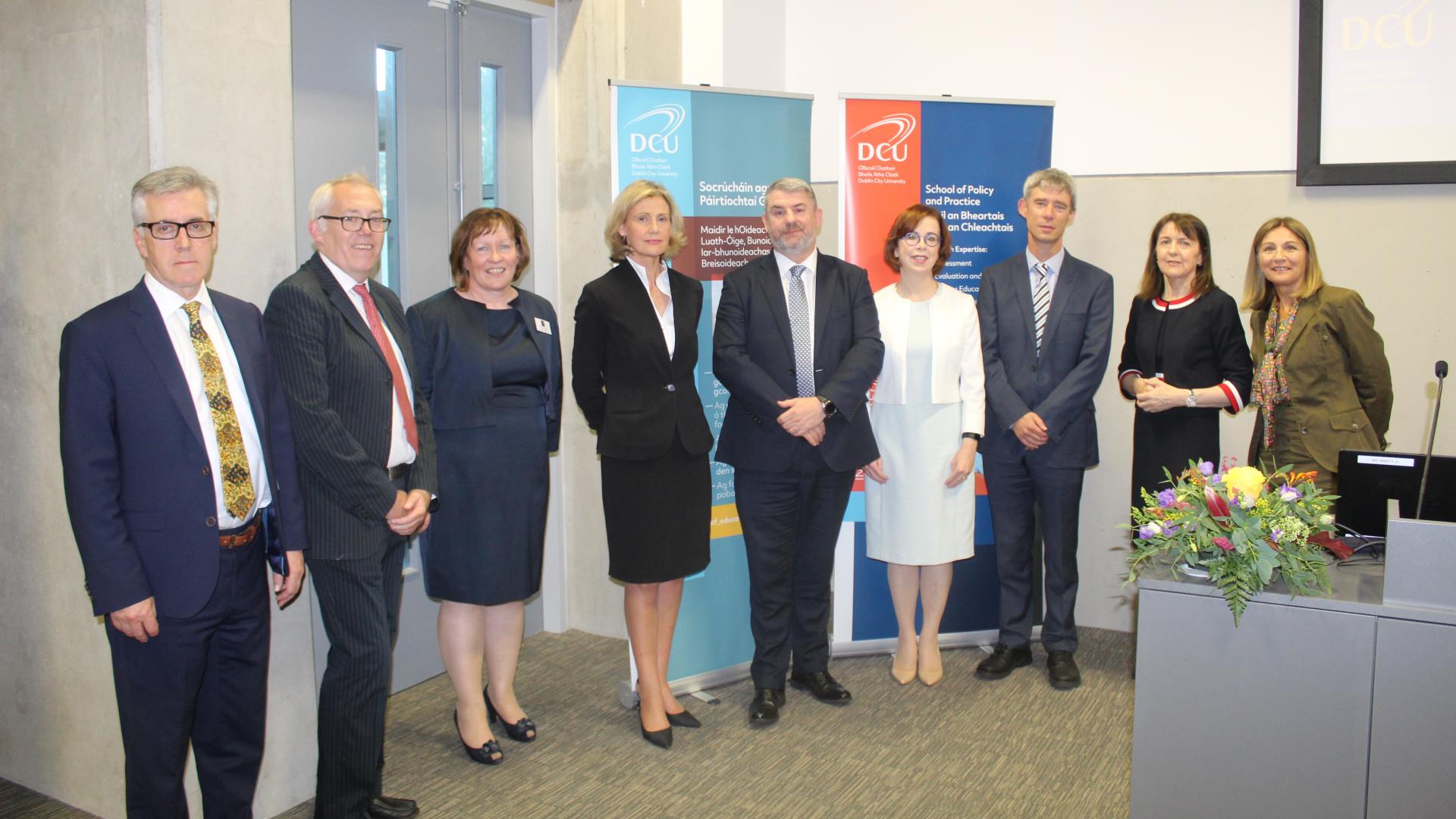 Child Protection and Garda-Vetting in Education Contexts
Main photo (l to r): Mr Paul Fiorentini, Dr Adam McAuley, Ms Marie Conroy Johnson, Ms Nora-Pat Stewart, Mr Mike Corcoran, Ms Yvonne Keating, Mr Paul Comiskey, Dr Bernadette Ní Áingléis, Judge Rosemary Horgan
The School of Policy and Practice under the leadership of Dr Elaine McDonald, Head of School, held the second lecture in its lecture series on Policy, Practice, and the Law in Education on 19 September 2019 in DCU Institute of Education. The theme of the lecture was Child Protection and Garda-Vetting in Education Contexts to which a revered panel of speakers provided a response. The lecture event was attended by a large number of professionals and agencies spanning education, social care and health, justice and the law, and various regulatory bodies and teacher unions.
The lecture series was designed by Dr Bernadette Ní Áingléis and Ms Marie Conroy Johnson of the DCU School of Policy and Practice. The Institute of Education was greatly honoured that the opening lecture was given by Her Honour Judge Rosemary Horgan, Judge of the Circuit Court who is a notable expert in the area. Other distinguished experts who presented on the evening included Ms Nora-Pat Stewart, Barrister-at-Law and Dr Bernadette Ní Áingléis, Associate Professor, DCU Institute of Education. Professor Dáire Keogh, President-designate of DCU opened proceedings.
The presentations were followed by a stimulating panel discussion which was facilitated by Dr Adam McAuley, DCU School of Law and Government. The panelists included Mr Mike Corcoran, Head of Regulatory Enforcement and Registration, Tusla; Ms Yvonne Keating, Deputy Chief Inspector, DES; Mr Paul Comiskey, Primary Principal; and Mr Paul Fiorentini, Post-Primary Principal.