Faculty of Science & Health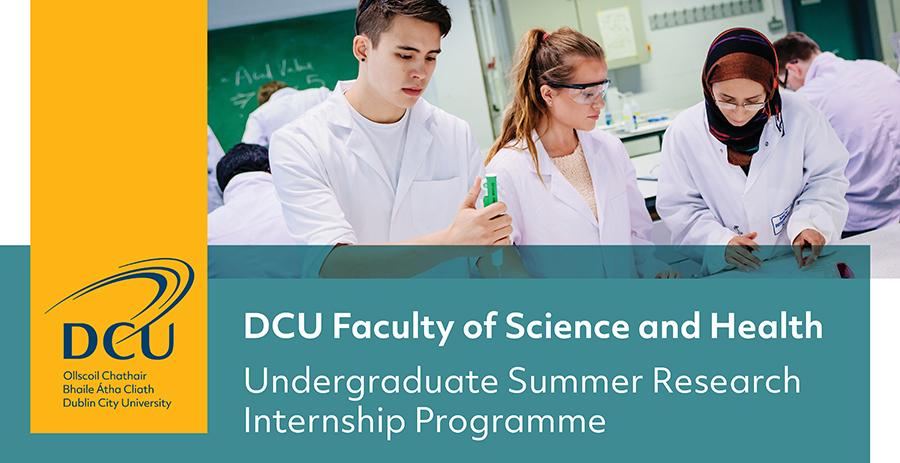 Undergraduate Summer Research Internship Programme 2020
Are you an undergraduate student wishing to pursue a career in research?
Applications are now closed
UPDATE regarding the ongoing Covid19 situation.
All non-lab based projects will go ahead as planned.
Lab based projects: It is hoped that the projects will still go ahead but later in the summer: August/early September. This is dependent on when the laboratories in DCU reopen. Please do apply if you think this time frame will suit you. We will notify you with updates on this matter if you do apply for a lab based internship. To check if your project is lab based/project based contact the project supervisor (contact details listed in the project description below).
Applications are invited from undergraduate students studying science and health related disciplines in DCU and other higher education institutions for our Undergraduate Summer Research Internship Programme. Applicants should be enthusiastic self-starters, typically at the end of their second or third year of study and have an interest in research. Interns will receive a stipend of €2,020 gross. Start and end date may vary, depending on the project chosen.
Select the internship or project for which you would like to apply from those listed below; you may only apply for ONE project/internship. Complete the application form and submit together with all supporting documentation. Further information on each project is available by emailing the Principal Investigator (PI). Shortlisted candidates may be interviewed.
Closing date: Applications have now closed for all projects
'Conductivity of Thin Ink-jet Printed Metal Layers' which will remain open to applications until May 15th 2020.
' A review of the design and user evaluation of digital health technologies providing diet and lifestyle support for breast cancer survivors' will remain open to applications until May 15th 2020.
'The Impact of Concussion at a Cellular Level' which will remain open to applications unitl April 20th 2020.
E: science@dcu.ie T: 01 700 8975